Lacy-Mister Puppies
Born September 8, 2012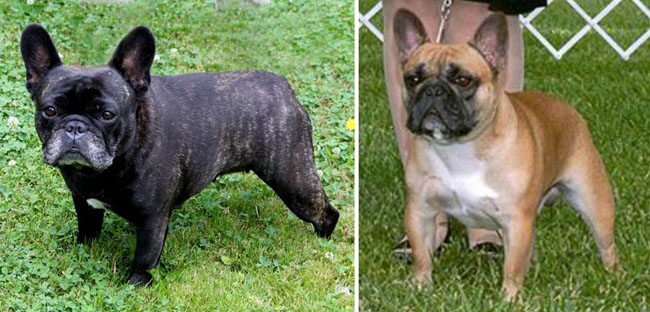 It's official! Lacy (left) is pregnant. Mister (on the right) is the dad.
Puppies are due in early September.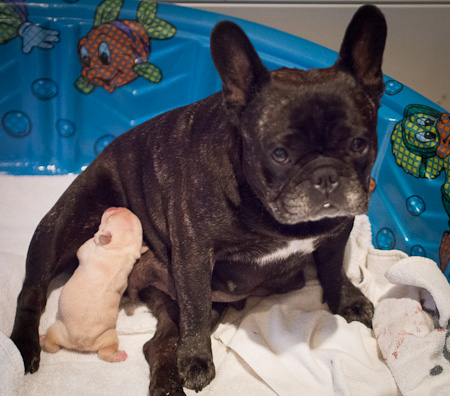 September 8, 2012 - Am GCH / Can CH Tahoma's Lace It Up (Lacy)
gave birth to a single puppy today, a beautiful cream girl.
Her birth weight is 9 ounces.
The puppy is nursing heartily, and napping between tongue baths from Lacy.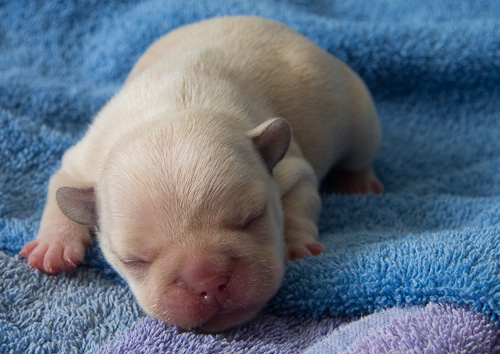 1 day old: "Solo" continues to thrive. She's eating well, and taking naps between
meals. Today's weight is just a tiny bit below 9 ounces. Puppies typically lose a
little bit of weight in the first 24 hours.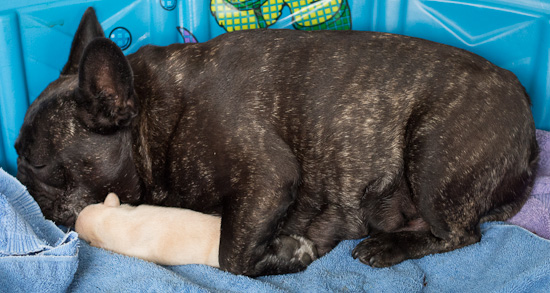 2 days old: Lacy is a patient, protective and affectionate mother.
Today's weight: 9 1/2 ounces.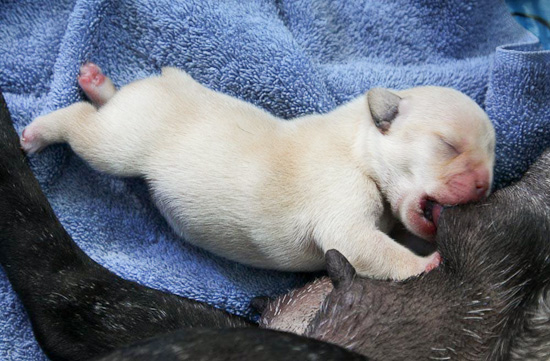 3 days old: There's nothing wrong with Solo's appetite,
and she's the only one at the lunch counter at every meal.
Today's weight: 10 1/4 ounces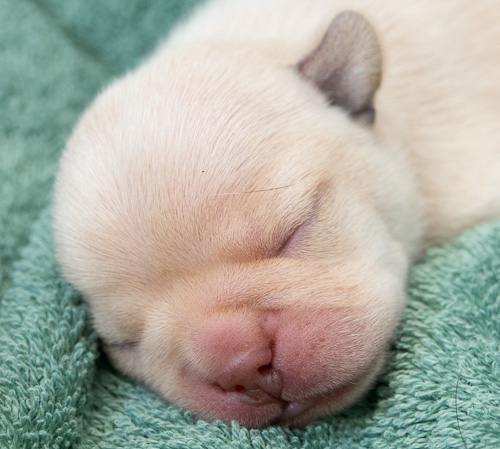 4 days old: The pigment in Solo's face is just starting to darken.
It will probably all change to black in the next few days.
Today's weight: 10 3/4 ounces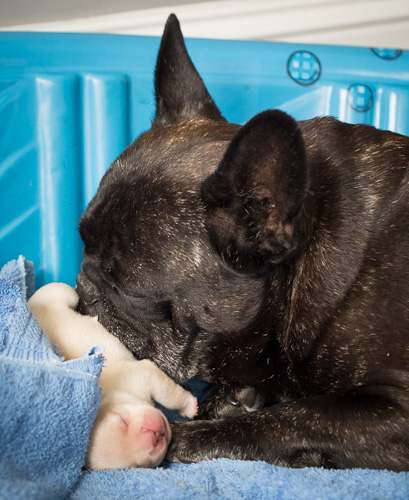 5 days old: Cleaning time!
Today's weight: 11 3/4 ounces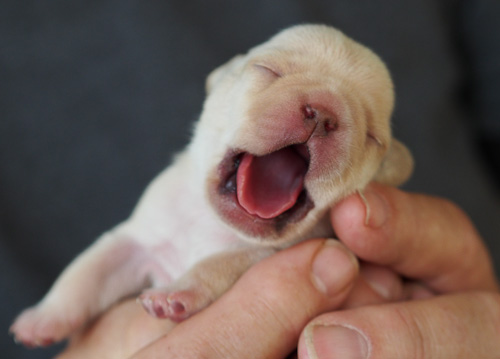 6 days old: Our first yawn!
Today's weight: 13 3/8 ounces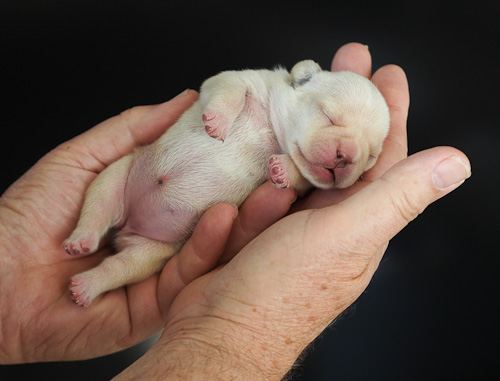 7 days old: Still so tiny and delicate.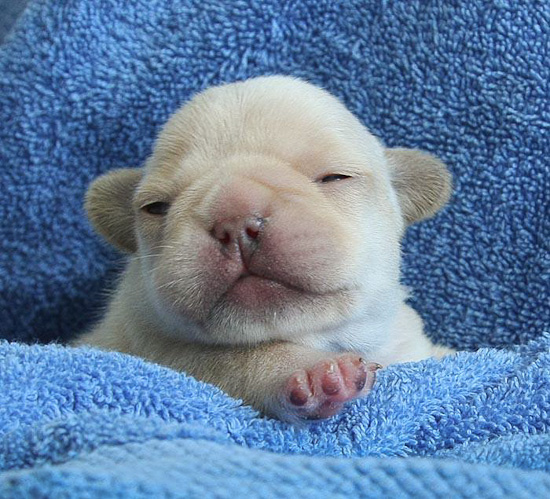 9 days old: Eyes are starting to open!
Today's weight: 1 pound 2 ounces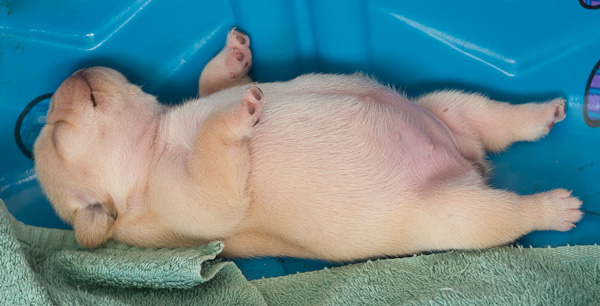 10 days old: Tummy's full. Time for a nap!
Today's weight: 1 pound 4 ounces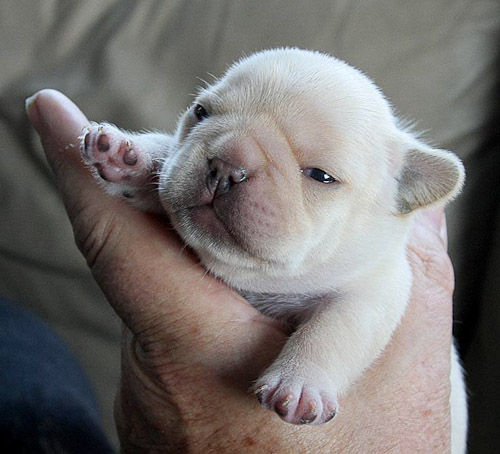 11 days old: "Why do you keep picking me up? I'm trying to sleep!"
Today's weight: 1 pound 5.5 ounces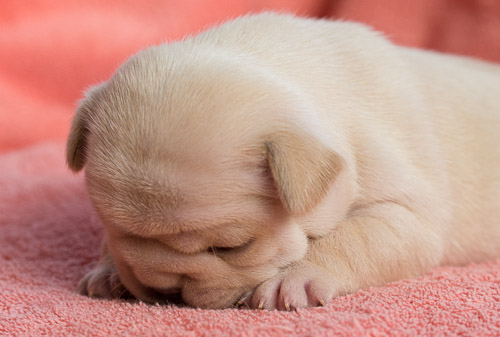 14 days old: Solo still spends most of her time eating and sleeping, but
she's starting to crawl around and notice her surroundings. The next few
days are always fun to watch, filled with lots of changes.
Today's weight: 1 pound 13 ounces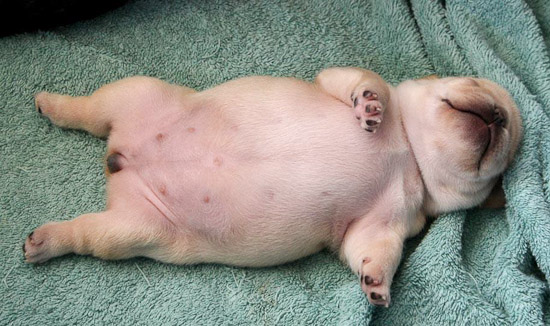 18 days old: "Today I walked (crawled and stumbled) around the pen,
had my nails trimmed, had lunch, and now it's nap time."
Today's weight: 2 pounds 1 ounce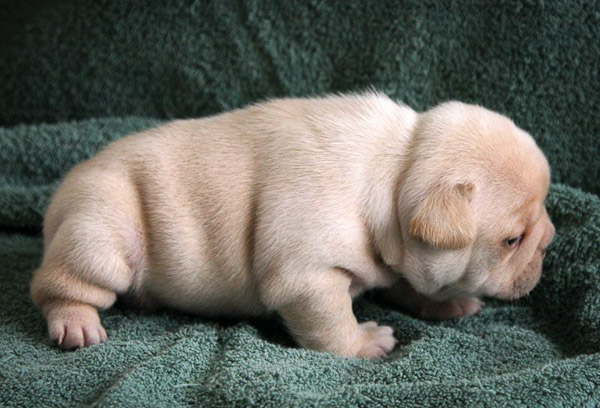 20 days old: Every day, Solo gets a little better at walking.
Today's weight: 2 pounds 4 ounces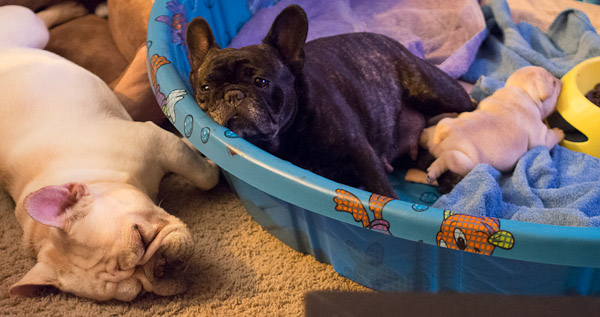 23 days old: Three generations: Maxx, Lacy, and Solo.
Today's weight: 2 pounds 10 ounces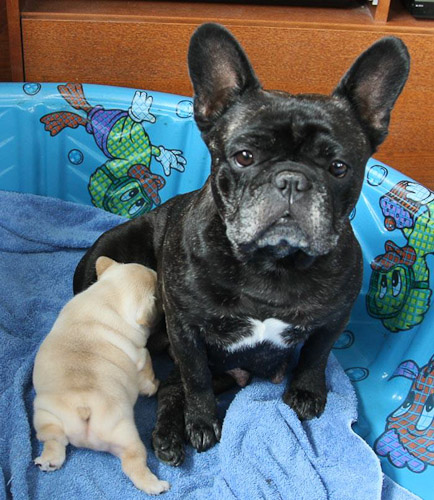 24 days old: Solo is moving around the pen a lot, and beginning to show
some baby teeth coming through her gums. She is craving something
to chew, including fingers. Lacy continues to be a great mother.

26 days old: Acting and lookilng more grown up every day.
Today's weight: 2 pounds 12 1/2 ounces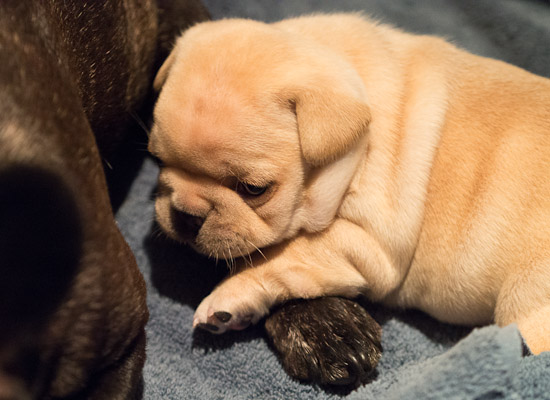 27 days old: Just hangin' out with mom between play sessions.
Today's weight: 2 pounds 15 ounces
28 days old: A short video clip of Solo playing with a rope toy.
Today's weight: 3 pounds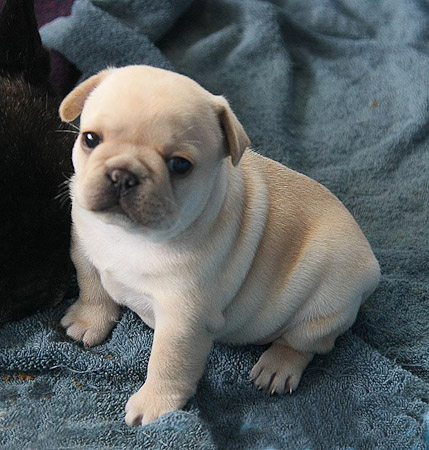 31 days old: Solo confidently ate from the dish for the first time, like she has been doing it all along.
Next Step - out of this plastic wading pool! Deeper pool going in tomorrow..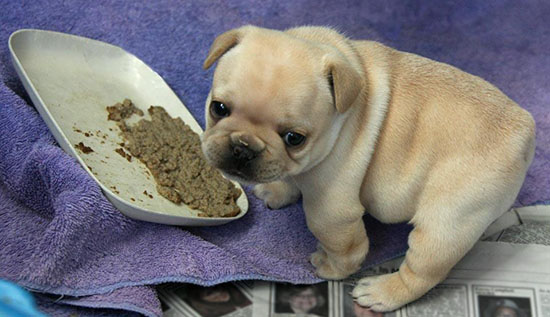 33 days old: Solo is eating puppy gruel regularly now, in addition to milk from her mom.
35 days old: It's hard to believe that Solo is already five weeks old.
She enjoyed her first playtime outside the pen today.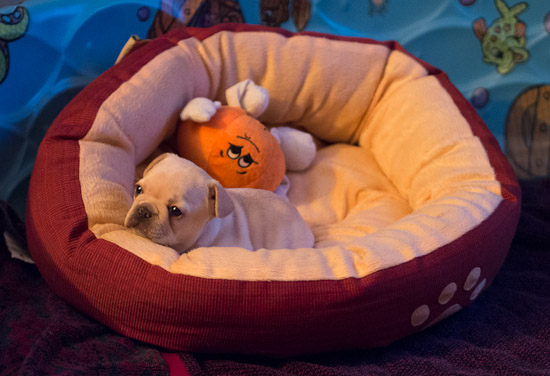 37 days old: Solo moved to a bigger pen today, and she's very content in her new bed.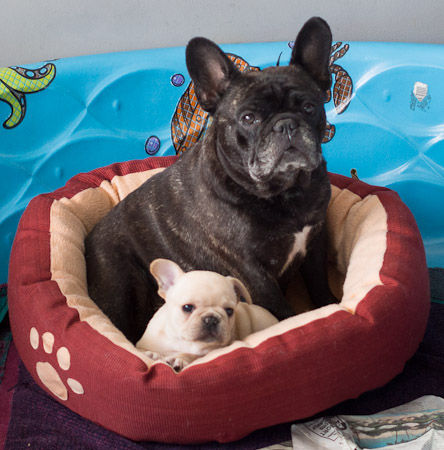 40 days old: One ear almost up!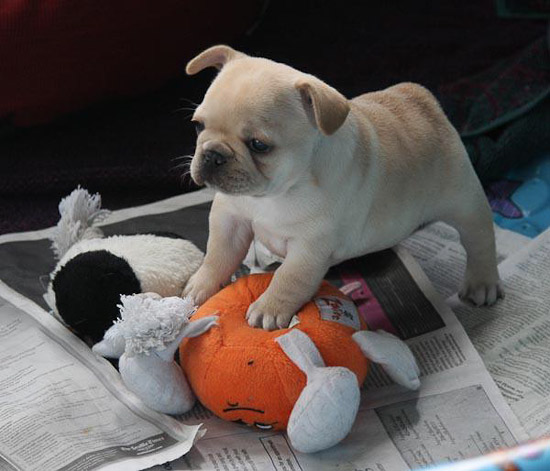 Six weeks old: Solo conquers all the toys in her pen,
crunches away at harder food, and uses the papers to potty.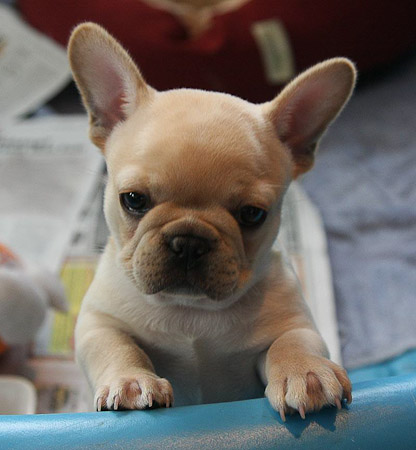 Seven weeks old: Solo has both ears up most of the time,
plays hard, and loves to be cuddled and held.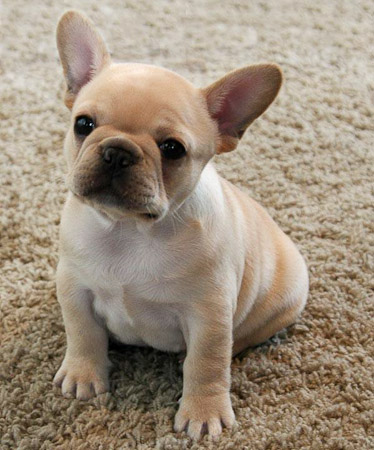 7-1/2 weeks old: Solo continues to develop and grow.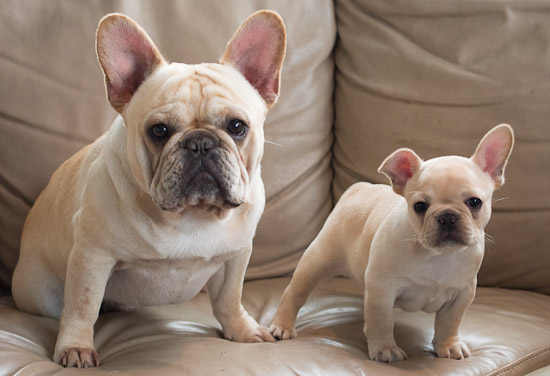 Eight weeks old: After having her ears up for almost a week, Solo's ears are flopping occasionally,
probably because she is teething. We're starting to introduce her to our other dogs, and
she's already become best buddies with her older half-brother, Dexter.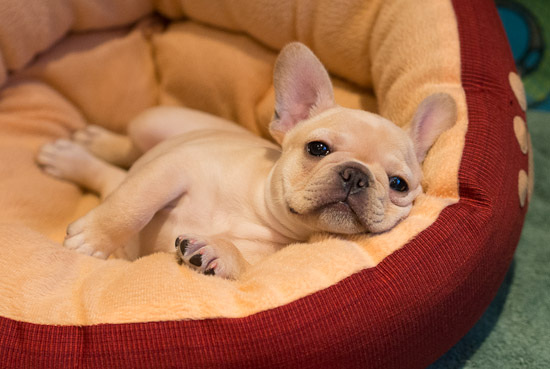 Solo, just hangin' out.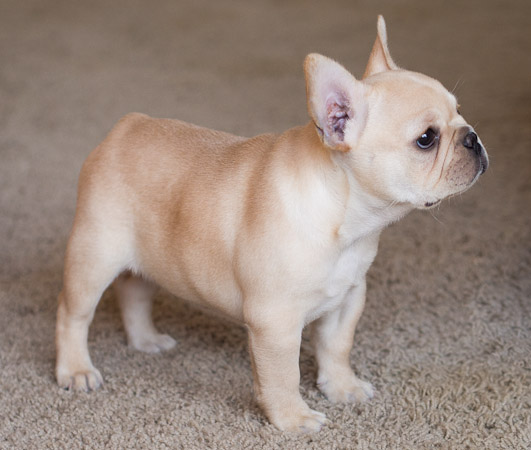 Nine weeks old: Solo, self-stacking for the camera.