Pictures of the Week 2009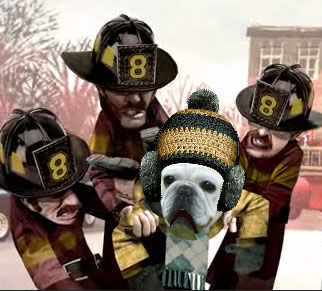 Happy holidays from the Tahoma gang!
Check out A Christmas Story, starring
Woody, Phoenix, Gertie, Maxx, and Lacy.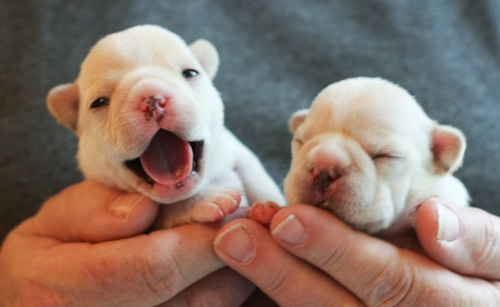 At 10 days old, the Squirrel-Maxx puppies have doubled in size,
and all of their eyes are open.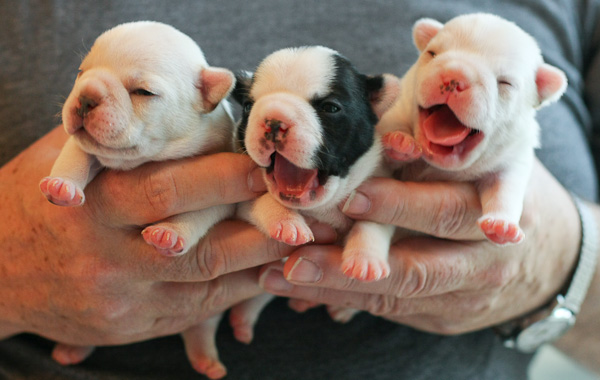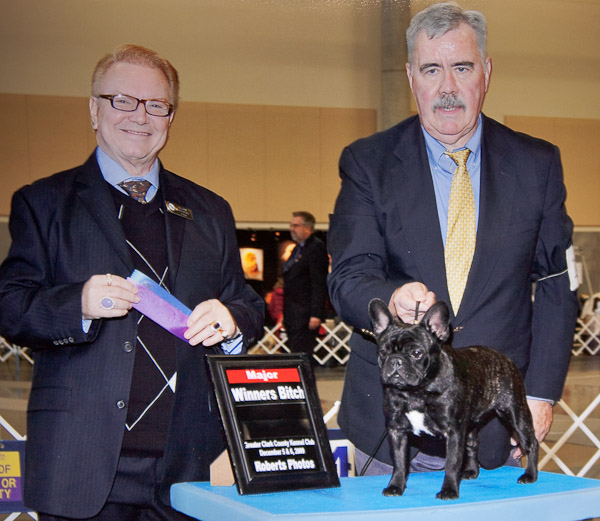 Lacy's photo from her win last weekend. Although the placard says "Major",
it was only a 2-point win because one girl was absent.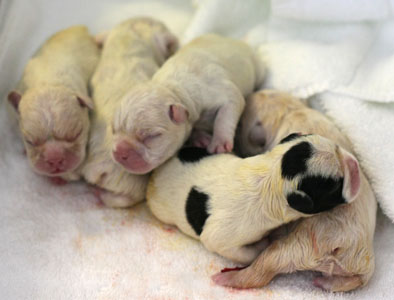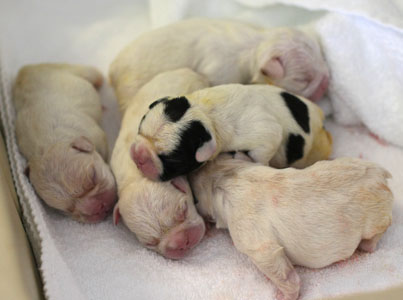 Tidewater's Flying Squirrel gave birth to 3 boys and 2 girls this morning.
Our Maxx is the proud father. In the pictures above, they're just a few minutes old.
Congratulations to the owners, Brad and Angela!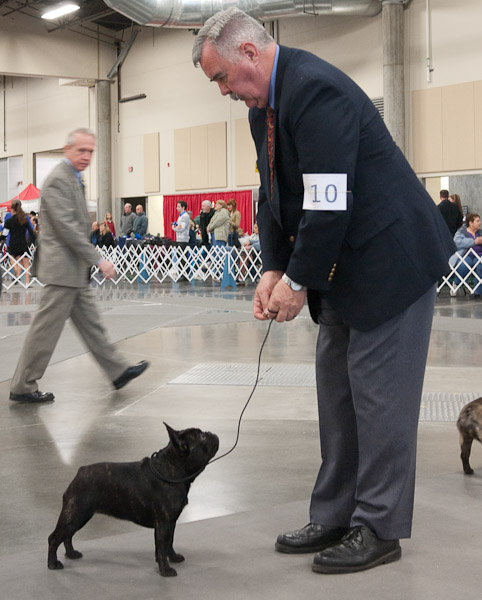 Lacy, age 10 months, took Winners Bitch over 11 other girls on Saturday,
earning 2 more points toward her American championship.
On Sunday, she was Reserve Winners Bitch.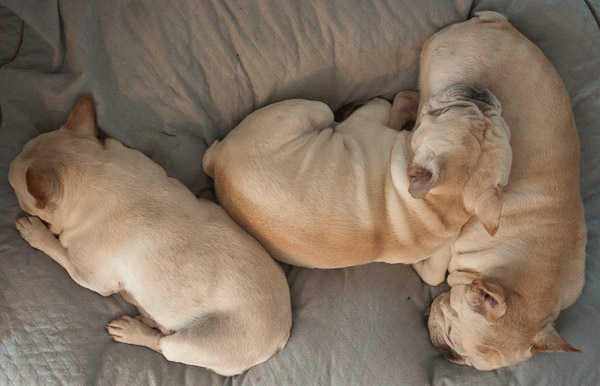 Gertie, Maxx, and his mom Phoenix are enjoying their new bed.

Maxx is tired of the rainy weather.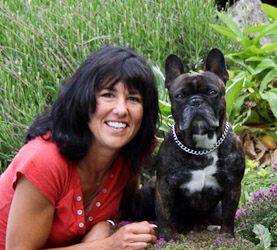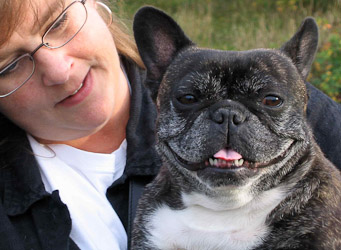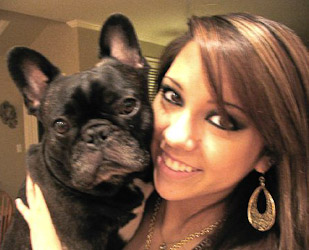 Happy Birthday to the Gertie-Enzo puppies- It's hard to believe that Gertie's puppies turned 4 years old last week.
Nero (left) lives on Vancouver Island. He's a Canadian Champion with a
Best In Show Puppy win and is 4 points shy of an American championship.
Am/Can Champion Luna (center) lives in Seattle and is the mother of the puppies we're currently showing.
Wynnie (right) lives a very happy life with her family in Issaquah.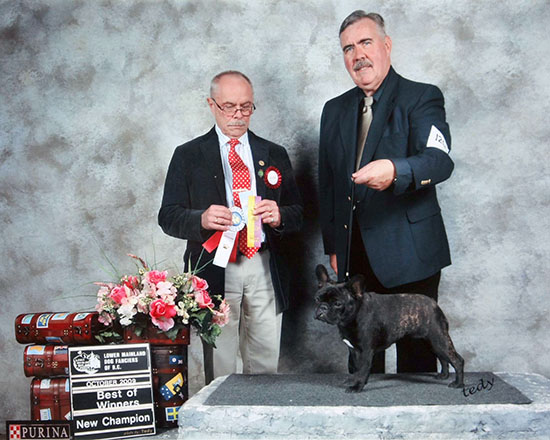 Tahoma's Lace It Up (Lacy) finished her points towards her Canadian Championship this weekend
at the Lower Mainland Dog Fanciers shows in Abbotsford, BC. The entry was (8-3-2-1).
Thursday's judge, Dr Goran Bodegard (from Sweden) loved her and
awarded her Winner's Bitch, Best of Winners, and Best of Breed Puppy.
The Friday judge, Enrique Fillipini (Argentina) thought otherwise!
Saturday's judge, David Strachan (Australia) gave her Reserve WB and
Best Puppy, as did the Sunday judge, David Oljalvo (Argentina).
Lacy's brother, Tahoma's Tie It Up (Benny) showed very well
and won his Class of three 6-9 month puppies on
two of the four days under (under Bodegard and Strachan).


Click here to see pictures from our Halloween Frenchie Walk, held October 18 at Volunteer Park.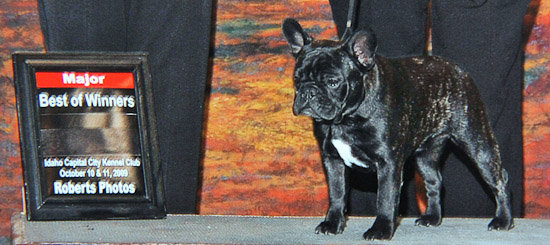 Our Lacy (Lace It Up) cleaned up at the recent Boise shows.
Friday - Winner's Bitch (2 points), Best of Winners,
Best of Opposite Sex and 3rd in the Non-Sporting Puppy Group.
Saturday - Winner's Bitch (3-point major), Best of Winners, Best of Opposite Sex.
Sunday - Winner's Bitch (2 points), Best of Opposite Sex.
Benny (Tie it up) was Reserve Winner's Dog for three of the four shows.
Both dogs showed beautifully and will soon be headed up to Canada for the Lower Mainland shows.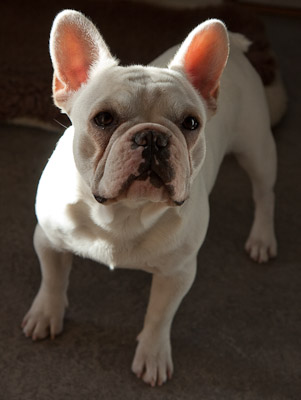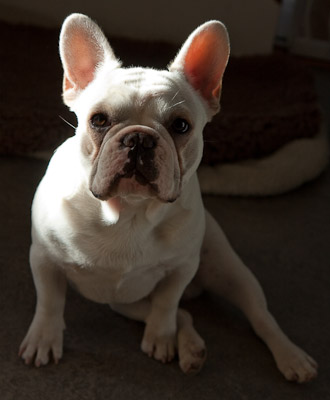 Zipper, enjoying an early morning sunbeam.
Another Great Weekend in Canada for Tahoma
This time it was Benny's (aka Ti's) turn to shine. On Friday he was Winner's Dog for his first point.
On Saturday he was Best of Breed and went on to win Third in the Non-Sporting Group,
out of 14 breeds and 38 dogs, and was Best Puppy in the Non-Sporting Group.
He now has six of the ten points he needs for his championship.

Half an hour after being in the Best in Show Puppy ring, Benny moved right on to the
Peach of a Puppy Tournament, where he was one of thirteen 6-9 month old puppies competing.
Two judges scored all the junior puppies and chose Benny as Best Junior Puppy.
He then competed against senior puppies and yearlings under a third judge.
His final score from the three judges was 285 out of 300, just four points behind the winner of the tournament.
A Group 3, Best Puppy in Group, and Best Junior Puppy in Tournament...
pretty good for his first weekend of showing in Canada!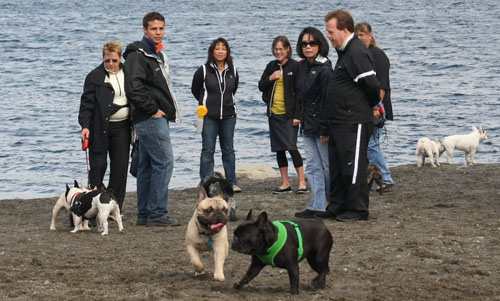 Frenchie Walk Photos Posted - Around a dozen dogs and their owners
braved the questionable weather for our September French Bulldog Walk at
Mercer Island's Luther Burbank Park. After a very rainy start, the clouds parted,
and we all enjoyed a sunny hour at the nearly deserted off-leash area.
The park has been upgraded since our last visit. The off-leash area is now
fully enclosed and has a separate area for small dogs.
Click here to view the photos.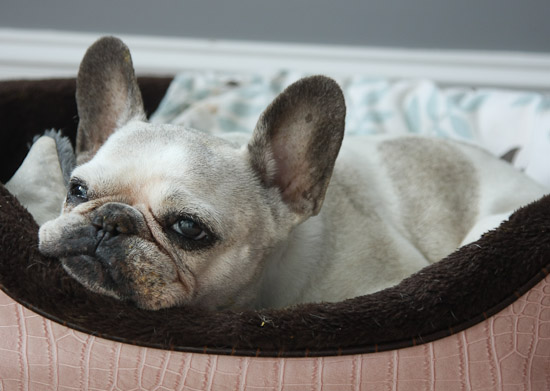 Wanda, who is almost 12 years old, is visiting us for a few days.
She spends most of her time resting comfortably.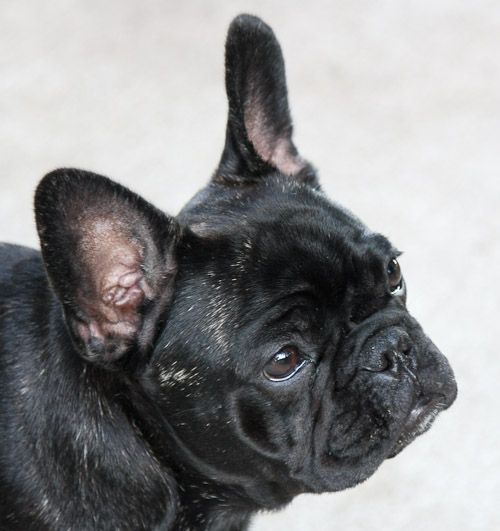 At the Longview-Kelso shows this weekend, Lacy was
Reserve Winner's Bitch out of an entry of 9.
Lacy wins a Group 1!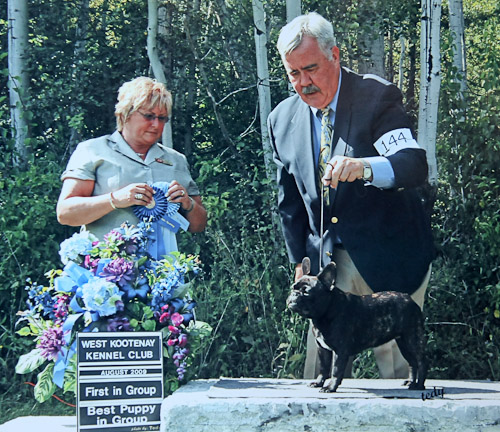 On her first day of showing in Canada, our puppy Lacy took a group 1
in the Non-Sporting Group, which automatically made her Best Puppy in Group.
First Show for Luna's & Maxx's Puppies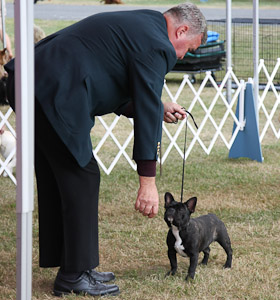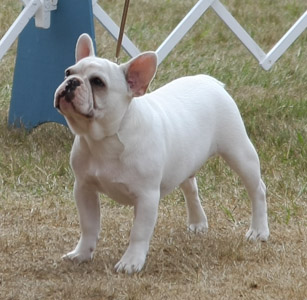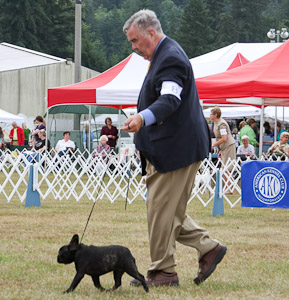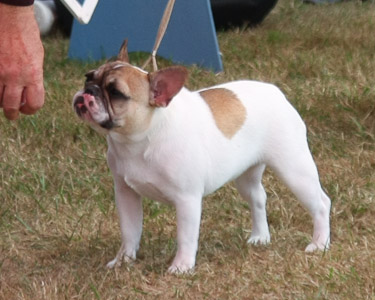 Our puppies had a great first weekend in the show ring in Enumclaw.
On Saturday, Benny (upper left) won his 6-9 month old class of two,
Zipper (upper right) won his Bred-By-Exhibitor class of four,
Lacy (lower left) won her 6-9 class of three,
and Button (lower right) got 2nd in her Bred-By class of four.
Sunday, Benny won his 6-9 class and was Reserve Winner's Dog to 4 point major!
Six-Month Portraits
Luna and Maxx's puppies are six months old this week.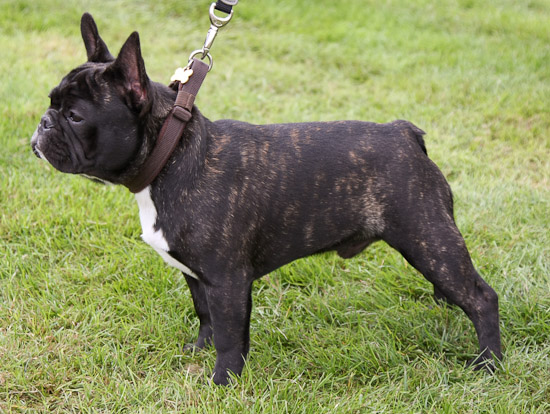 Benny (formerly known as Ti)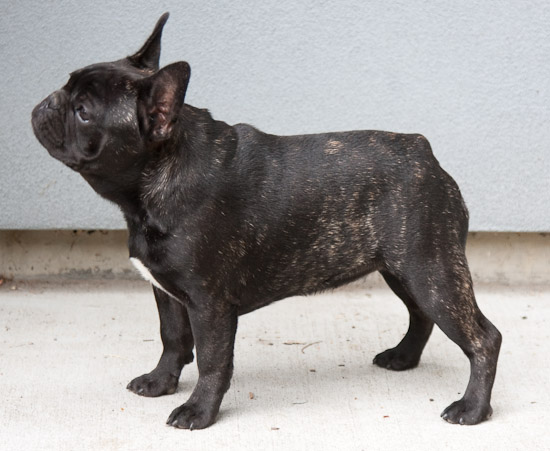 Lacy, age 6 months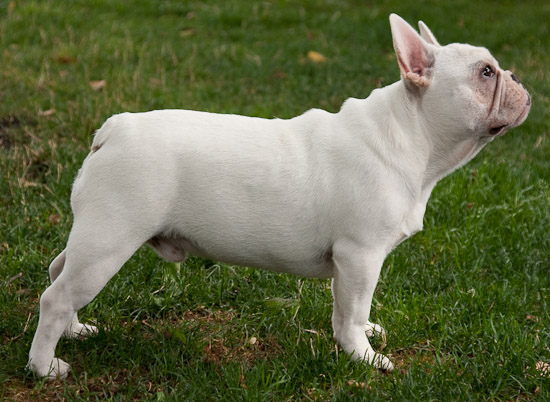 Zipper, age 6 months.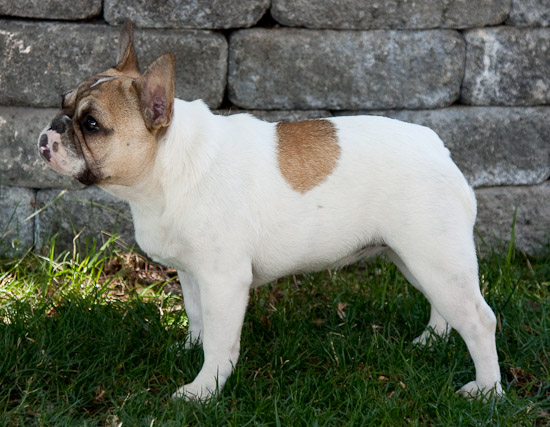 Button, six months old.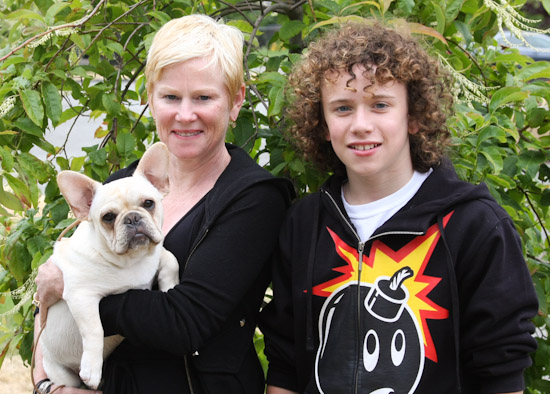 Susie and her son Zane brought Cutter to his new home today.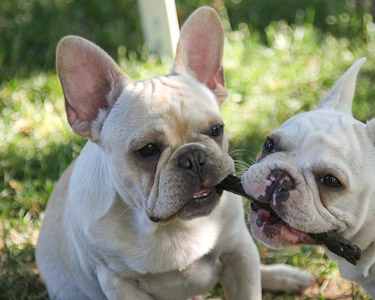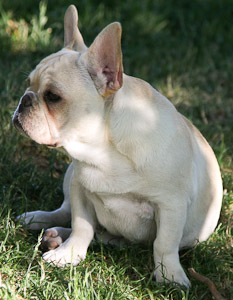 Luna's puppy Cutter, age 5-1/2 months.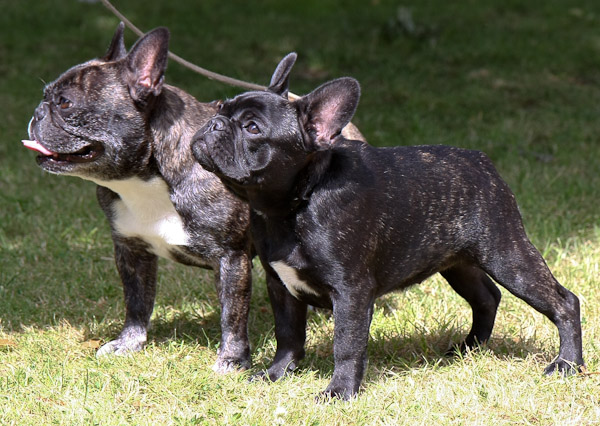 Lacy, shown here with her mother Luna, will be old enough for the show ring in a few weeks.
She and her siblings will make their debut at the Enumclaw shows on August 15-16.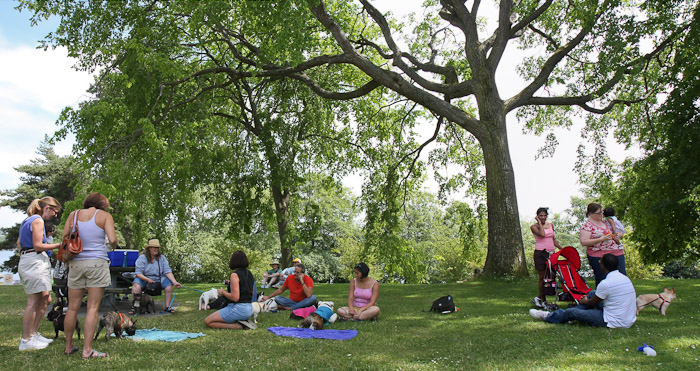 Around 15 Frenchies came to Green Lake for our July Frenchie walk, which was more of a Frenchie "sit" due to the heat.
Everyone stayed comfortable in a shady spot with a nice breeze. We compared tips on keeping our dogs cool in hot weather.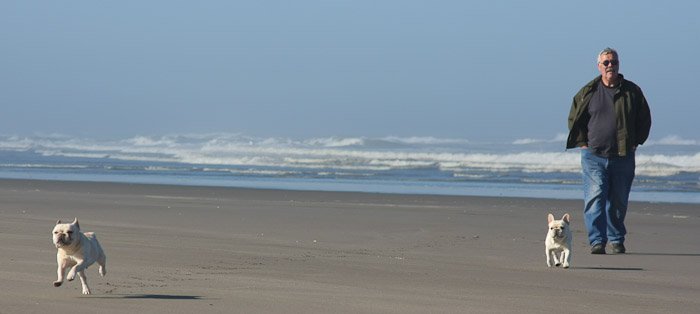 We just got back from a 3-day mini-vacation with Phoenix and Maxx in Ocean Park, Washington.
It was Frenchie heaven -- cool weather, and miles and miles of beaches to run.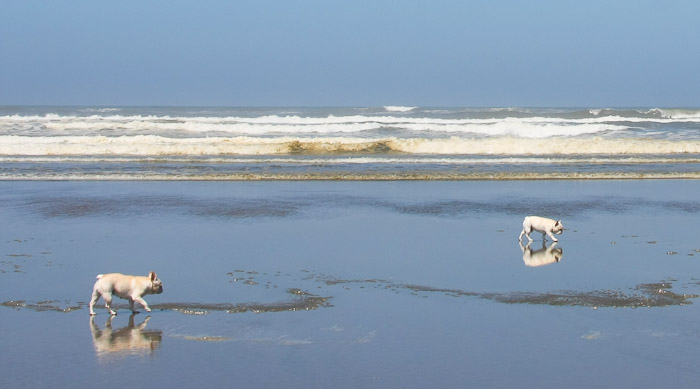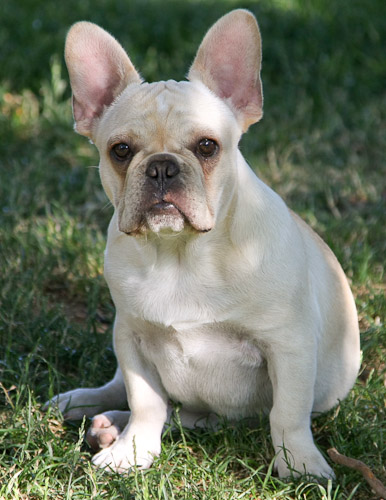 Cutter, 4-1/2 months old.


For Father's Day, Zipper let his dad Maxx play with all the toys.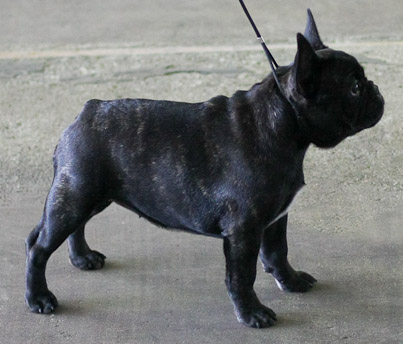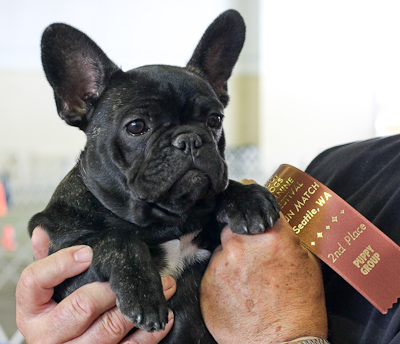 Lacy showed beautifully at her first puppy match on Saturday.
She won Best of Breed over her litter mates and went on to win a Non-Sporting Group 2.
On Sunday she won an Non Sporting Group 3.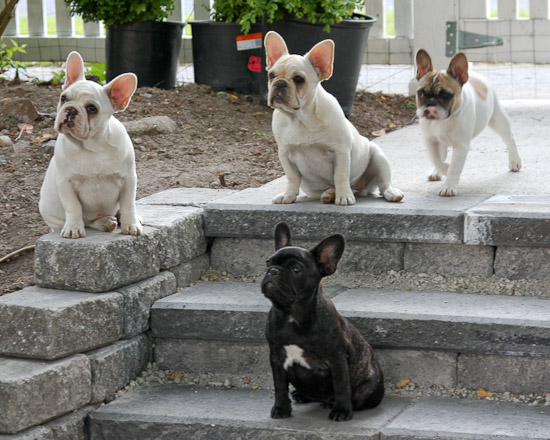 The puppies are 4 months old and will be going out to some puppy matches soon.
June French Bulldog Walk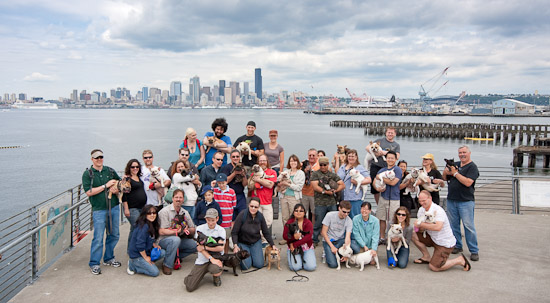 About 30 Frenchies turned out for our June walk
at Jack Block Park in West Seattle.
Visit the photo gallery.
Luna-Maxx puppies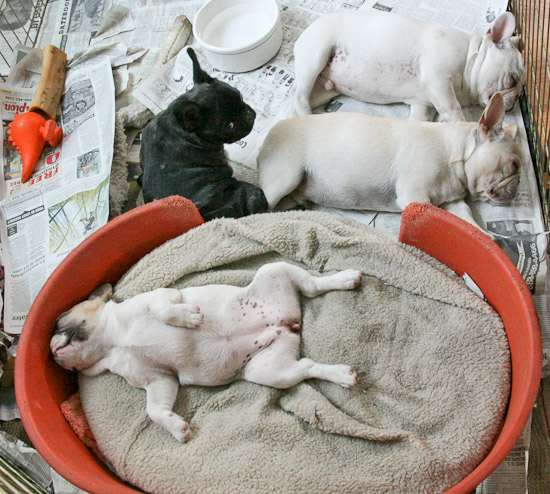 Button found a way to take up the entire bed.
"Where are you guys gonna sleep tonight?"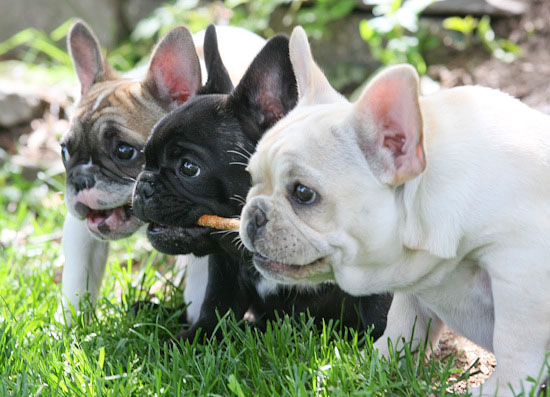 Button, Lacy and Cutter enjoy a stick they found in the yard.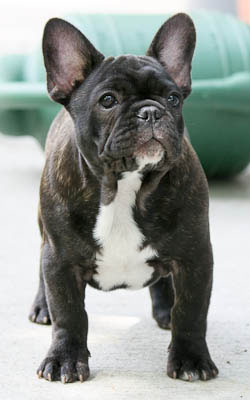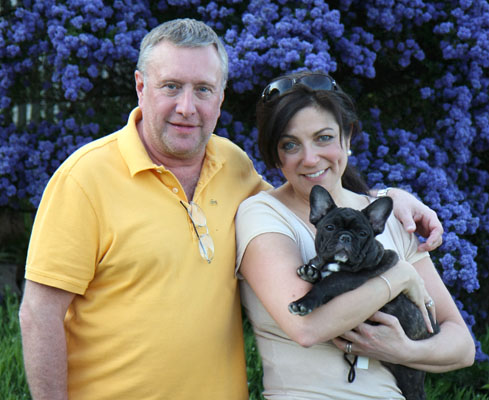 Tahoma's Tie It Up ("Ti") went to his new home with Mike and Stephanie today.
He'll be making limited appearances in the show ring with his brother and sister in the fall.
Robinswood Park
May 3, 2009
At least 28 Frenchies turned out for our May "walk"
at the Robinswood Park off-leash area in Bellevue.
Visit the photo gallery.
Some Great Photos from dane + dane
Nicole and Amy from dane + dane studios stopped by for a puppy fix last Friday.
Read all about it, and check out the beautiful and distinctive photos on their blog.
A Beautiful Day at Seward Park


At least 25 dogs turned out on Sunday, April 5 for our first Frenchie Walk of 2009.
View the photo album here!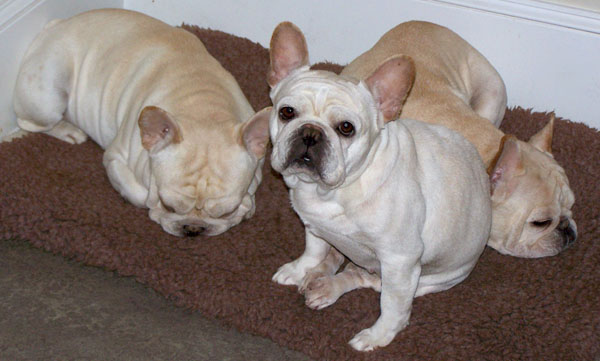 Maxx, Gertie and Phoenix.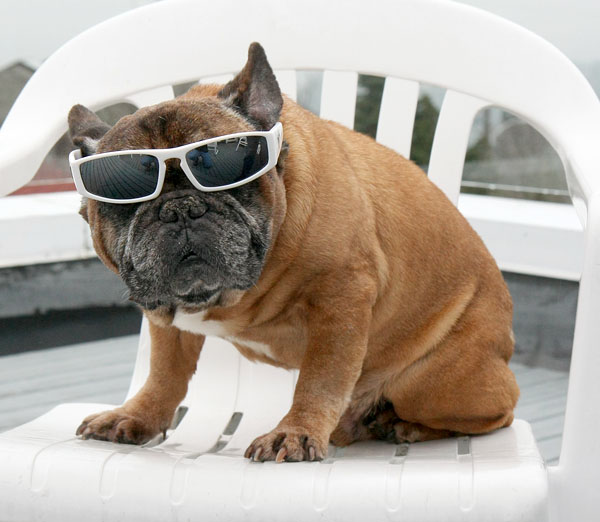 Woody turned 12 years old on January 26.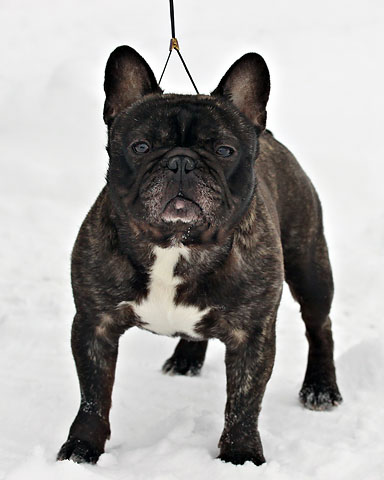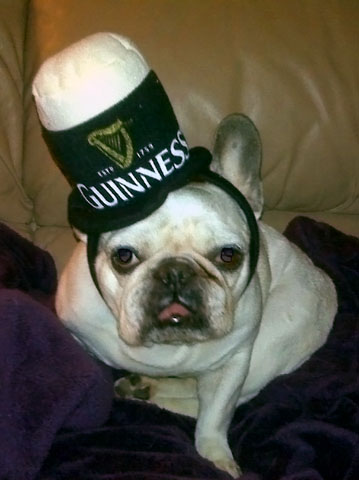 It's always nice to get pictures of our "children" from their owners.
Gertie's puppy Toro, age 3, is on the left.
Wanda, on the right, just celebrated her eleventh birthday in style.