Pictures of the Week 2008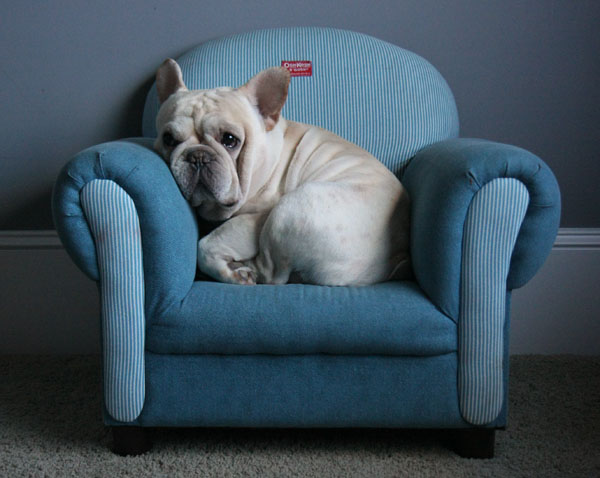 "I hear hoofprints on the roof.
Was I naughty or nice this year?"
Seattle got 6-8 inches of snow today.
Razz was having a ball!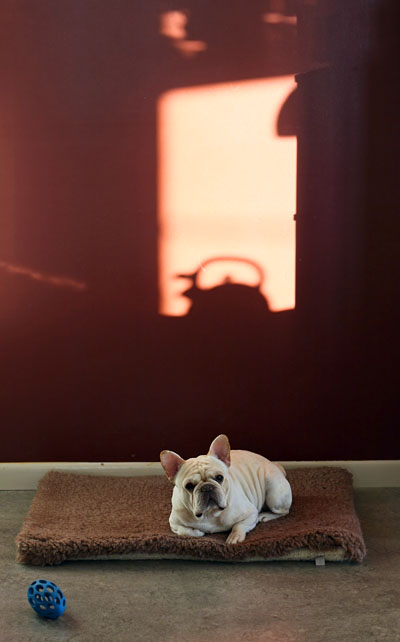 When I walked into the kitchen this morning and saw Maxx sitting under this silhouette,
I had to sneak quietly away and get my camera. With the warm sun pouring in the kitchen window,
you'd never know it was cold and snowy outside (a double rarety for Seattle).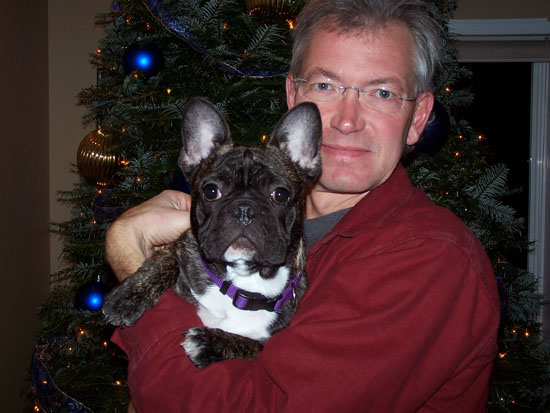 Luna's puppy "Jazz" went to his new home last weekend.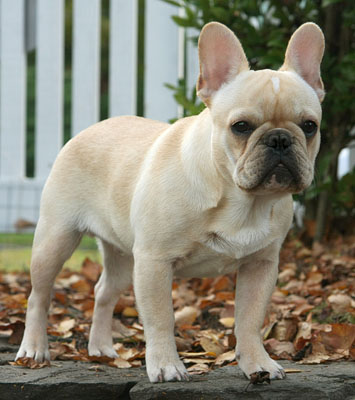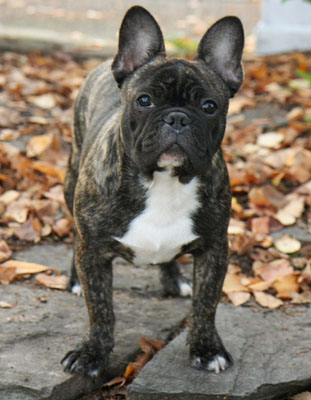 Luna's puppies are six months old next week.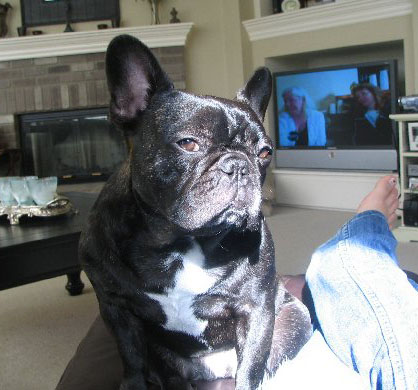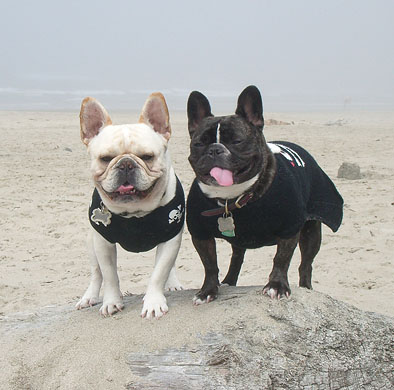 More pictures from the Tahoma extended family.
Wynnie (Gertie and Enzo's puppy) is on the left.
Banjo (Phoenix and Maestro's puppy) is enjoying the beach with his new buddy Stella.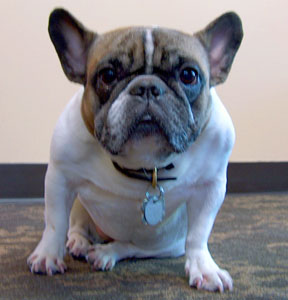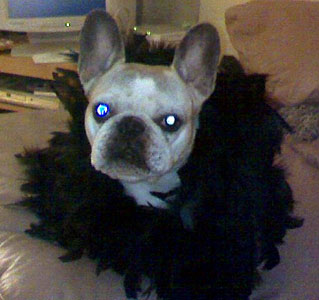 We received a couple of photos from the Tahoma "extended family" this week.
Lucy (Wanda and Woody's pup) turned 8 on Halloween.
Her mom Wanda was a "zombie with a boa" for Halloween.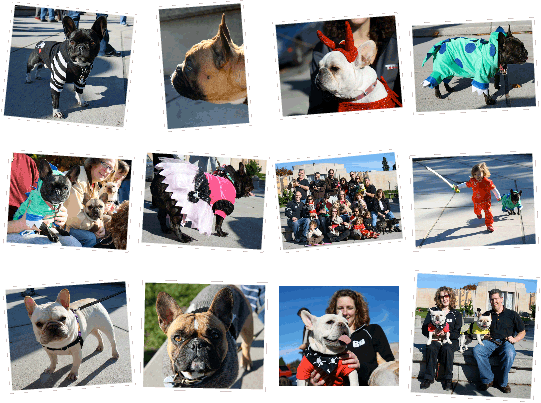 For better results, enable JavaScript and download Adobe Flash Player. Get Flash here.
If you are using AOL's web browser on your Macintosh, please consider
switching to Safari or Firefox for better results.
October 26 was our annual Halloween Frenchie gathering at Volunteer Park.
If you're using a computer with Flash Player installed, you can
click on any of the images to zoom in, and click again to zoom out again.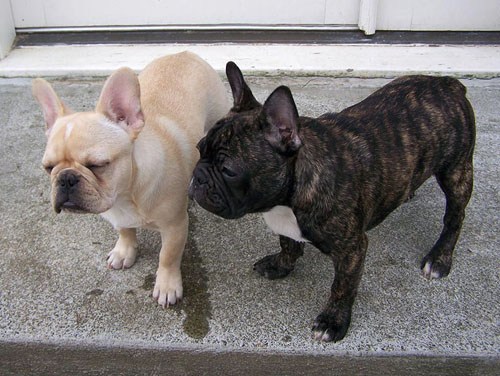 "Ahhhhhh..." "Dude...did you just pee on the steps?!?"
A new home for Banjo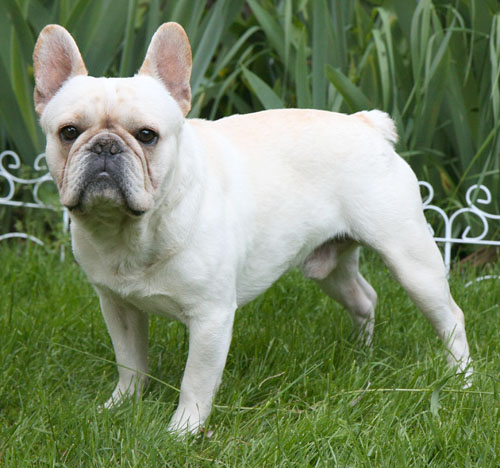 Our boy Banjo, 2 years old, came back to live with us in May.
We're pretty sure we've found a new home for him.
Thanks for all your inquiries!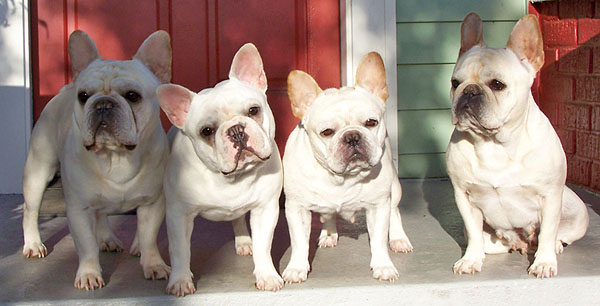 Four blondes...
(Maxx, Jaxx, Gertie and Phoenix)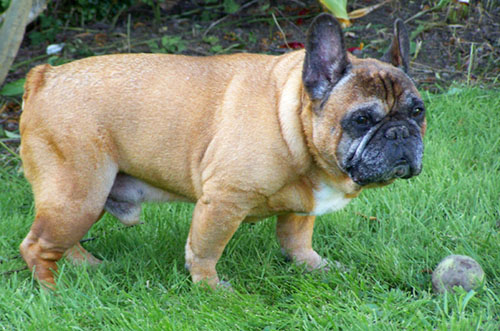 ...and a red head.
(Woody, age 11-1/2)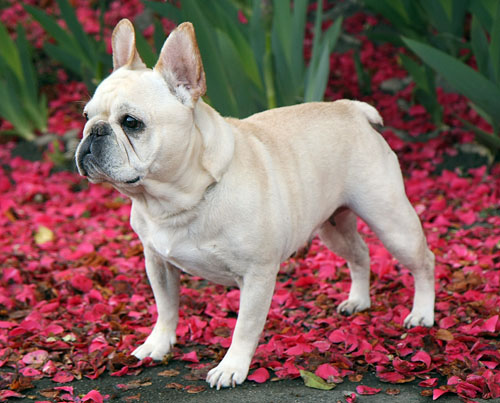 Just Phoenix.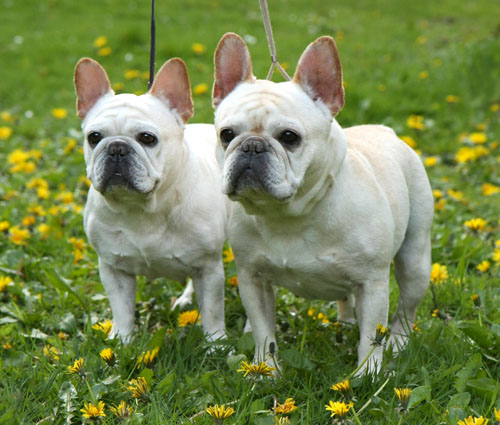 Gertie and Phoenix enjoy a walk in the park.
It's hard to believe it was snowing that morning!
(Yes, snow in Seattle in April!)
Another New Tahoma Champion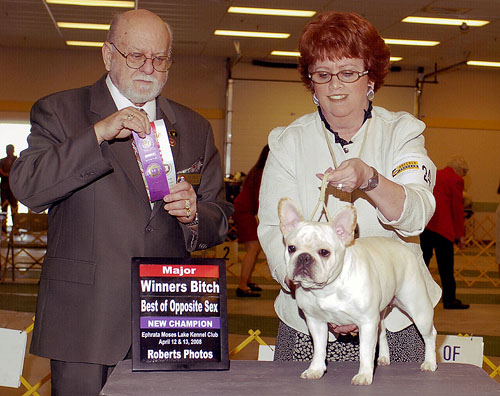 Tahoma's Dance to the Piper finished her AKC Championship this
past weekend at Moses Lake, WA under judge Richard Camacho.
Piper is loved, shown, and owned by Sharon and Calvin Dykes of LaGrand OR.

New Tahoma Champion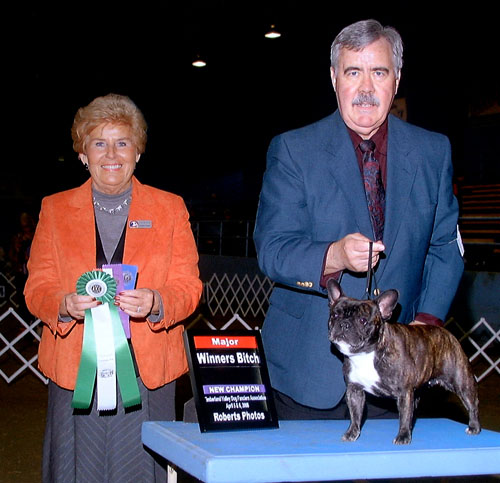 Tahoma's Mezzaluna, co-owned by Kirsten Hopperstad, finished her AKC championship
with a 4-point major on Sunday, under judge Mrs Houston (Toddie) Clark.
She is the third puppy from the Gertie/Enzo litter to finish, joining
her brothers Toro and Nero, as Am/Can champions.
Happy Birthday!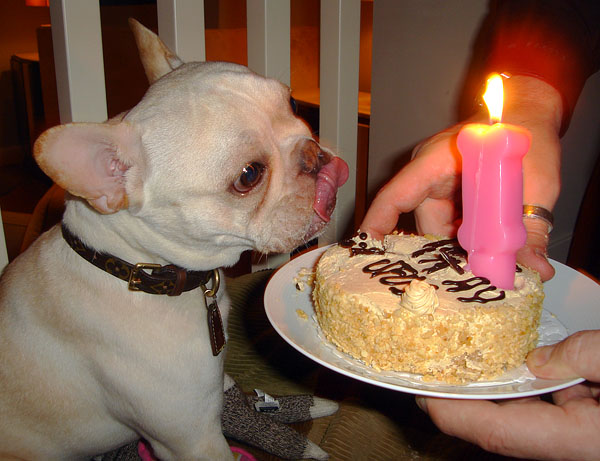 Phoenix' puppy Rufus (formerly Dealer) had his first birthday in January,
and his owners sent us this picture.
A Group Placement for Maxx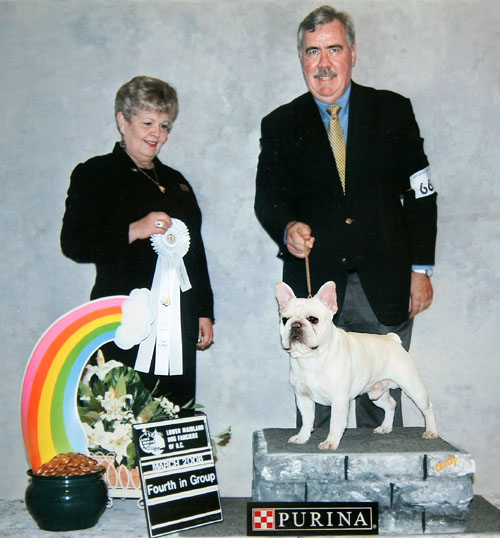 Maxx won a Non-Sporting Group 4 at the Lower Mainland Dog Fanciers
show in Canada earlier this month, a nice way to wrap up his show career.
Maxx says: "Bring on the ladies!"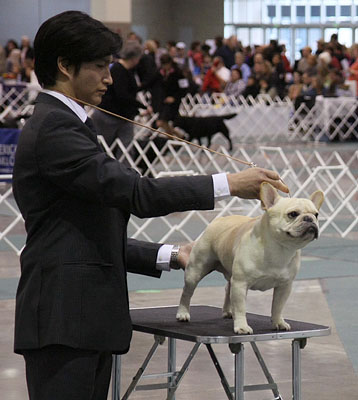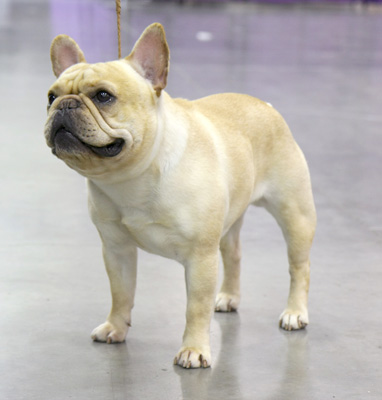 There were 37 Frenchies at the Seattle Kennel Club show last weekend.
Congratulations to CH Honeybuls St. Elmo's Fire (left)
for two Best of Breeds and a Non-Sporting Group 2,
and to Tidewater's Mr. Garbo French (right)
for finishing his championship with a 4 point major.
A New Canadian Champion!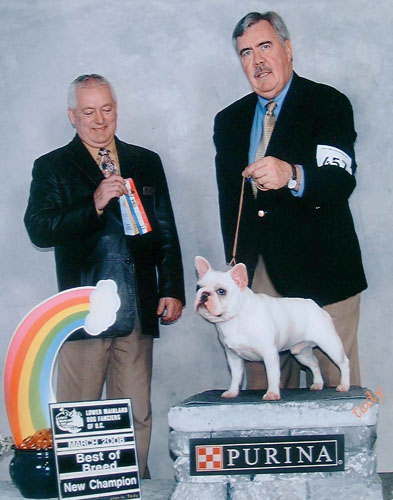 Jaxx and his father Maxx had a very good weekend in Canada.
Jaxx was Best of Breed over three Champions on Friday, at age 10-1/2 months,
and finished his Canadian Championship, under judge Tom Nesbitt.
On Saturday, Maxx was Best of Breed under judge Joan Frailey,
and again on Sunday, going on to win a Group Four under judge Carol Graham.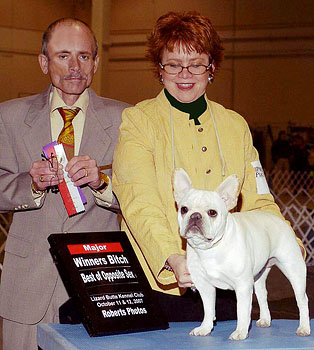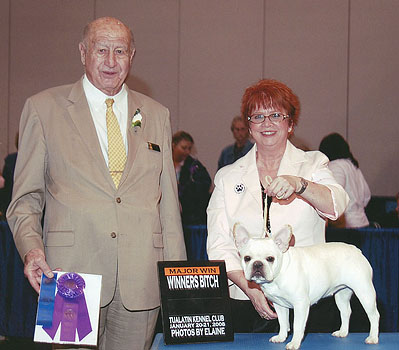 Congratulations to Phoenix's puppy Piper, who won her second Major last month.
(Also shownon the left is Piper getting her first major under Judge Alan Harper, who
judged the 2006 FBDCA National Speciialty. Sadly, he recently passed away.)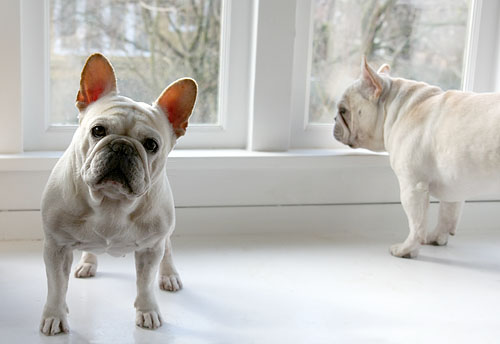 Gertie and Maxx enjoy a rare, sunny day in Seattle.
More birthdays!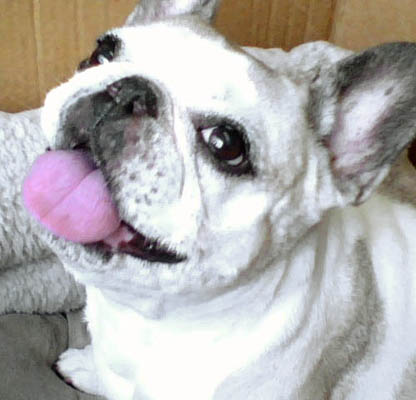 Wanda turned ten years old last month
and has never looked happier.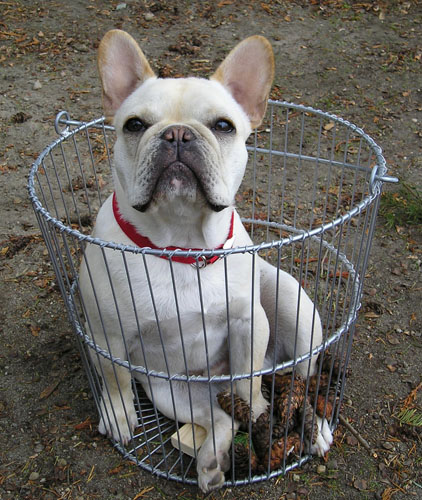 Wheeler, from Phoenix' last litter,
turned a year old last week.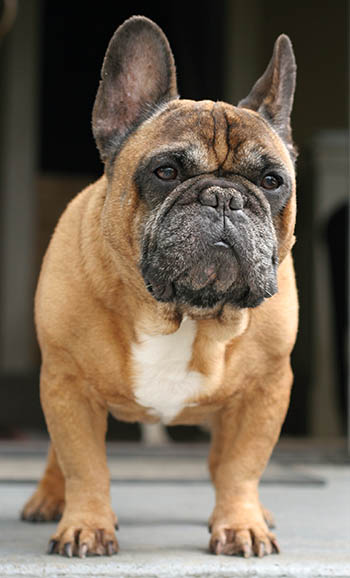 Happy birthday, Woody!
Woody turned 11 today, and he's still going strong.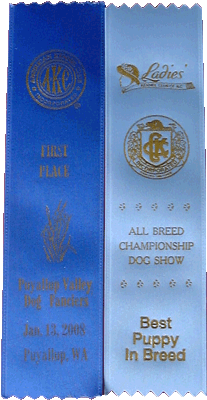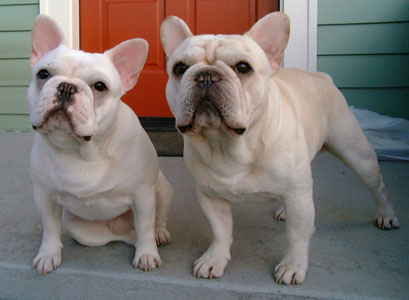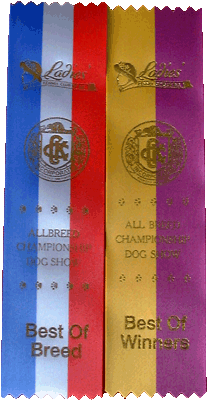 Jaxx and Maxx had a great weekend in Canada.
Maxx took Best of Breed on Saturday.
Jaxx took Best of Winners on Saturday and Winner's Dog on Sunday;
he now has 7 of the 10 points needed for his Canadian championship.

At the Puyallup shows this weekend, our 9 month old Jaxx
took reserve to Majors two out of three days.
A big thanks to Keke Kahn and Betsy Dale!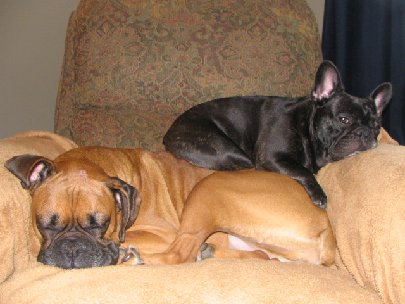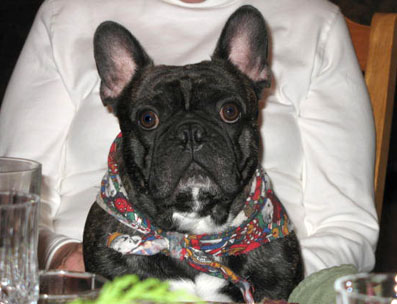 We recently received photos of two of Gertie's puppies from their owners.
Wynnie (left) enjoys her life with her Boxer friend Abby.
Nero (right) plans to head down to the states from his home in Canada to work on his American championship.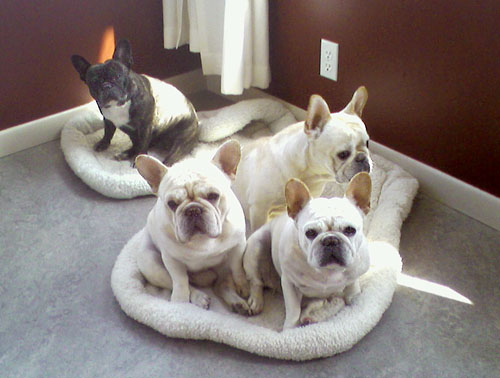 Luna, Maxx, Phoenix, and Gertie all try to squeeze into the
last sliver of morning sun coming in the kitchen window.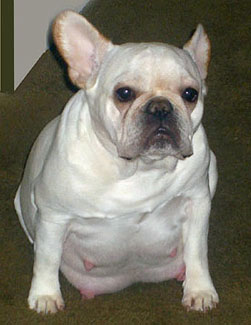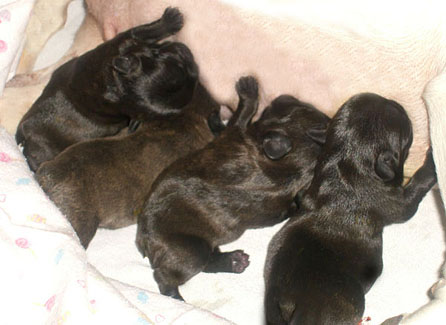 Congratulations to Phoenix's daughter Piper, who just gave birth
to three brindle boys and a brindle girl.
Piper lives with her owners Sharon and Calvin in eastern Oregon.