Pictures of the Week 2007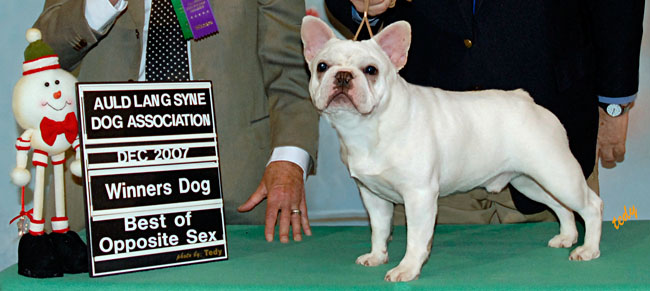 Our 8 month old puppy Jaxx had a good weekend in Canada, going
Winner's Dog at all three shows, and Best of Winners on two of the days.
On Sunday, judge Frank Sabella gave him Best of Opposite Sex over
his father Maxx and two other male specials.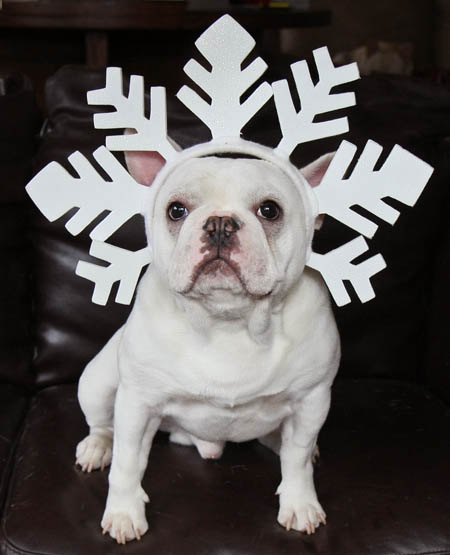 Jaxx Frost.
(Jaxx just turned 8 months old this week.)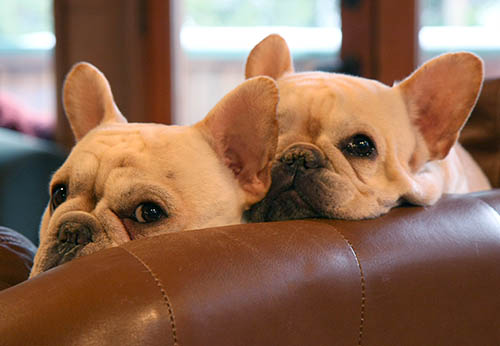 Maxx and Phoenix relax on the sofa after Thanksgiving turkey dinner.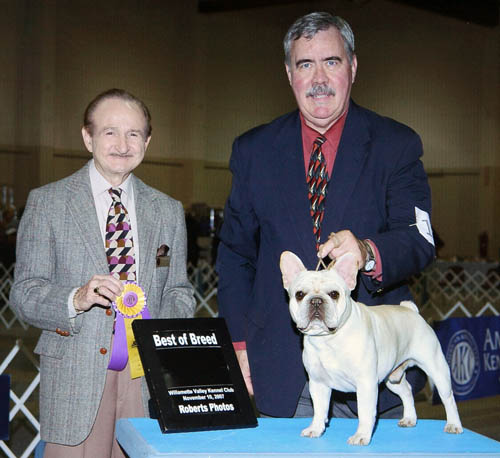 Maxx took Best of Breed recently in Salem, Oregon, out of an entry of 30.
Two Eukanuba Invitations!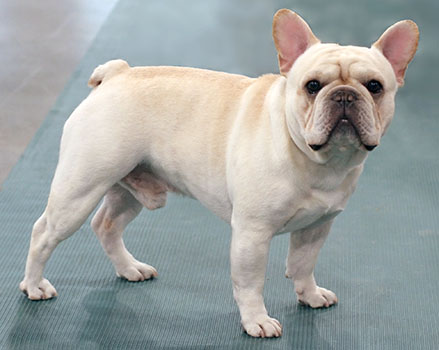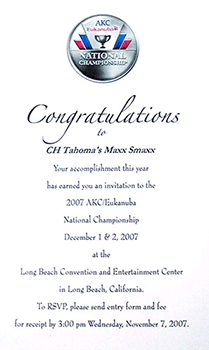 We're very proud that two dogs we've bred have been invited to the Eukanuba National Championship this year.
Maxx (above) finished the year ranked 16th, marking his second year in the top twenty.
Bo (below), his half-brother, received all of his championship points from the Bred By Exhibitor Class.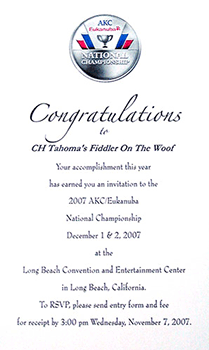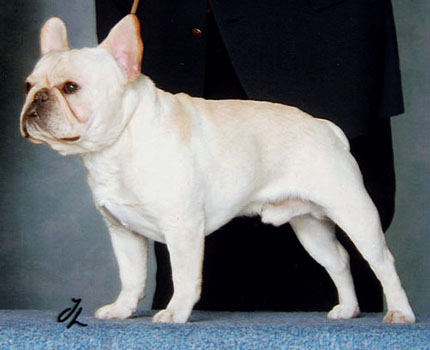 French Bulldog Fanciers of Canada
National Specialty 2007

Maxx's son Jaxx made his Canadian debut at the national specialty.
After standing nicely for the judge, he flew around the ring with a little too much enthusiasm!
Click here of lots of pictures from the show.
Halloween French Bulldog Walk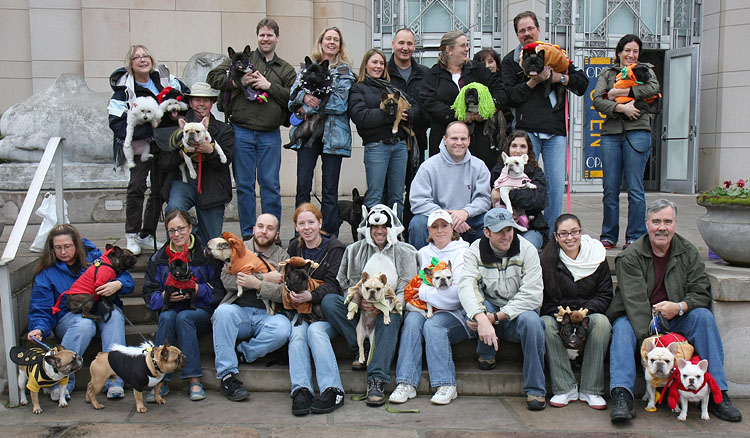 20 Frenchies and 2 Bichons met in Seattle's Volunteer Park for our
fifth annual Halloween costume walk. Click here for pictures!
(This link will open a new browser window.)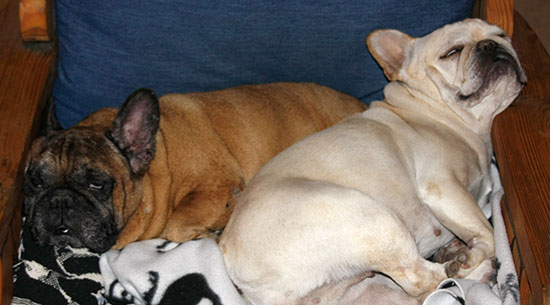 With Halloween just around the corner,
Woody and Phoenix are practicing their zombie eyes.
Way to go, Bo!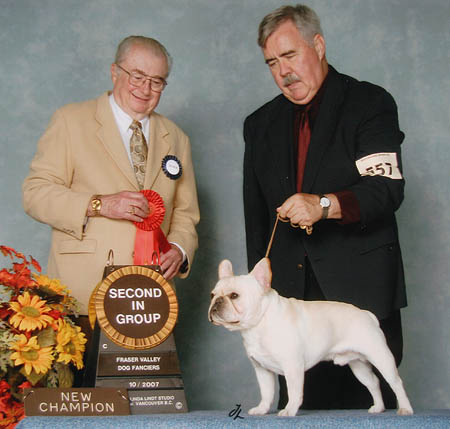 CH Tahoma's Fiddler on the Woof, aka Bo,
earned his Canadian championship in a single weekend,
including two Non-Sporting Group placements!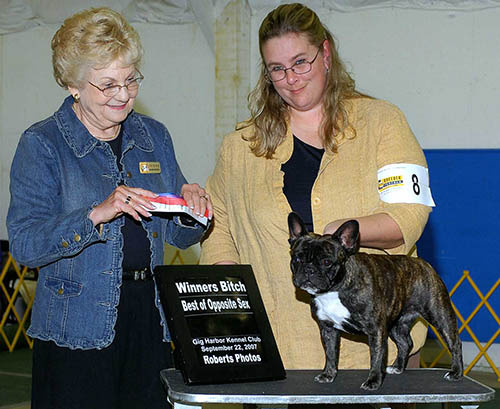 Our girl Luna, co-owned by Kirsten Hopperstad, picked up another point
at the Gig Harbor Kennel Club show in Shelton, Washington, recently.
Now she just needs a major to finish!
French Bulldog Club of America
2007 National Specialty Show
Follow the links below for lots of pictures!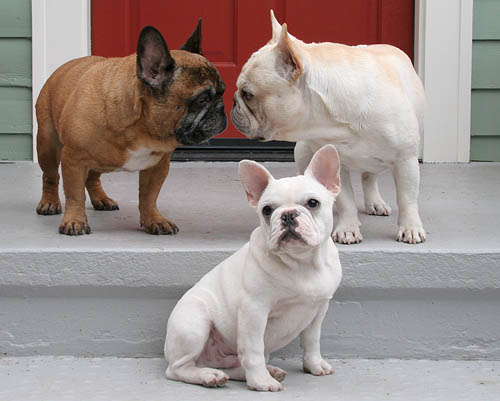 After a couple of weeks on the road,
Woody, Maxx and Jaxx are happy to be back home .
"Good trip?" "Yeah, good trip."

Part 1: Getting there
Part 2: Costume contest
Part 3: Independent Specialty
Part 4: Sweepstakes, Rescues and Veterans
Part 5: Top 20 Invitational
Part 6: The National Specialty
Part 7: The trip home
A Good Weekend for the Maxx-Jaxx Duo
Maxx won Best of Breed today at the Sammamish Kennel Club show,
out of an entry of 24 Frenchies, under judge Lester Mapes.
Jaxx defeated several other breeds for another
Non-Sporting Group 1 at the show's puppy match!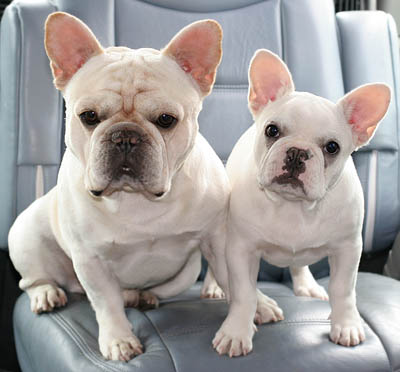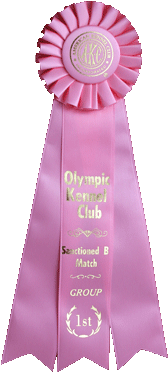 A Good Start and a Promising Future
Maxx (left) is very proud of his son Jaxx (right), who won a
Non-Sporting Group 1st at his first puppy match on August 17!
He beat an adult and an older puppy for Best of Breed, and then
went on to beat the best of 6 other Non-Sporting breeds
to win the group.

Just Gertie.

Maxx's son Jaxx, age 15 weeks,
hangin' out on the front steps.

Nero's Second Major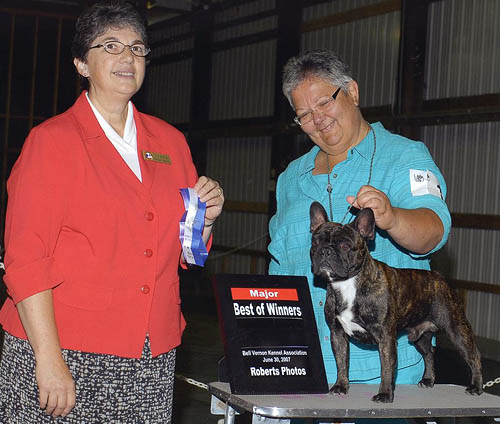 Gertie's puppy Nero, already a champion in Canada,
won his second major toward his U.S. championship on June 30
at the Bell Vernon Kennel Association show.
Three Generations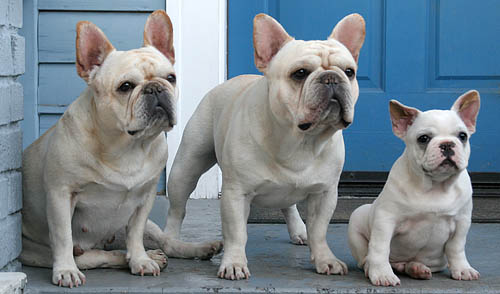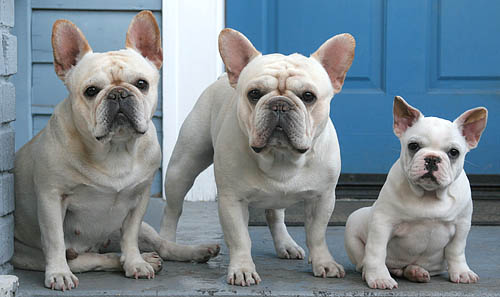 Grandma, Dad and Son:
Phoenix, Maxx and Jaxx.
July 1 Frenchie Walk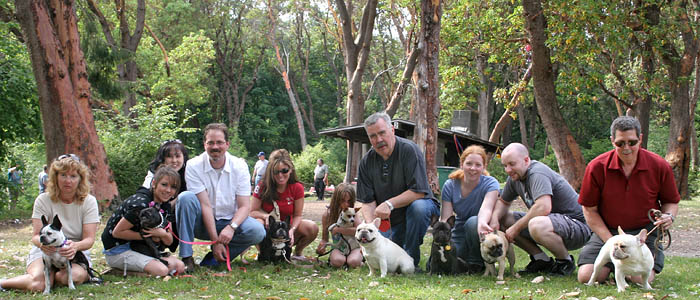 Perhaps it was the hot weather that led to a small turnout for our July 1 Frenchie Walk.
Half a dozen Frenchies and a Boston hung out in the shade of Lincoln Park
and took a short walk on the beachfront path.
Maxx's puppies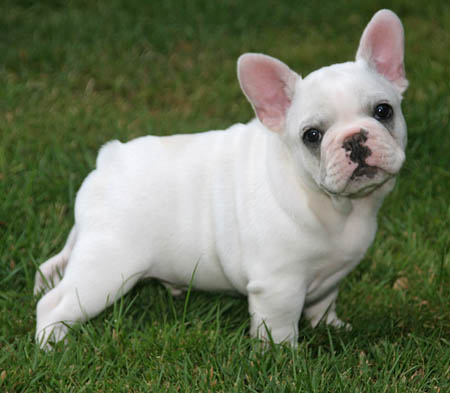 Meet the newest addition to our family, Jaxx!
He is one of three puppies sired by our boy Maxx
and born on April 10.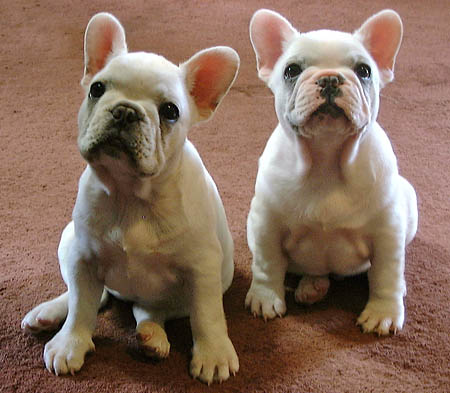 His sister Emma (on the left) is staying with the breeder.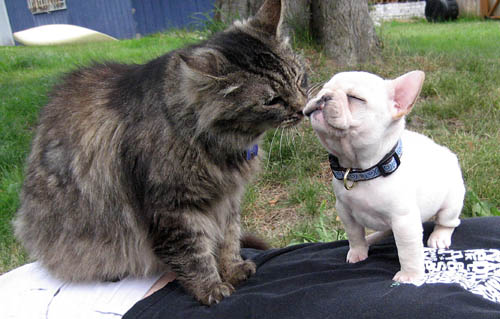 His brother Monty has settled into a wonderful pet home
and already has a new best friend.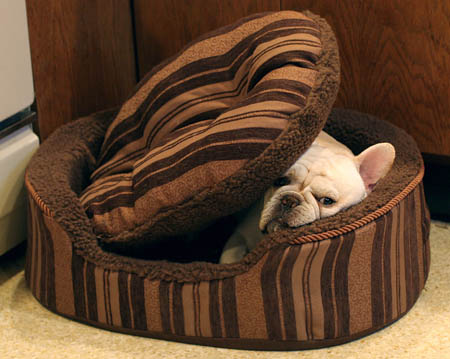 Maxx is enjoying his new bed in his own, unique way.
Maxx wins a Group 4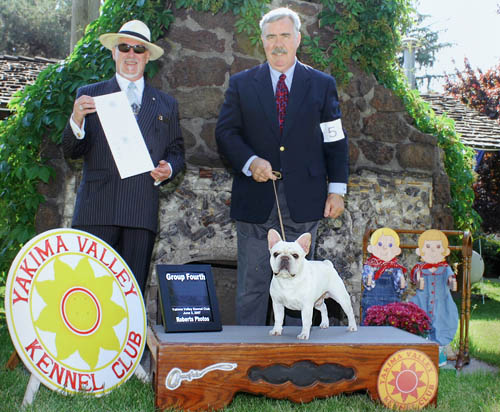 On the weekend of June 2-3 in Yakima, Maxx showed beautifully in the
100+ degree heat, winning fourth place in the Non-Sporting Group on Saturday.
His cold coat, which he thinks of as his Superman cape, kept him very comfortable.
(A cold coat is a thin chamois coat that you soak with water.
Evaporation keeps the dog nice and cool.)
Cover Boys!

Our puppies Dealer and Wheeler are featured on the cover of the summer issue of City Dog magazine, which hit the newsstands last week. It's a fun magazine filled with great articles for urban dog owners and travelers on the west coast. Be sure to follow the link and check it out.
A good weekend!
May 26-29 was a good weekend in Spokane/Coeur d'Alene for MAXX and Dale - and Barclay!
MAXX was Best of Breed on Saturday with an entry of 35 Frenchies, and Best of Opposite Sex
at the other three shows.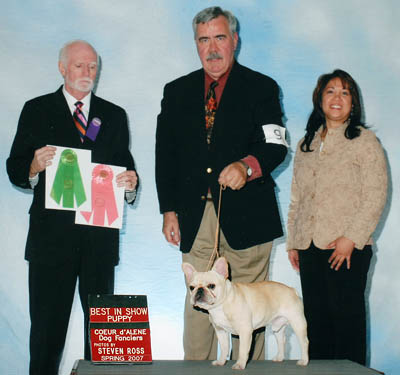 On Monday, Dale showed BARCLAY (Sir Barclay of Fairwood,
owned by Elvie Arnobit) all the way to Best In Show Puppy!
A new home for Wheeler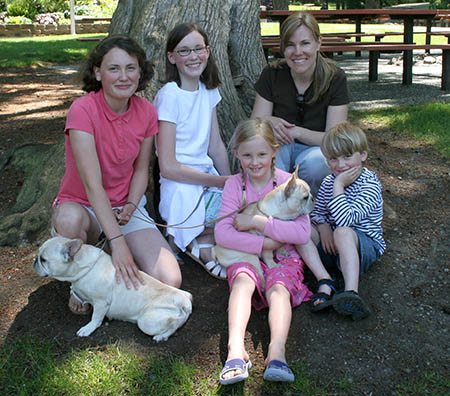 Wheeler went to his new home in May.
His mom Phoenix (on the left) approves.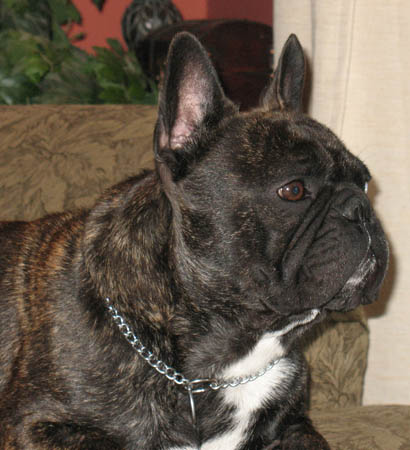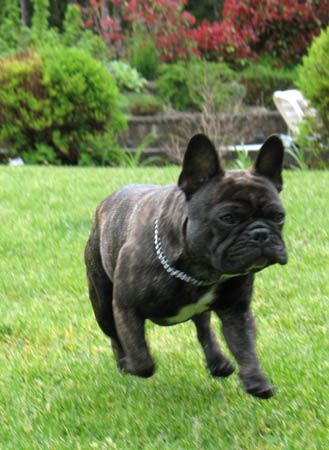 Nero, another one of Gertie's puppies born in 2005, continues to enjoy his life on Vancouver Island.
Maxx is a Dad!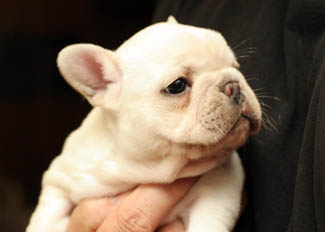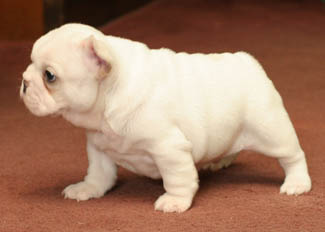 In February, Maxx was bred to a very nice cream girl named JJ (Ja-Ja de Matrilegend),
and she gave birth to two boys and a girl...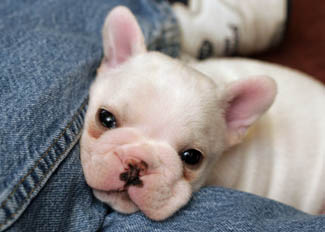 We visited the 5 week old puppies in mid-May and shot these photos...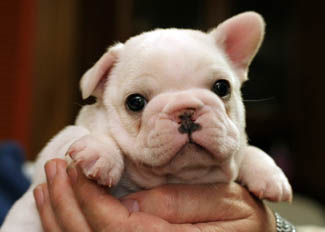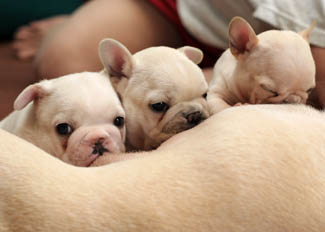 We'll pay them another visit at 8-10 weeks and see how they look!
Gertie's 2005 litter - Wynnie, Luna, Nero and Toro - just turned 18 months old a few weeks ago. Wynnie's owners sent us these photos of her "hard life".
Yeah, right!
May French Bulldog Walk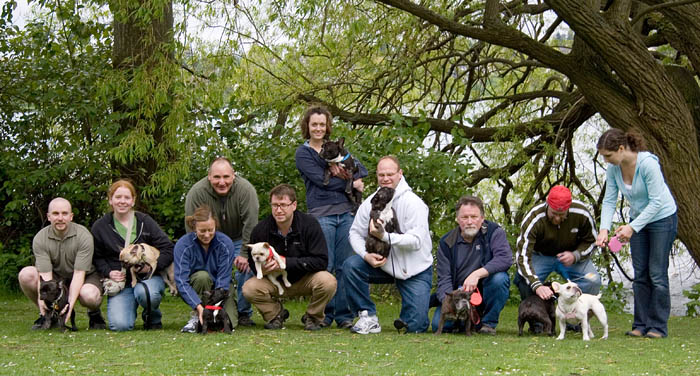 Several of our regular Frenchie Walk attendees were at a dog show in the area,
but a group of about a dozen Frenchie owners enjoyed the May 6 walk at Green Lake.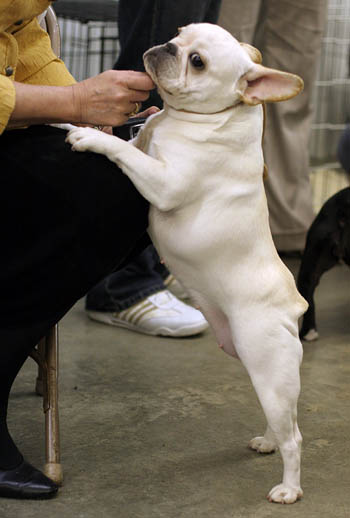 Piper, Bo, and Banjo turned one year old on May 4.
We saw Piper at a show this weekend and thought she looked great!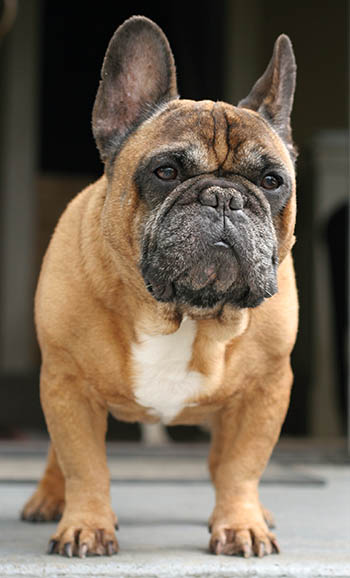 Our oldest dog, Woody, is still going strong at age 10.
He goes for walks every day and plays with the other dogs.
March 20-23:
A Great Weekend in Idaho for BO and MAXX
FRIDAY - BO was Winner's Dog & Best of Winners for his final 2 points and is now an AKC CHAMPION!
MAXX was Best of Breed (3-4-2-0). The judge was Mr. Richard Lopaschuk from Canada.
(He was a replacement judge for first Marcia Foy, and then Denny Mounce!)
SATURDAY - MAXX was Best of Breed (4-4-2-0) under judge Nancy Byrd from Washington.
In the Non-Sporting Group, Maxx made the cuts and was one of the final 6.
Group Judge was Don Rogers from Mississippi.
SUNDAY - MAXX was Best of Breed under judge Don Rogers.
In the Non-Sporting Group, Maxx made the cuts and was one of the final 7.
Group Judge was Richard Lopaschuk from Canada.
MONDAY - MAXX was Best of Breed under judge Anthony Reasin from Texas.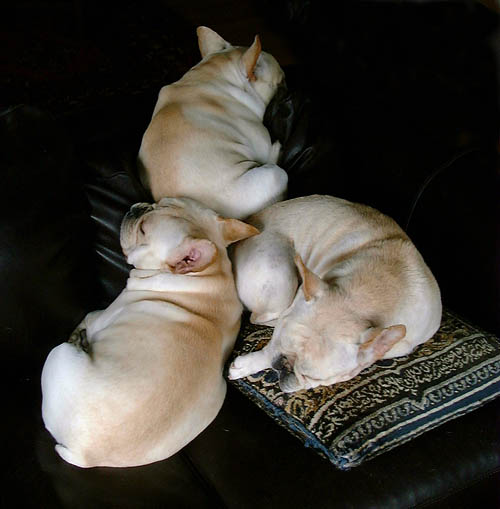 Bo, Maxx and Phoenix enjoy a nap together on the sofa.