Phoenix-Magoo Puppies
Born January 27, 2007
Sire: CH Chelons Me and Mister Magoo (NP04332702)
Dam: Am/Can CH Tidewater's Phoenix at Tahoma (NM92187102)
Click here for a printable pedigree (PDF)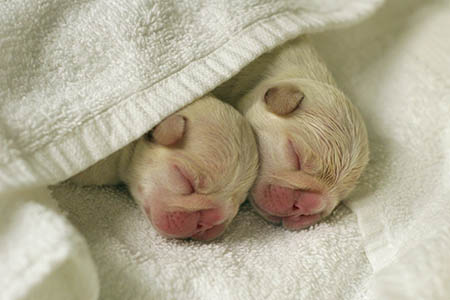 Shortly after midnight Friday night, Phoenix gave birth to two
beautiful cream males, weighing in at 8.8 and 10.0 ounces.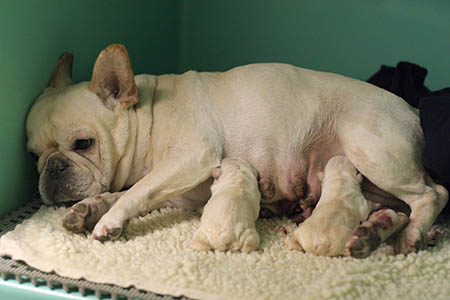 Phoenix was still drowsy from anesthesia when this photo was taken.
Day 1: 24 hours after being born, the puppies have gone through the
usual first-day weight drop. They now weigh 8.2 and 9.4 ounces.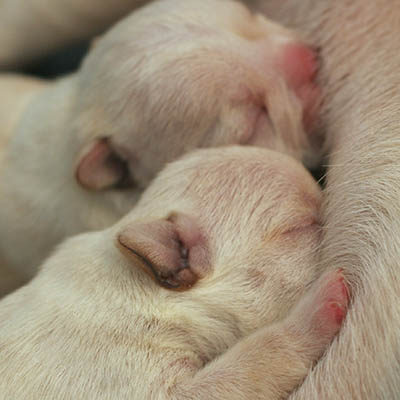 Day 2: These puppies have the best instinct for nursing we've ever seen.
Today's weights: 8.8 and 9.8 ounces.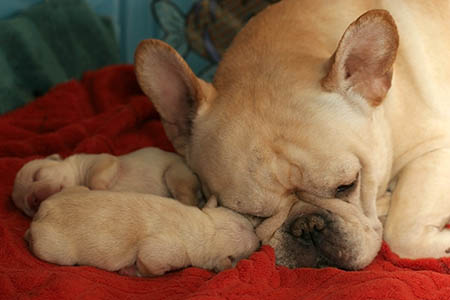 Day 3: Phoenix is a devoted and attentive mother.
Today's weights: 9.8 and 11.0 ounces.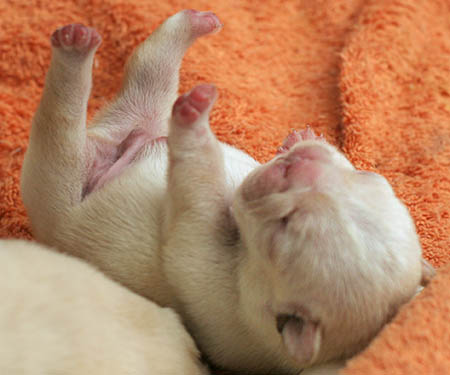 Day 4: A big strreeetch between napping and eating.
Today's weights: 11.2 and 12.0 ounces.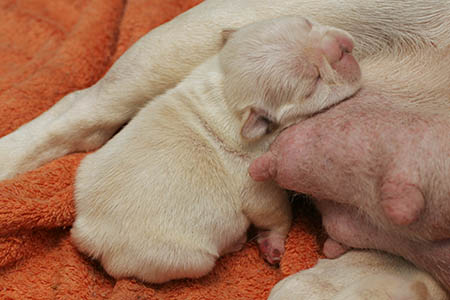 Day 5: Bosom buddy.
Today's weights: 12.8 and 14.0 ounces.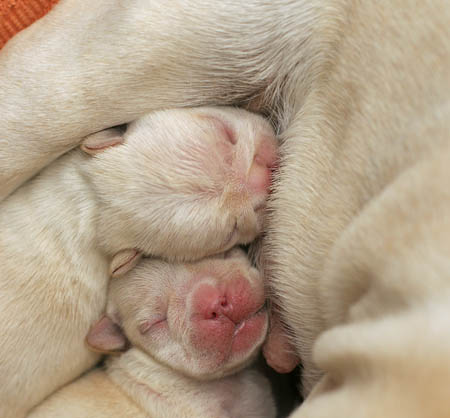 Day 6: Another nap between meals.
Today's weights: 14.2 and 15.4 ounces.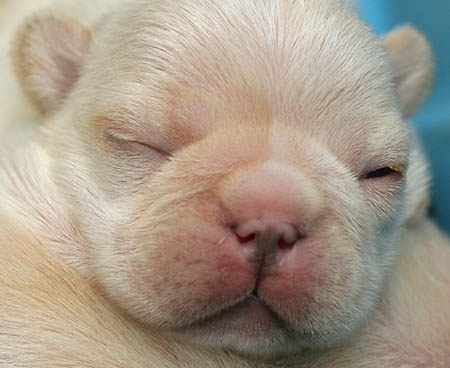 Day 7: The puppies' eyes are beginning to open.
They're also starting to get pigment in their faces and feet.
Today's weights: 15.0 and 16.0 ounces.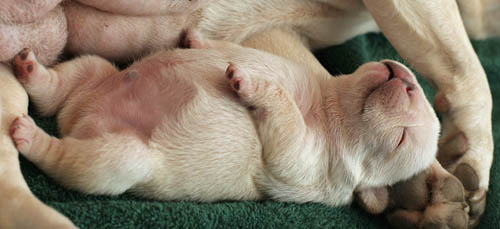 Day 8: Full tummy, time to sleep.
Today's weights: 18.8 and 20.2 ounces.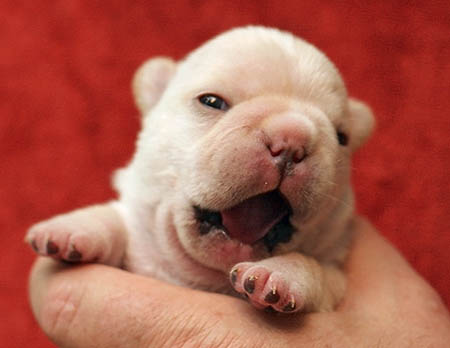 Day 10: I can see!
Today's weights: 21 and 23 ounces.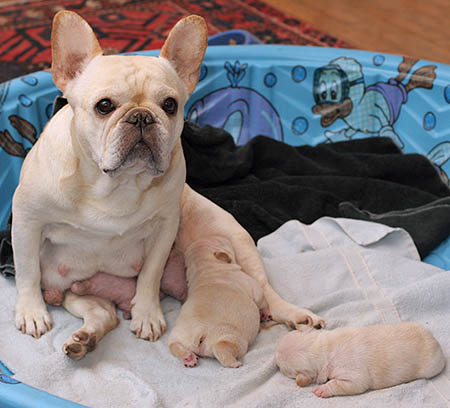 Day 11: Phoenix is doing a great job with the puppies.
When the puppies are sleeping, she's starting to spend a
little time away from them, usually on a nearby sofa where
she can keep an eye on them.
Both puppies weigh 24 ounces today.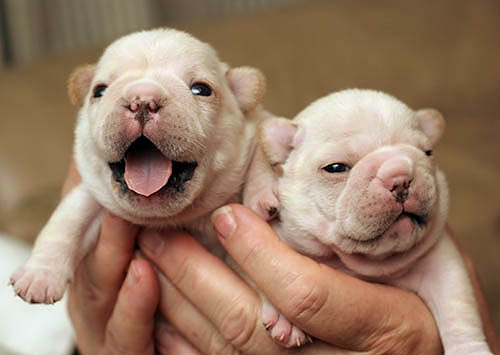 Day 13: Nearly 2 weeks old,
and nearly 3 times their birth weights.
Today's weights: 27 and 28 ounces.
Day 15: Both puppies weigh 34 ounces today.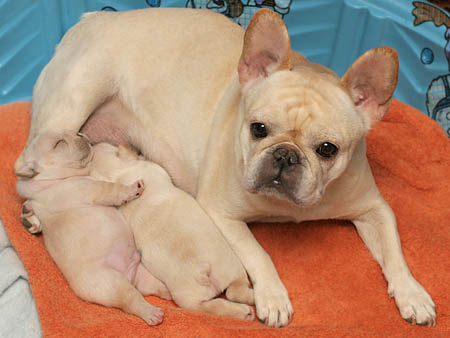 Day 16: Contentment.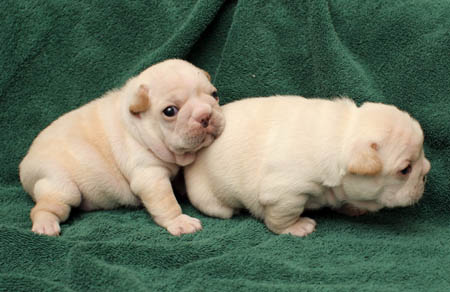 Day 17: The puppies are taking their first, tentative steps.
They're starting to growl and bark on occasion, too.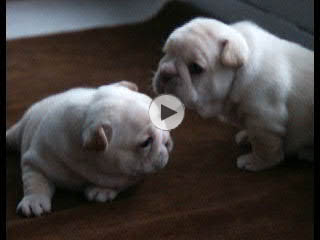 Day 21: A few days ago the puppies took their first steps.
Now, they're starting to play with each other.
Click on the image to see a short QuickTime video clip.
(Note that it may take a few seconds to download the video.)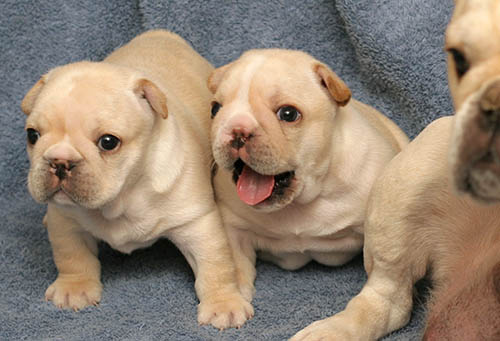 Day 25: The puppies continue to get more playful,
and more engaged with their surroundings.
For this photo they were responding to a squeaky toy.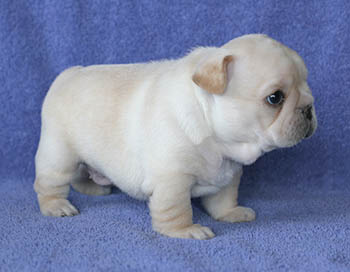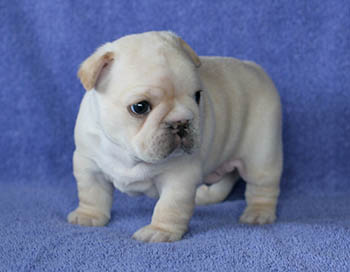 At four weeks old, "Wheeler" is 3 pounds, 9 ounces.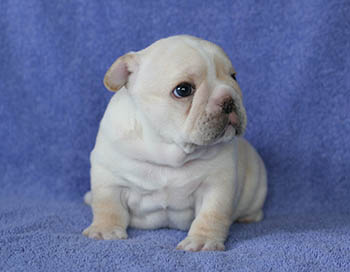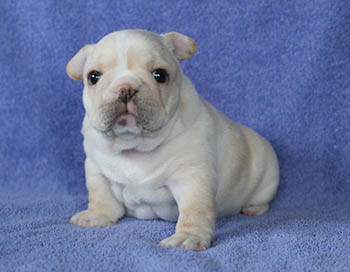 "Dealer" is 3 pounds, 6 ounces.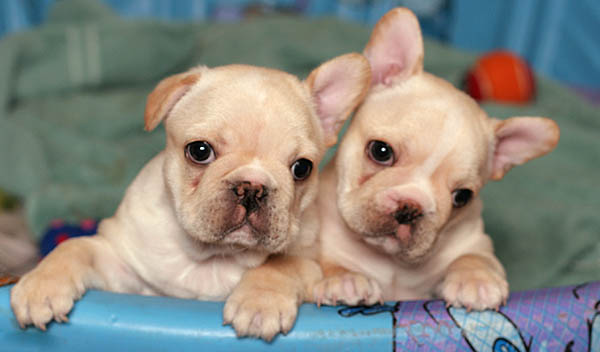 Day 37: What a difference a week makes!
The puppies have three(sometimes 4) ears up and are
starting to eat puppy food blended with warm water.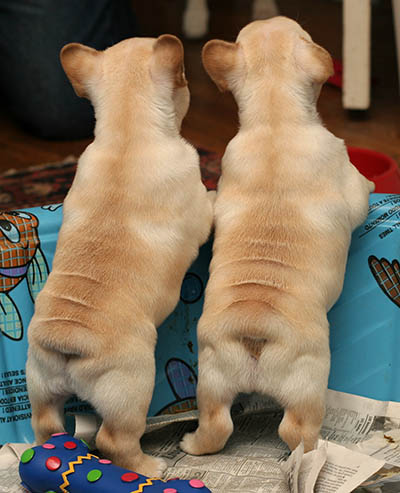 Who needs washboard abs
when you have washboard buns?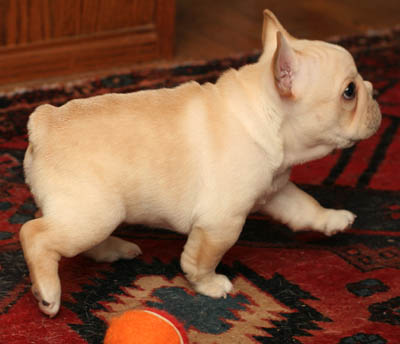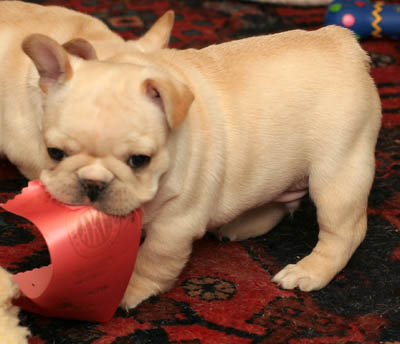 Six weeks old: Dealer and Wheeler got their first play time outside their pen.
Wheeler's right ear has gone up, and now his left ear is down!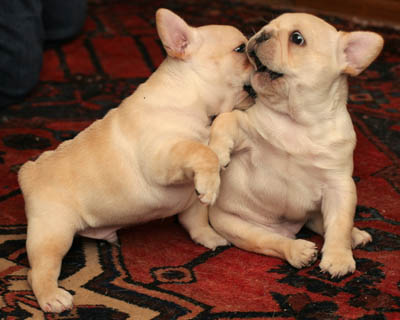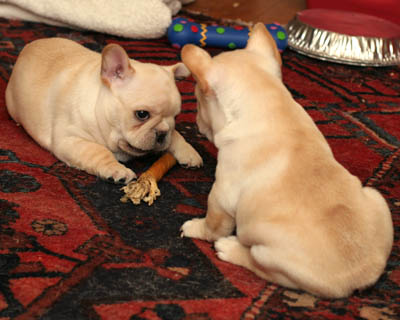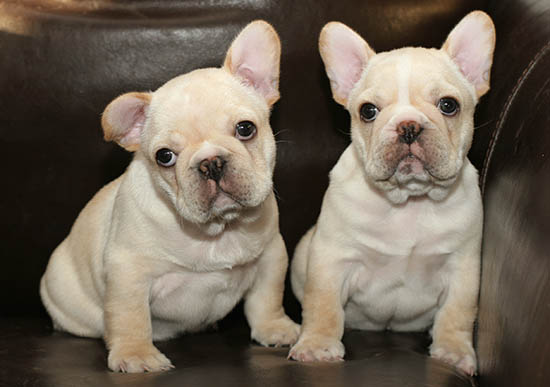 Wheeler still can't decide which ear to put up.
Now the left ear's up, and the right ear's down!
Dealer decided early to put both ears up and keep 'em up.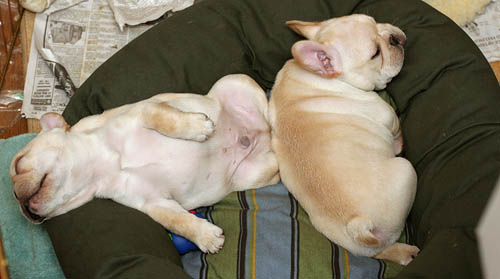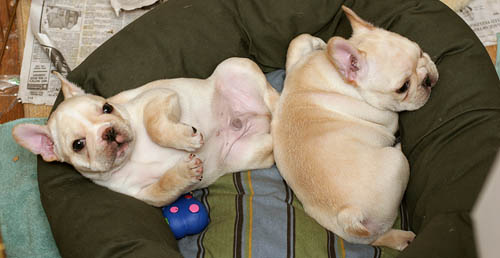 Good morning! Dealer and Wheeler,
now 7 weeks old, are enjoying their new bed.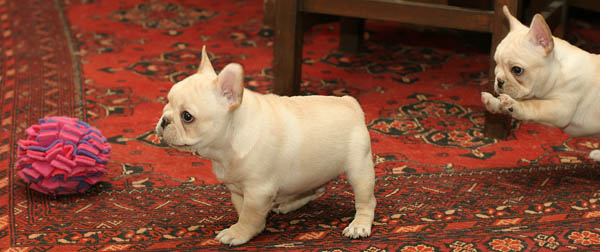 Attack!!!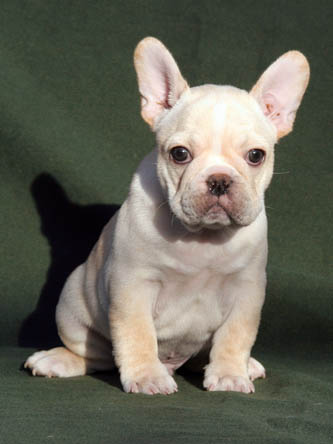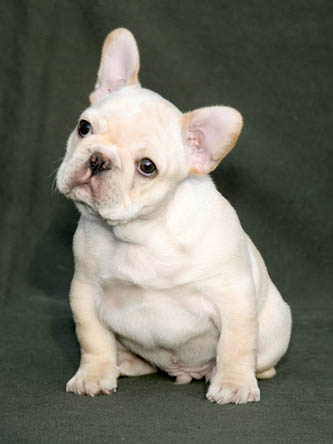 Dealer and Wheeler, 8 weeks old.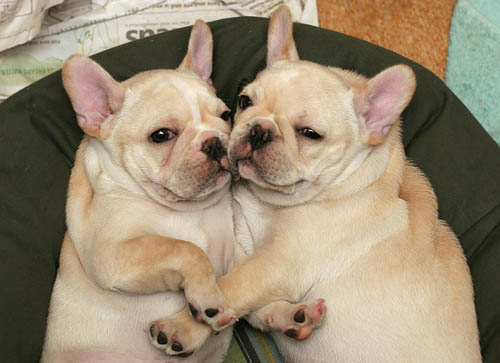 Best buddies.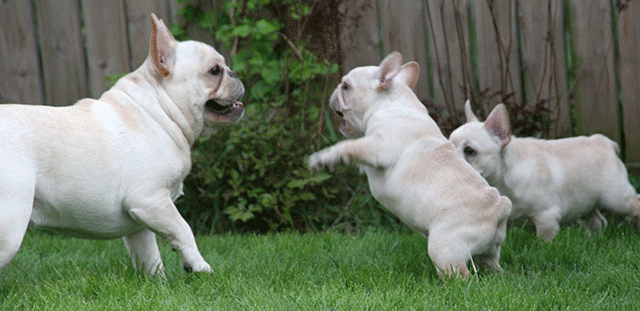 March madness . . . he shoots, he scores!
(Bo, age 11 months, loves to play with the 10 week old puppies.)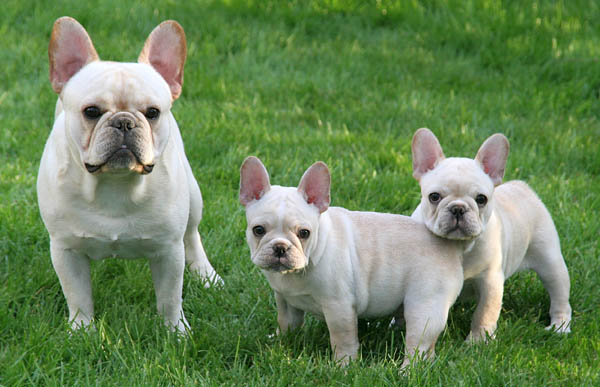 Happy Easter from Bo, Dealer, and Wheeler.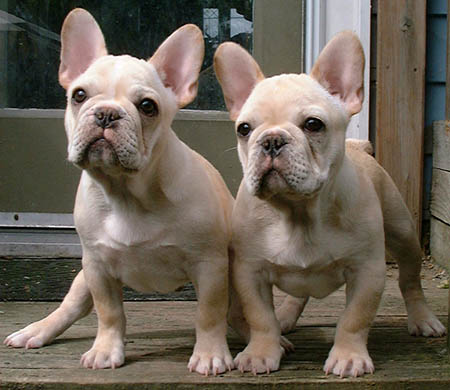 Wheeler and Dealer are now 13 weeks old.
They've been running up the porch steps for a few weeks now,
but this weekend they just learned to run down the steps.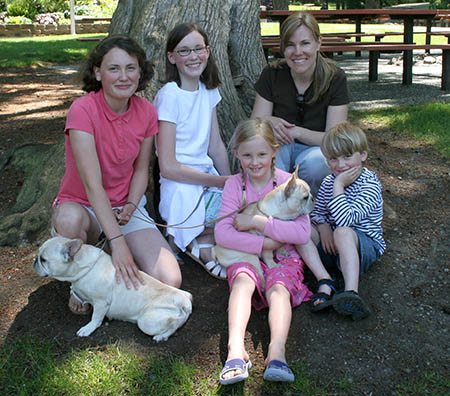 Wheeler went to his new home in May.
His mom Phoenix (on the left) approves.