Pictures of the Day 2006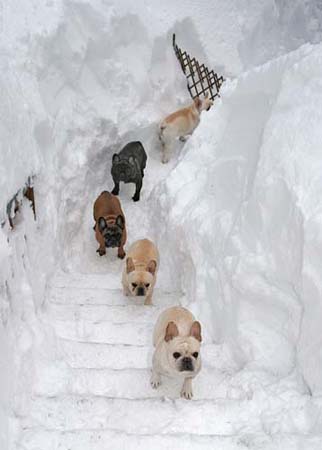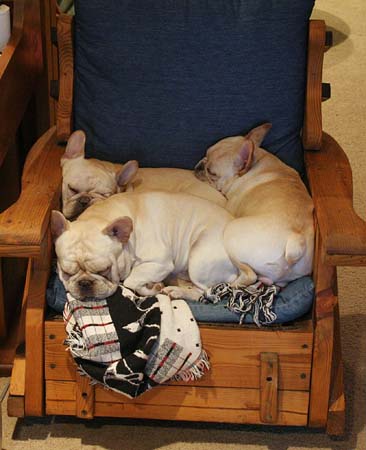 The Tahoma gang enjoyed Christmas at our cabin in Snoqualmie Pass.
Outside: Around ten feet of snow piled on either side of the steps.
Inside: Lots of new places to cuddle.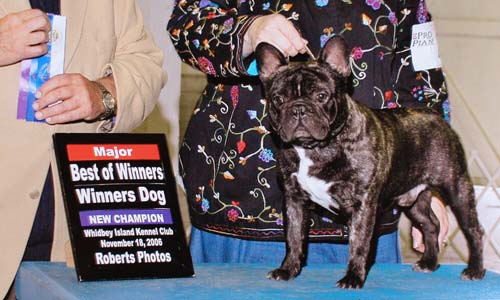 Toro, co-owned and handled by Leslie Kubik,
finished his American championship in mid-November.
This past weekend, Dale brought him up to Chilliwack, BC,
where he earned 4 more points toward his Canadian championship.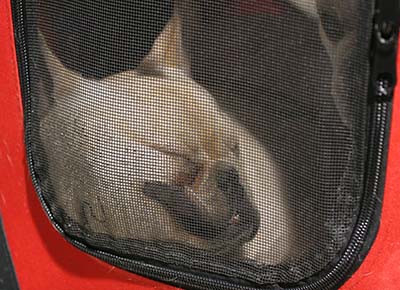 After 3,800 miles and almost 3 weeks on the road, we're finally home!
We feel about as exhausted as Bo looks in the picture above.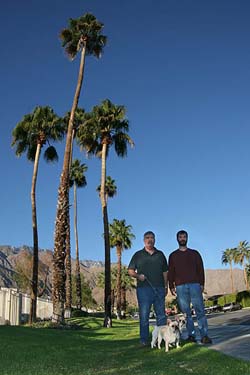 Our post-Eukanuba vacation continues.
We're having a great time with Maxx and Bo in Palm Springs.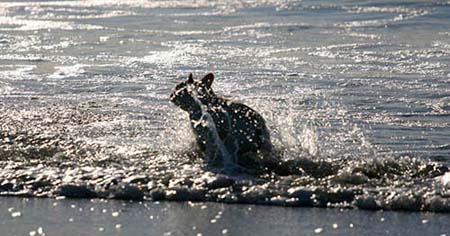 Eukanuba's over, and Maxx and Bo are enjoying a vacation on the California coast.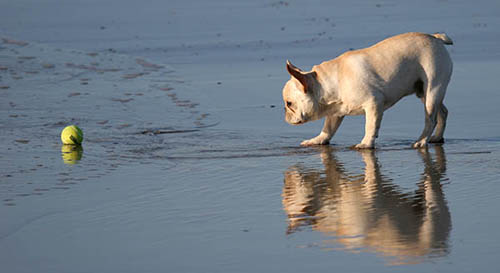 AKC/Eukanuba National Championship
| | |
| --- | --- |
| Maxx makes his entry in his stylish red convertible. | Dale and Maxx. |


With an entry of 27 Frenchies, the ring was very crowded!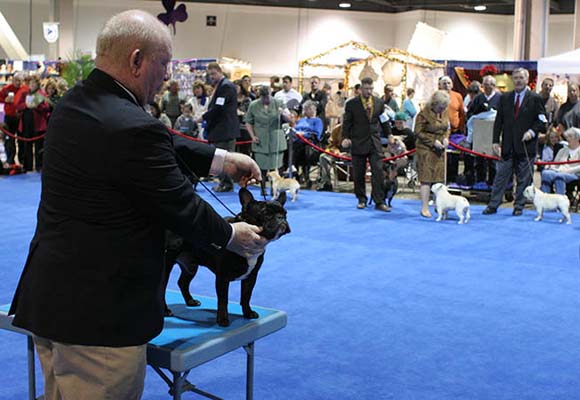 Maxx's half-brother Kohl was shown by his owner/breeder Rod Brown as a Bred By Exhibitor dog.

The previous day, Bo won his class at the
French Bulldog Club of America
puppy sweepstakes.


Maxx showed beautifully both Friday and
Saturday. Although he didn't win anything,
he made us proud!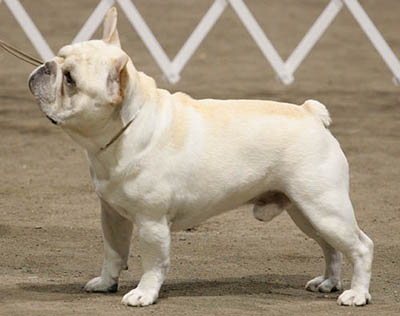 The Tahoma gang did great at the Whidbey Island Kennel Club shows
in Monroe, Washington, on November 18 and 19.
Maxx (above) won Best of Breed both days, over about 30 other Frenchies.
Toro (below) completed his Championship! He took
Winner's Dog for a 4-point major, and also took Best of Winners.
It was a great way to celebrate his first birthday!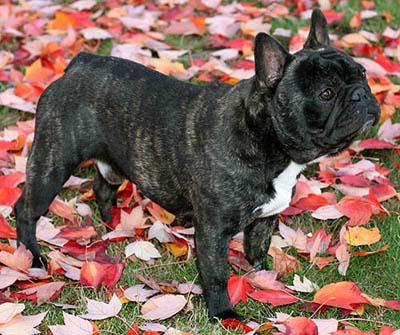 Maxx is going to Eukanuba!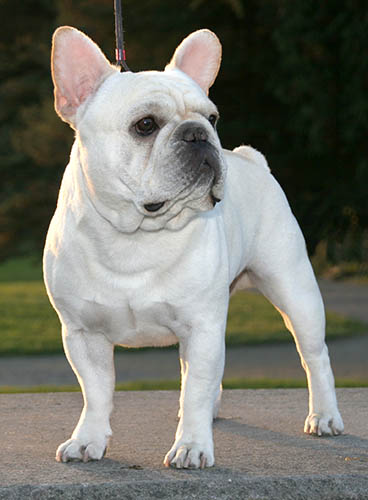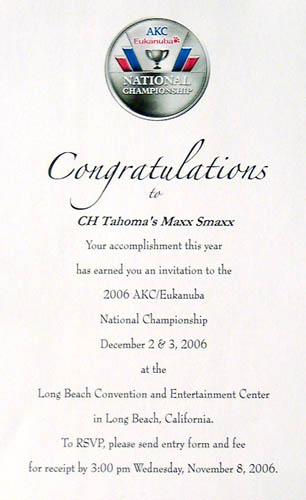 It's official! Our Maxx is going to the AKC/Eukanuba National Championship!
A great weekend for the Tahoma gang
Our litter-mates Toro and Luna and Nero were winners this weekend at the
Lower Mainland Kennel Club shows, the largest dog shows in Canada.
On Saturday, Oct. 28, Toro was Winner's Dog for three points, and
Luna was Winner's Bitch for three points, under Australian judge Mrs Patricia Scales.
Toro went on to win Best of Winners for an additional point, and also to win Best of Breed Puppy.
Litter-mate Canadian Champion Nero was Best of Breed Puppy on Friday and Sunday.
These Gertie/Enzo puppies will be turning one year old on Saturday, Nov 4.
Halloween French Bulldog Walk
October 22, 2006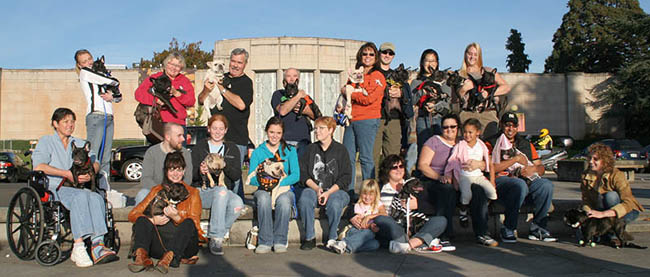 Around 2 dozen Frenchies, some in festive garb, joined us for the Halloween
French Bulldog Walk at Volunteer Park. Click here to see lots of individual photos!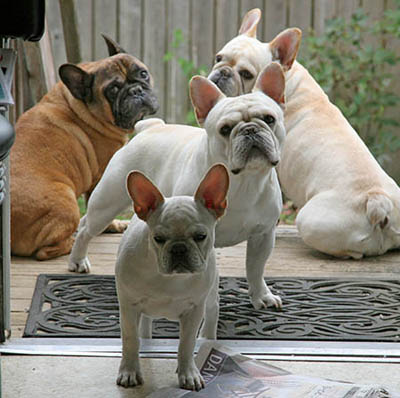 Please take us for a walk. Please? Please? Please?
October 1 French Bulldog Walk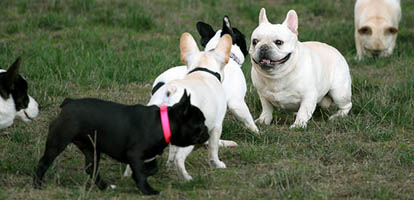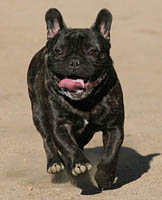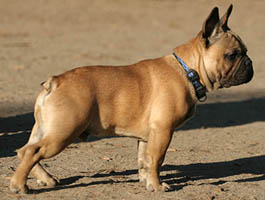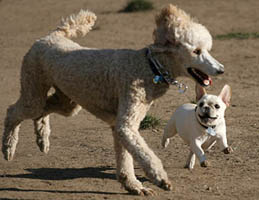 Thirty Frenchies showed up for the October 1 get-together at Robinswood Park in Bellevue.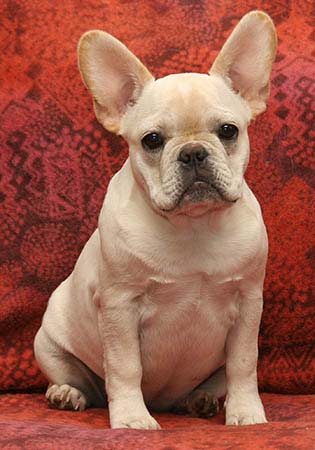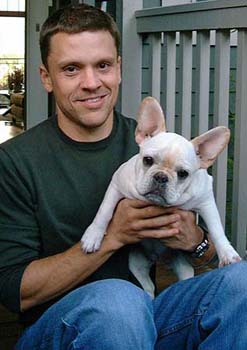 Piper went to her new home in Seattle at the end of September...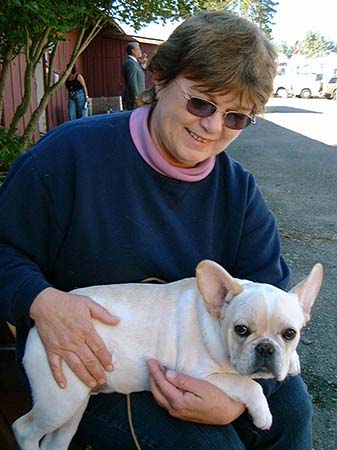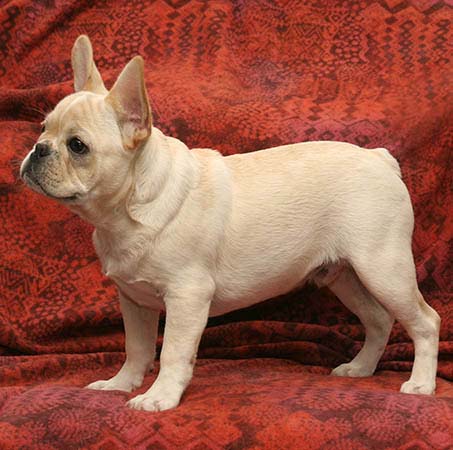 ...and Banjo went to his new home in Oregon, where he'll live with several Saint Bernards.
Watch for him in the show ring!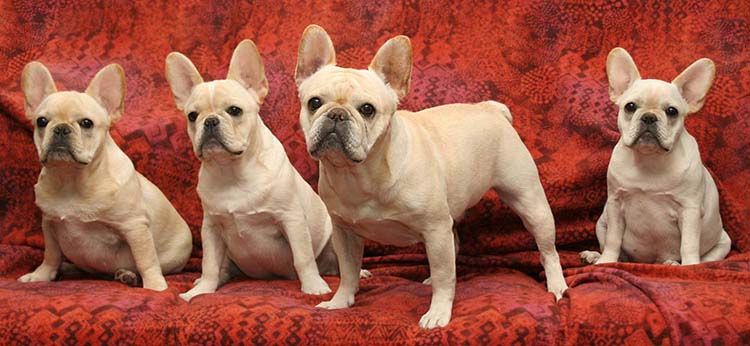 Phoenix and her 16 week old puppies (Bo, Banjo and Piper) pose for a final family portrait before two of them leave for new homes.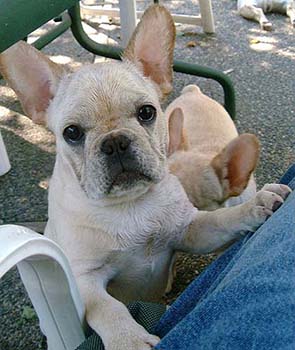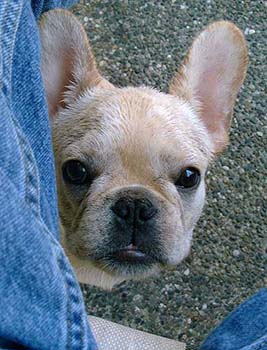 Banjo and Bo got all wet and dirty playing with the hose.
Baths followed.
Maxx wins a Group 2!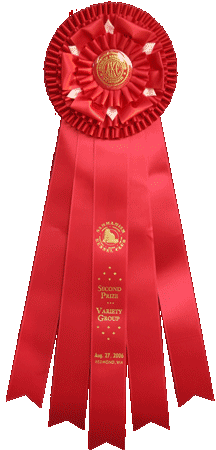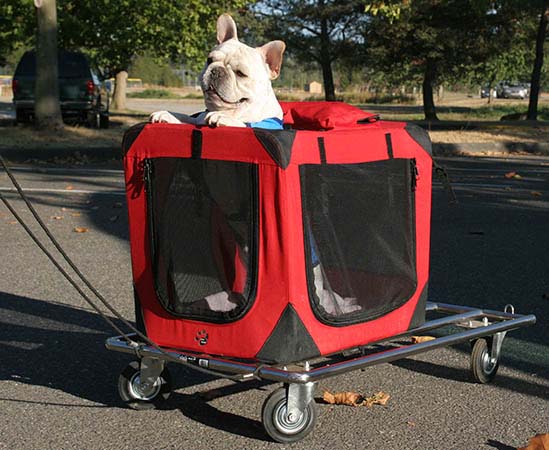 Maxx has found a new, stylish way to arrive at ringside.
It evokes a lot of smiles from people, and a photo or two.
On August 28 he won a Non-Sporting GROUP 2 at the
Sammamish Kennel Club show in Redmond, Washington.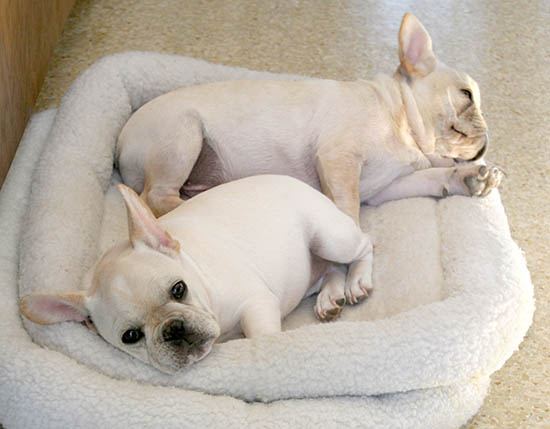 Piper and Bo enjoy a lazy Labor Day afternoon in the shade.
Banjo chose to lay in the sun outside instead.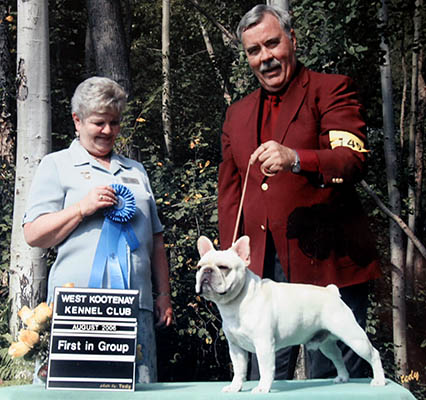 Another good weekend for the Tahoma gang!
Maxx (above) won a Non-Sporting Group 1 and a Group 4 at shows in Castlegar, BC.
Back in the states, Toro (left) beat 21 other Frenchies to win Best of Breed from the puppy class on Saturday,
and his litter mate Nero (right) got Reserve to a 4-point major on Sunday.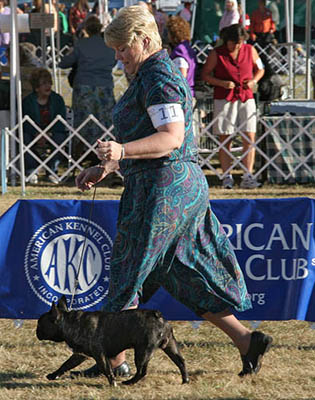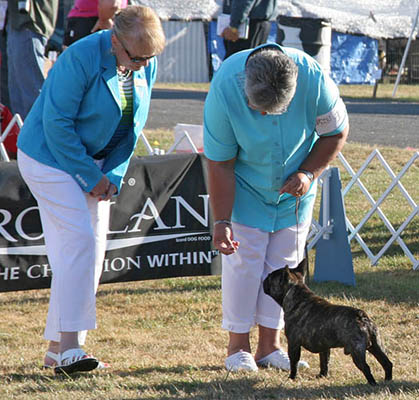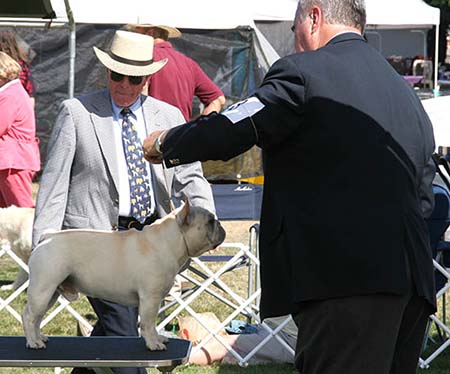 Our Maxx took Best of Breed over 27 other French Bulldogs at a show in Lacey, Washington, last Sunday.
He's currently ranked number 24 by the AKC. We're hoping to keep him in the top 25 so he can
participate in the Eukanuba National Championship in December.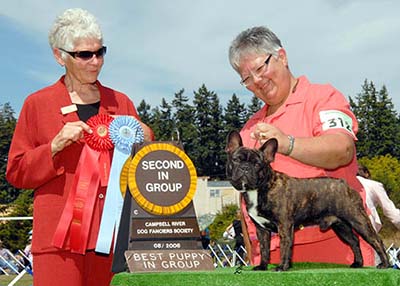 Tina Pace reports that our Nero, who just turned 9 months old on August 2, is doing great
on Vancouver Island. In the first three days of the Island Circuit, he's won:
Saturday: Best of Breed, Non-Sporting Group 4, Best Non-Sporting Puppy
Sunday: Best of Breed, Non-Sporting Group 2, Best Non-Sporting Puppy
Monday: Best of Breed, Non-Sporting Group 4
He now has 9 of the 10 points he needs for his Canadian championship title.