Pictures of the Day 2006
August 6 French Bulldog Walk

More than a dozen Frenchies showed up for
the August French Bulldog "walk" at the
Golden Gardens off-leash area. It's a nice,
big, shady area that we'll definitely return to
next year. Click here to view lots of photos from the
August walk, and past walks, too.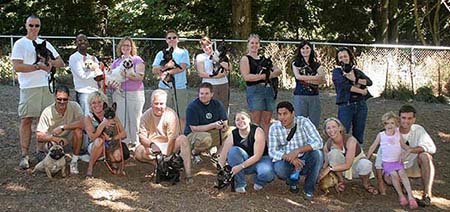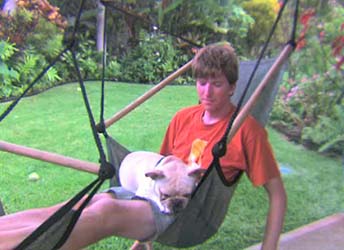 Maxx's brother Otto (aka Dexter) has moved to Hawaii!
A new, expedited entry system for dogs allowed him to avoid any
quarantine period when he moved there from Seattle with his owners.
Coeur D'Alene, July 22-23
MAXX was Hot, Hot, Hot ! ! !
Maxx and Toro and Luna were at shows this weekend in Coeur D'Alene, Idaho.
Temperatures were in the 110 range by late afternoon.
MAXX was Best of Breed both days, TORO was Winner's Dog for 2 points, both days,
and LUNA was Reserve Winner's Bitch both days.
Judges were Barbara Watt from Canada, and Mrs. Jean Fournier.
Mrs. Fournier said she really, really liked Maxx, and while he was in the group under
Judge B. Watt, Maxx let out a loud burp while she was looking at his bite.
The judge and several people standing close had a good laugh at his lack of manners.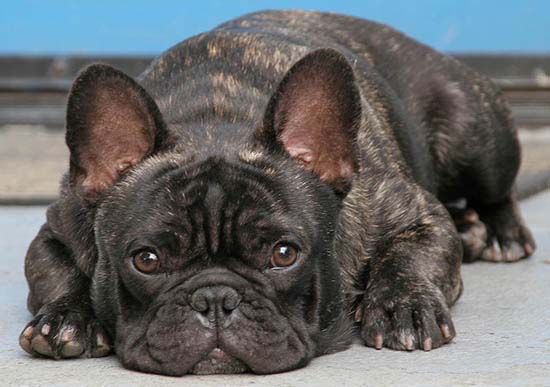 TORO has moved on to a new show home. He is living with Leslie Kubik in Ritzville, Washington.
Early reports are that he is fitting right in with her Schnauzers and Whippet, and other Frenchies,
stealing their toys and trying to eat their food, and having a ball playng with all his new family members.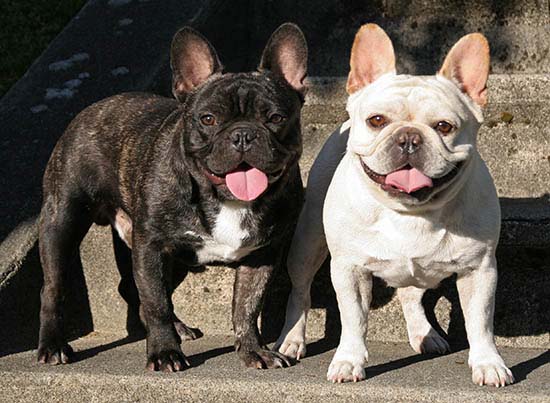 Summer is hot dog season!
Toro and his mom Gertie return from an
afternoon at the off-leash area.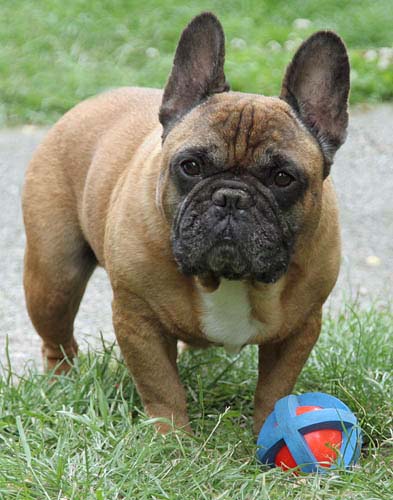 For all the folks who've emailed and asked for more pictures of Woody,
here he is. At age 9-1/2 he's still doing great.
He loves chasing toys - the noisier the better.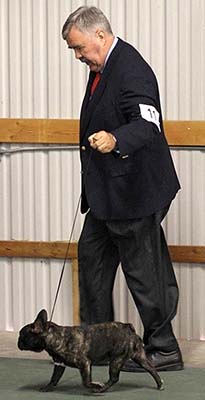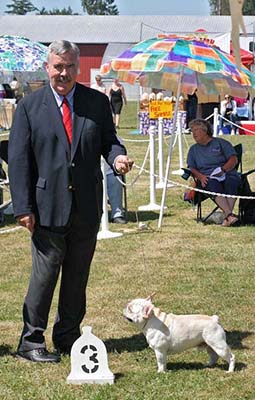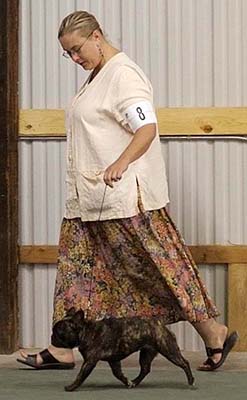 July 1-2 was another great weekend for the Tahoma gang. Toro and Luna both won Reserves to majors,
and Maxx won a Non-Sporting Group 3!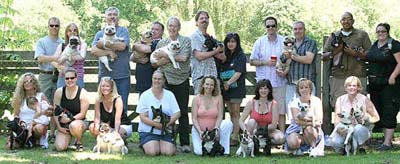 Around 25 Frenchies turned out for our June 25 French Bulldog Walk at the Robinswood Park off leash area in Bellevue, WA.
Lots shade trees and a light breeze provided relief from the near-record heat.
Click here to view lots of photos!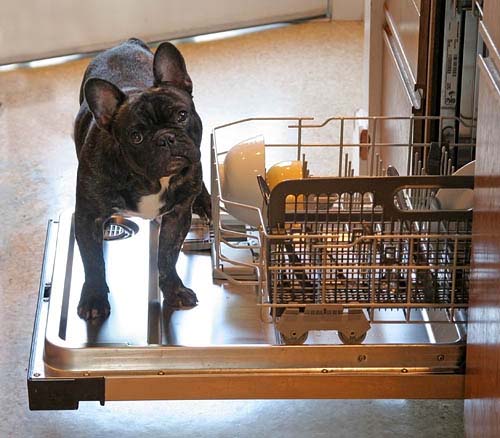 I walked into the kitchen, and there was Toro, standing on the open dishwasher...
Here are the captions you suggested:
"This looks like a light load, I can give them a spit shine."
"Just checking to see if they needed pre-washing"
"Is my bowl clean???"
"Toro's trying to earn an allowance."
"Forget about a groomer, we've got the dishwasher."
"Tahoma French Bulldogs - Better trained than most kids...our dogs do the dishes."
"Who says I don't do my chores! More dishes please!"
"WHAT?"
"Hmmm...I guess these dishes are clean enough. Now, you still have to make the beds and scrub the floors. Any questions?"
"You can't see me"
"Hey are these clean?"
"I want to lick the bowl before you put it in here"
"Hey Woody, stay in there, they'll be gone in a minute after they take my picture!"
"I swear everybody gets up here"
"Don't come any closer or I'll lock myself in"
"How do you think I got up here?"
"Just adding a little dishwashing soap"
"Forget-a-bout-it-nothing to see here"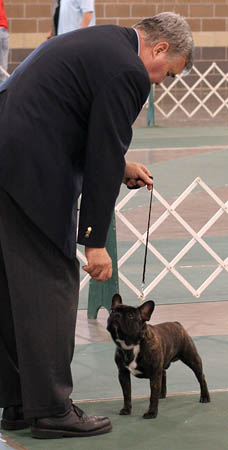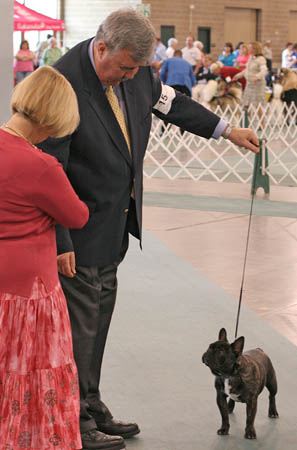 Maxx was BEST OF BREED out of 23 Frenchies at Puyallup Shows on Saturday, June 10,
and Luna was RESERVE WINNER'S BITCH to 5-point major on Sunday.
Three of the Gertie/Enzo puppies (pictured above - Nero, Toro, Luna)
were in the show ring and presented themselves well.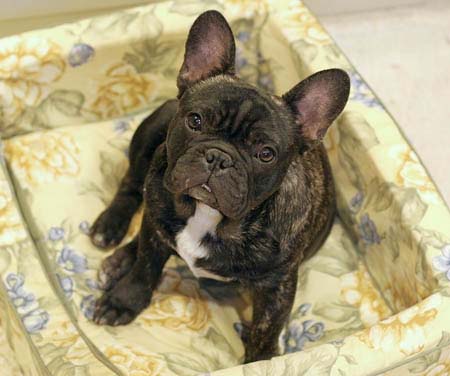 The Tahoma gang had a great day on Sunday, June 3, at the Yakima shows.
Luna beat an open bitch for her first point,
Toro took Best of Winners for his first point,
and Maxx won Best of Breed!
Pictured above: Toro, 7 months old.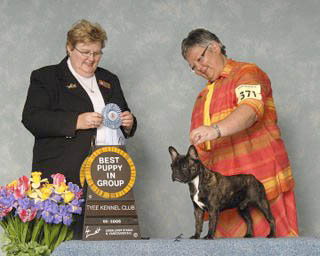 On his first weekend in the ring, Gertie's puppy Nero
won Best Puppy in Group on Saturday and
Best Puppy in Show on Sunday!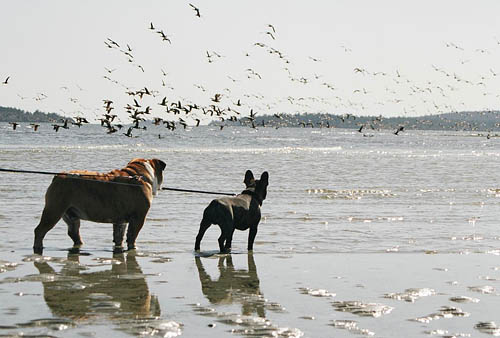 Nero is enjoying life on Vancouver Island, where he
participates in "bulldog rescue" with his best friend Diesel.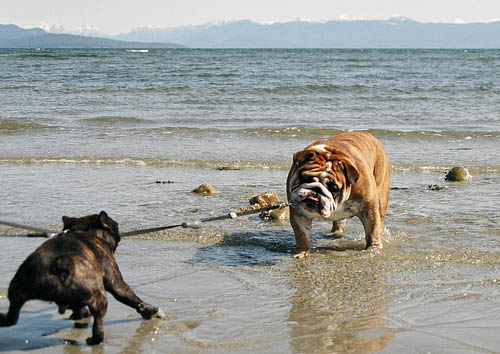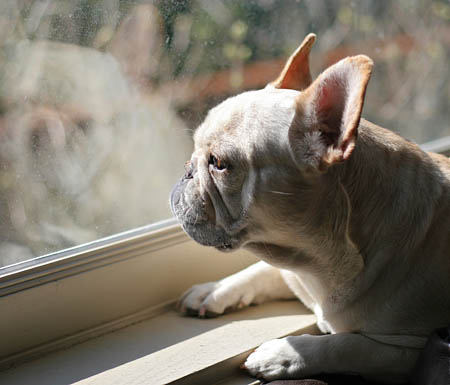 Gertie reflects.

Maxx took Best of Breed both days at the Moses Lake shows last weekend.
He didn't place in the Non-Sporting Group, but he showed very nicely.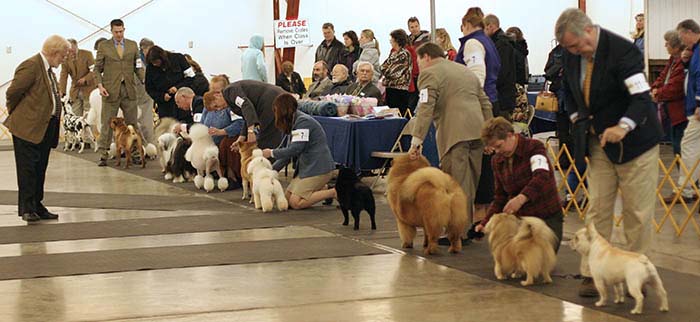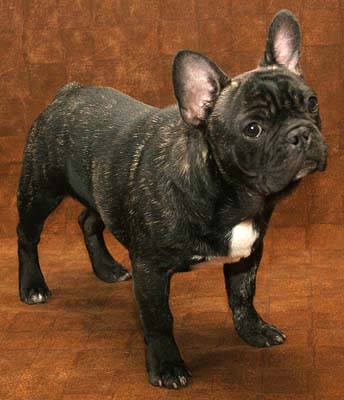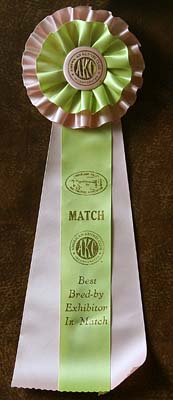 Off to a Great Start:
At the Timberland Dog Fanciers Association Match on April 7,
Our 5 month old TORO took Best Bred by Exhibitor in Match!
It was a large entry, including many adults, and all seven groups
were represented in the Best in Match ring.

And his sister LUNA won Non-Sporting Puppy Group 1
over six other breeds in the group!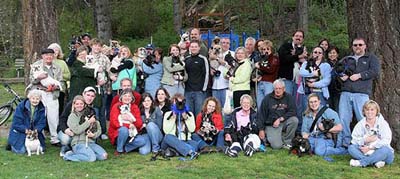 Our first Seattle French Bulldog Walk of the year attracted 25 Frenchies and a few of their cousins
to Seward Park for an unexpectedly nice day. Click here to view lots of pictures.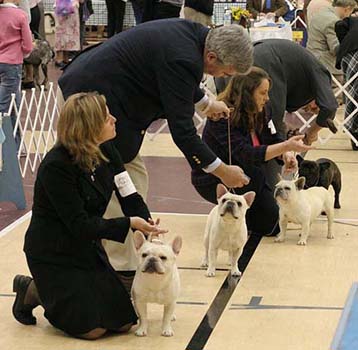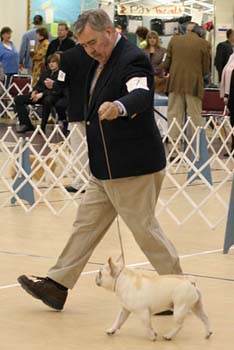 Maxx took Best of Breed at the Bremerton show on Sunday and showed very nicely in group.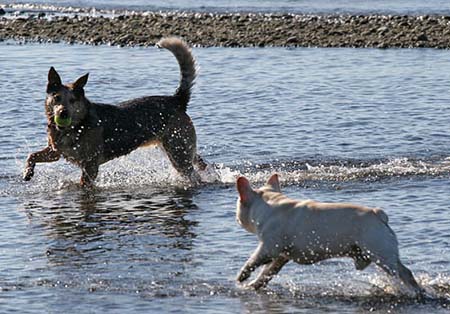 Maxx gets his first taste of salt water at the Edmonds Marina Park off leash area.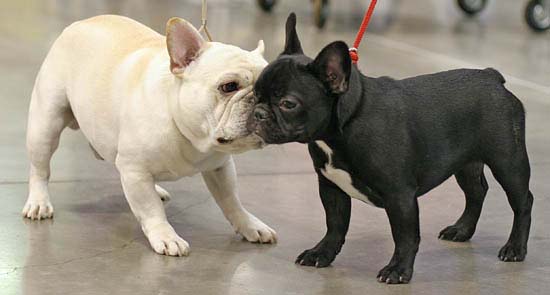 Smooch the Pooch:
Maxx meets his daughter Clair for the first time.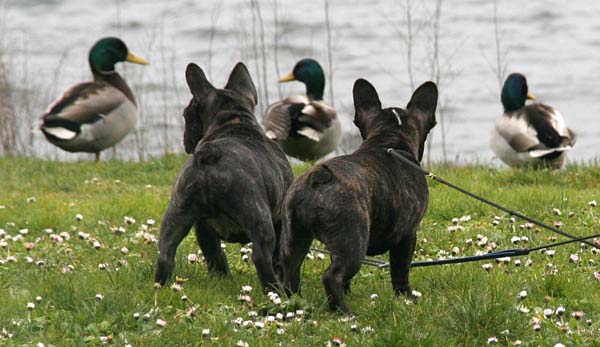 Duck . . . Duck . . . Goose!
We took Gertie and her puppies Toro and Luna (pictured) to Seward Park
for a walk today. They were quite fascinated by all the ducks.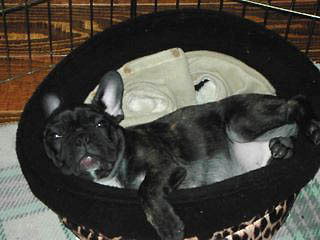 It's a hard life being a Frenchie puppy.
Nero is enjoying his new home on Vancouver Island in Canada.