Pictures of the Week 2011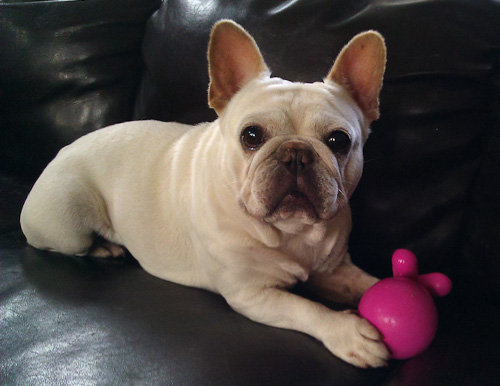 Gertie hopes that you have a ball in 2012.
Merry Christmas from the Tahoma Gang!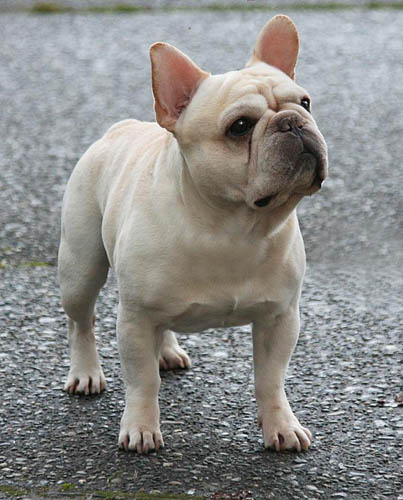 Our Tahoma's Maxx Smaxx is now a Grand Champion,
finishing at the Greater Clark County KC shows with
Best of Opposite, for his 4th major and a total of 27 points.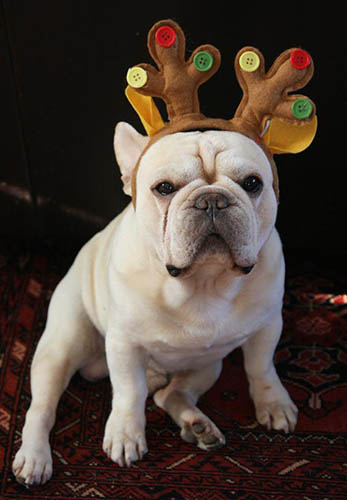 "Humbug," says Maxx.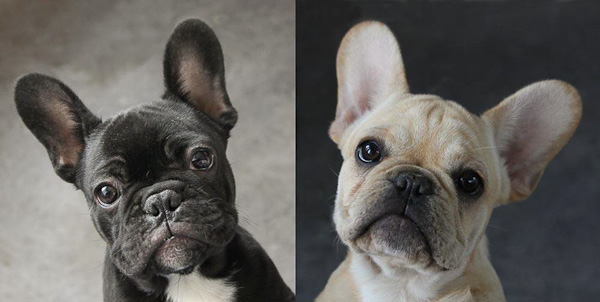 Rudy and Dexter are 5 months old.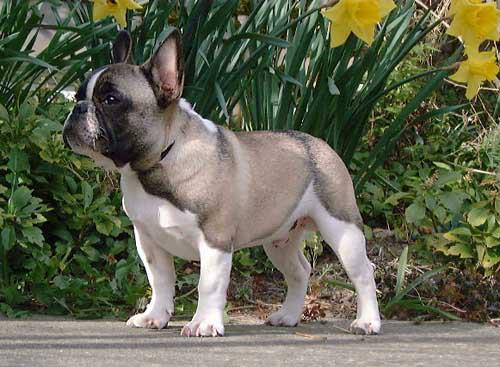 Tahoma's Jack O'Lantern - Oct. 28, 2000 - Oct. 15, 2011
We received sad news yesterday of the passing of the beloved JACK just a week short of being 11 years old. Jack was a boy wonder,
winning a Group One under Bill Bergum at 8 months, and a Best In Show Puppy win in Canada under Skip Stanbridge at 9 months.
This Woody/Wanda son was well loved by Renee and Bill Olson in Bremerton, WA. They wrote, "We gave Jack the best life possible.
He traveled with us and got to stay in so many nice hotels around the US that most people would be jealous. That little guy traveled
with us to weddings, funerals, business meetings and even Disneyland. He had his own Disney certificate. He was, by far, the best
companion and our best friend!"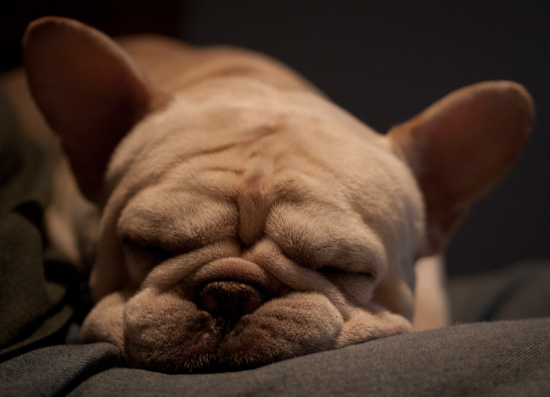 Maxx takes a nap on Dale's lap.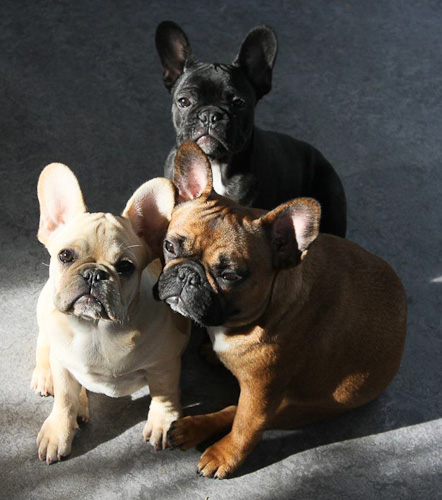 Rudy (top), Dexter, and Hannah try to squeeze into a narrow sunbeam.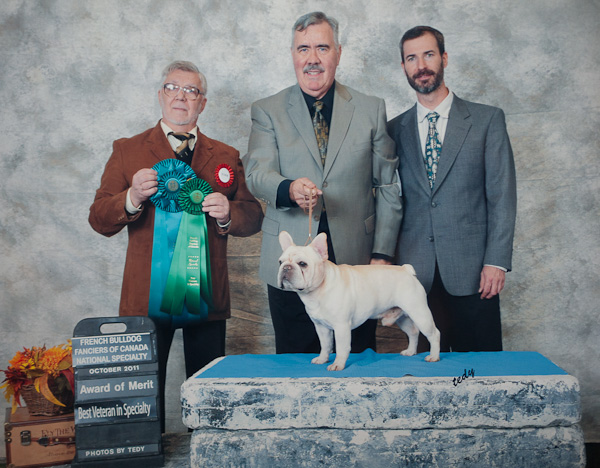 At the French Bulldog Fanciers of Canada national specialty,
Maxx was Best Veteran, Best Stud Dog, and received an Award of Merit.
Maxx was also Best Veteran at all four accompanying all-breed shows,
and on two of the days he won the Non-Sporting Veteran Group.
OUR NEWEST CHAMPION!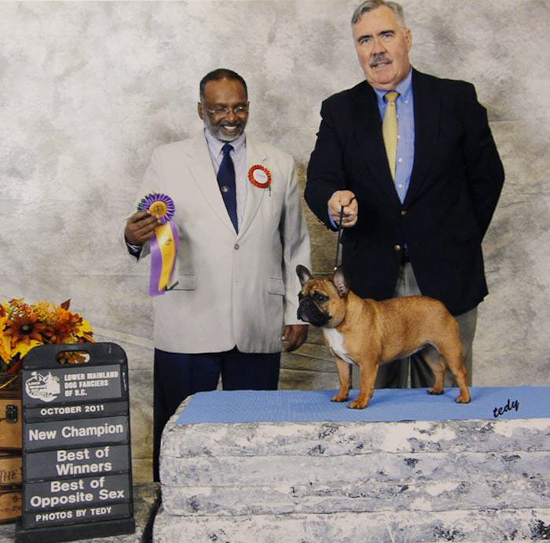 Lower Mainland Dog Fanciers - Canada - Day 1
French Bulldogs - (14-13-7-8) - judge Philip John, from India
Hannah was Winner's Bitch (entry of 13) from the 12-18 month bitch class,
and then Best of Opposite Sex over 8 Champion bitches, and also
Best of Winners -- and got way more than the 4 points needed
to complete her Canadian Championship.
The next day at Frenchie Nationals, she was one of the
4 bitches that made the cuts for Best of Breed.
We'll post more pictures from the weekend later this week.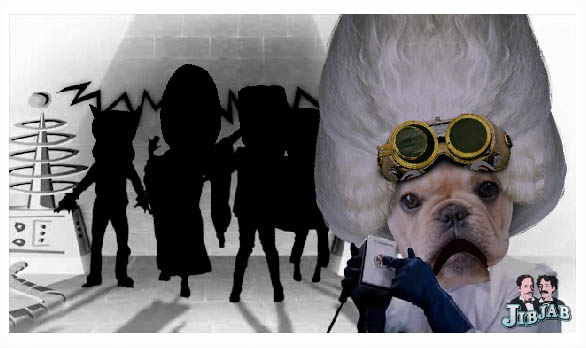 Happy Halloween from the Tahoma gang!
Click on the picture to view a movie starring Dexter, Maxx, Hannah, Lacy, and Rudy.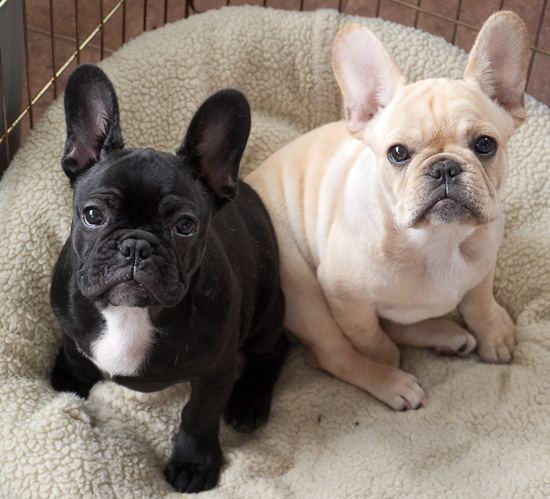 Rudy and Dexter, 17 weeks old.
Seventeen Frenchies and a bulldog attended our Halloween Frenchie walk at Volunteer Park.
Click on the arrows to flip through the photo album.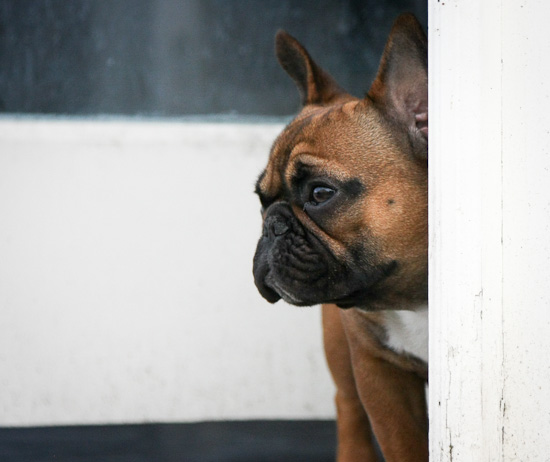 Hannah is one year old today.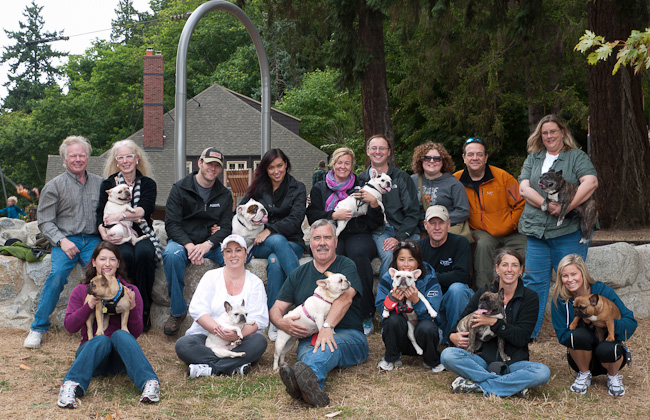 Our September Frenchie Walk at Seward Park was a birthday party for Phoenix, age 10,
and Hannah, who turned a year old. Click here to download a large version of this photo.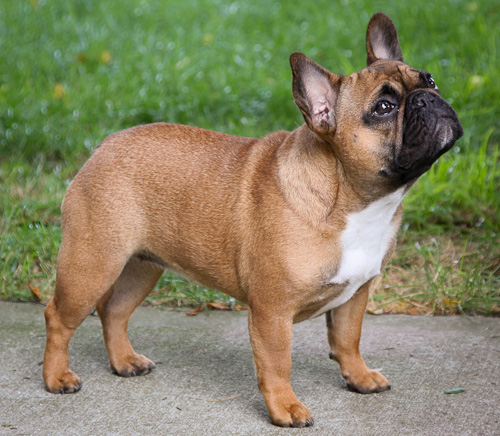 Baohuao's Bird in the Hand is a Champion at just 10 months old!
At the Nisqually Kennel Club show on Saturday, Hannah took
Winners Bitch, Best of Winners and Best of Opposite Sex
for a 4-point major. On Sunday she was Best of Opposite Sex,
earning her first points toward her Grand Championship.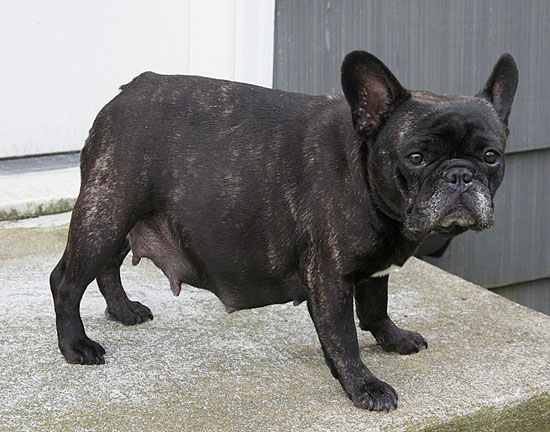 Lacy's puppies are due in a few days, and she's big as a watermelon!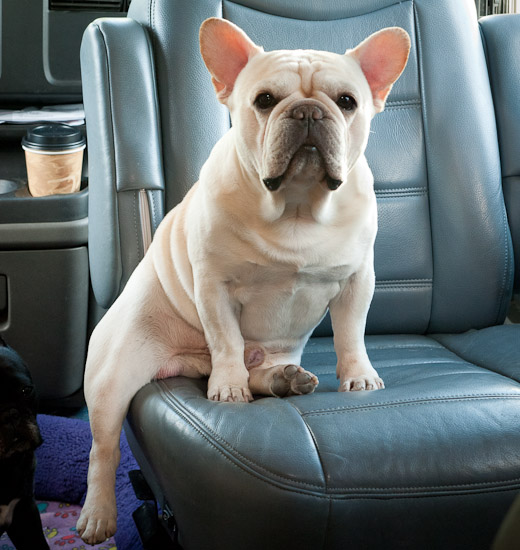 Our 7-1/2 year old Veteran MAXX got a Group Four today at the Puyallup shows.
The judge said he "looks like a Frenchie should."
MAXX's daughter EMMA also got a Group Four in the Bred-By Group.
Way to go EMMA ! !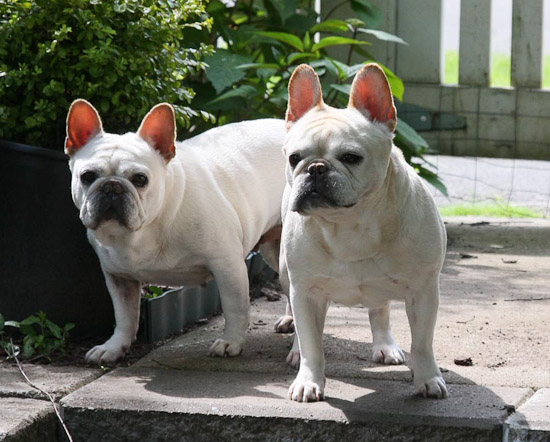 Gertie and Phoenix, ages 8 and 9.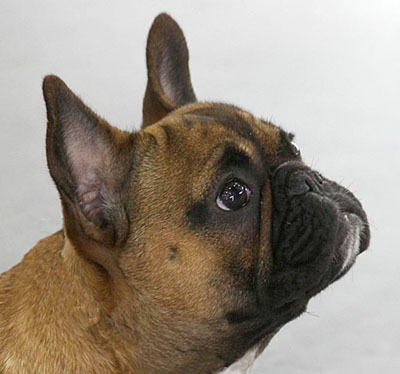 At the Coeur d'Alene, Idaho, show on Memorial Day, HANNAH was BEST OF BREED out of 26 entries,
for a 5 point major, under judge Richard Beauchamp, from the 6-9 month old bitch class.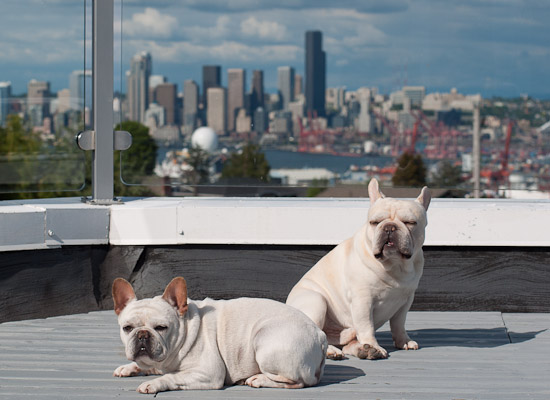 Gertie and Maxx, chillin' on the deck.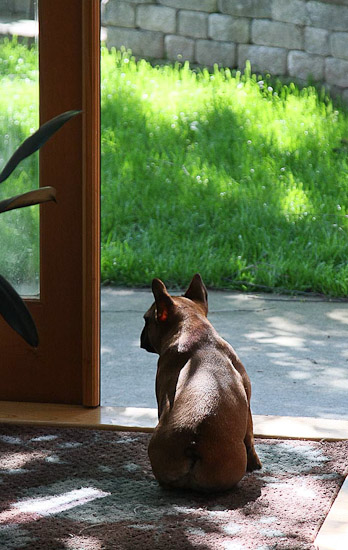 Hannah, peeking out the door at birds in the yard.
Hannah turned 8 months old this week.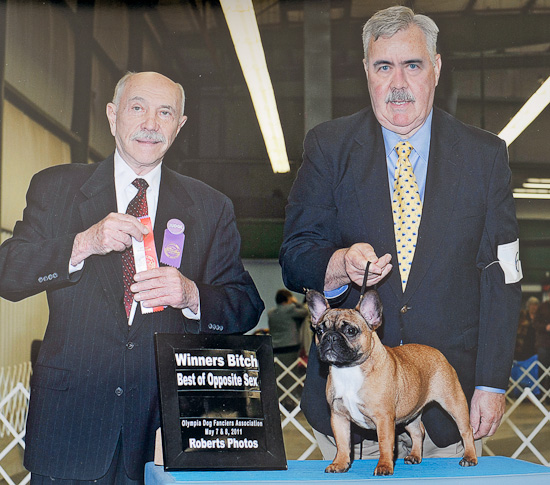 Hannah had a successful weekend at the shows in Elma, WA, this weekend.
On Saturday she was Winners Bitch, defeating 6 other girls, and then went on
to take Best of Winners. On Sunday, she was Winners Bitch again, and then took
Best of Opposite Sex over one bitch special, earning her 2 additional points.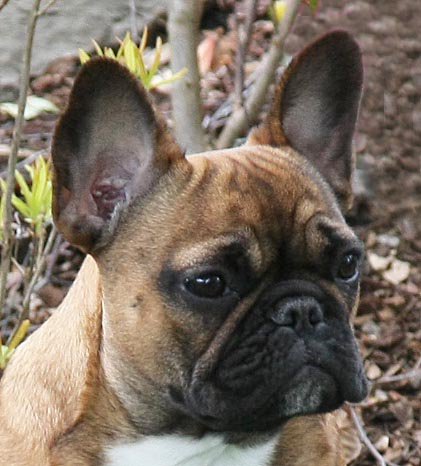 Hannah, 7 months old
Seventeen Frenchies and 2 bulldogs enjoyed the perfect weather at our
May Frenchie "walk" at the Robinswood Park off-leash area in Bellevue.
Click on the arrows to flip through the photo album.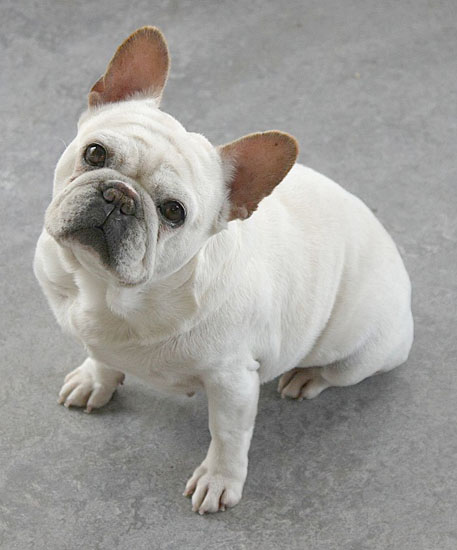 Our girl Gertie turns 8 years old. Four puppies and 7+ granchildren later,
she still looks pretty good!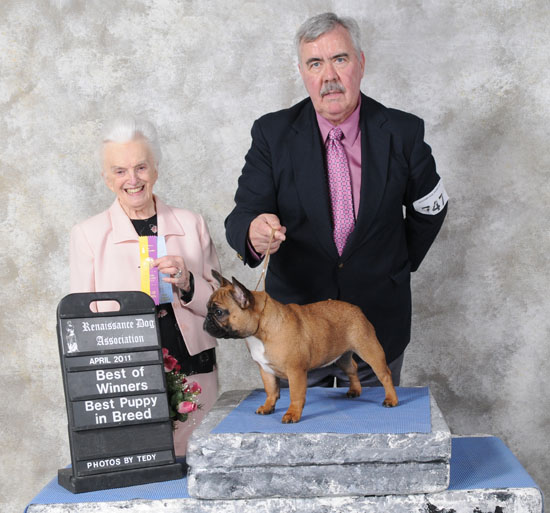 Our new girl Baohuao's Bird in the Hand ("HANNAH") had a very good weekend at the
Renaissance Dog Fanciers Shows in Canada.
On Friday she was Reserve Winner's Bitch, in an entry of 4 girls.
On Saturday, under US Judge Dorothy Welsh, she was Winner's Bitch and Best of Winners for 4 points, and
also Best Puppy in Breed. At the Puppy Group the judge stopped a second time to take a long look at her,
but finally picked the Mini Poodle for Best Puppy in Group. During photos, Judge Welsh said she would like to
take HANNAH home with her.
On Sunday, HANNAH showed best, for the supported entry of (10-6-4-3) Frenchies, and was again
Winner's Bitch for 2 points. An 11 month old puppy dog was Best of Breed/Best of Winners/Best Puppy in Breed.
On Monday, she was again Winner's Bitch. Hannah now has 6 of ten needed points for her
Canadian Championship at age 6 months and two weeks old.
Ten Frenchies and a Boston Terrier came to our first Frenchie walk of the year, in Seattle's Seward Park.
Click on the arrows to flip through the photo album.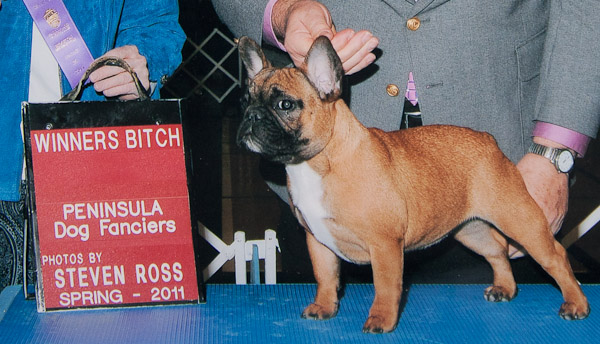 Hannah's first show weekend was a big success! From the 6-9 puppy class she beat 6 other girls
for Winners Bitch and her first point on Saturday, and on Sunday she was Reserve Winners Bitch.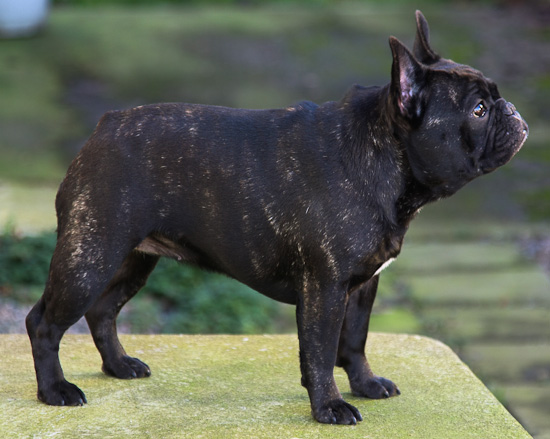 Lacy is Tahoma's first Grand Champion! See results from the Seattle shows below.
A Good weekend at the Seattle Kennel Club shows
A good weekend at the Seattle Kennel Club shows for Tahoma Frenchies.
MAXX was in Veteran's class. He showed well enough each day to get applause,
and both judges commented that he really likes to show. Maxx went on to
Best of Breed judging and was "Select Dog", earning points toward his
Grand Champion title.
Another dog we bred - Am/Can CH Tahoma's Mezzaluna - LUNA - was "Select Bitch".
Her daughter, Am/Can CH Tahoma's Lace it Up - LACY- finished her GCH at the
first show. She is our first Grand Champion in this new AKC title program.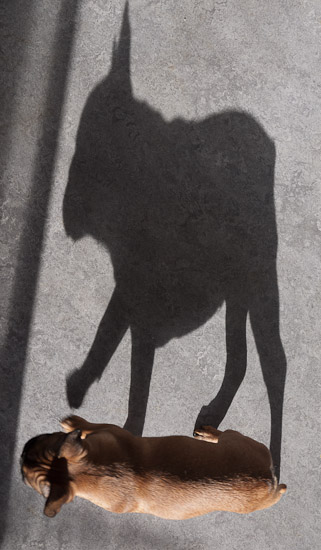 Hannah and her shadow.
This is the daily morning ritual with Maxx: After I eat breakfast, he follows me into the office,
then runs back into the bedroom and curls up on the bed. After a few minutes, he starts howling.
He keeps howling until I pay him a visit, at which point he immediately stops and looks embarrassed.
This morning, I set up a camera on a tripod to capture the whole thing.

Maxx decided to squeeze into his mom Phoenix's favorite sleep spot,
balancing on top of the back cushion on the sofa.
Phoenix doesn't seem to mind too much.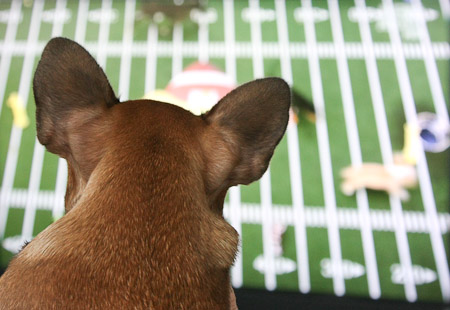 Hannah's watching the Puppy Bowl.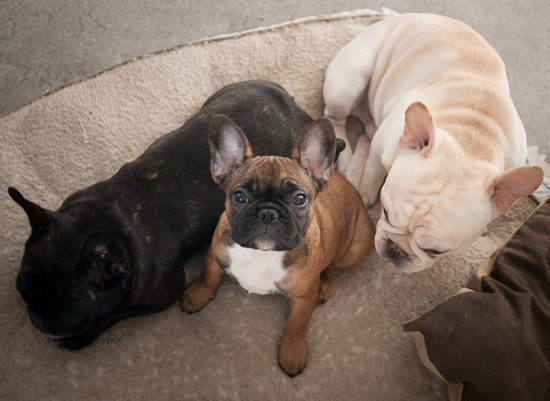 Good morning!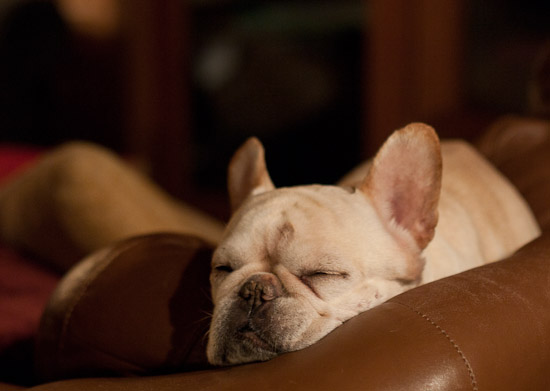 Phoenix, age 9.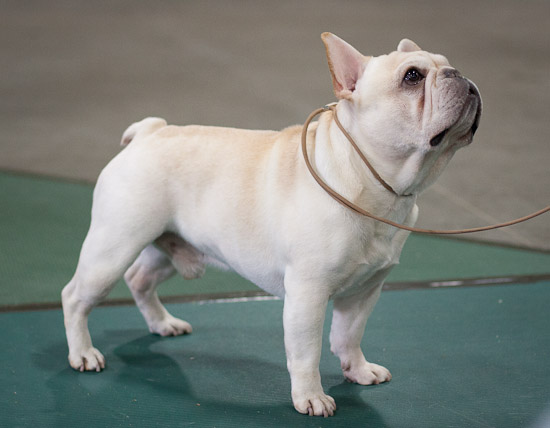 Maxx was back in the ring today, in the Veteran class!
He turned seven years old on January 1, making him eligible for the "old man" category.
He came home with a Select Dog ribbon, earning more points toward his Grand Championship.
(Photo by Kirsten Hopperstad)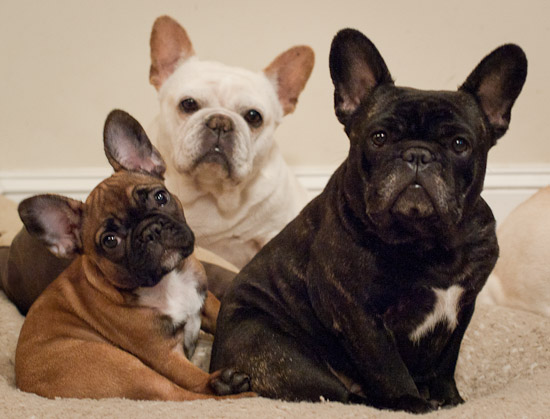 Little Hannah is fitting right in to our household.
She and Lacy (right) are best friends, and Gertie (center) enjoys playing with her, too.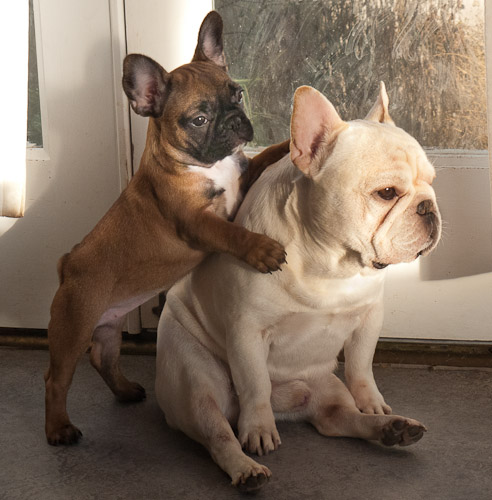 Hannah says, "Happy Birthday, Maxx! Wow, seven is REALLY, REALLY OLD.
How does it feel to be REALLY, REALLY OLD?"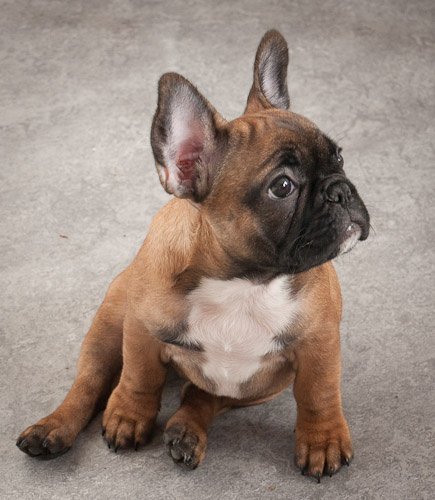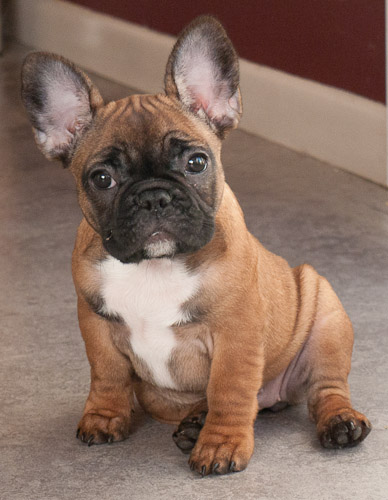 Meet the next Tahoma show girl, Baohuao's Bird in the Hand, aka Hannah.
Thanks so much to Joyce and Chris Mitchell for allowing her to join our family.