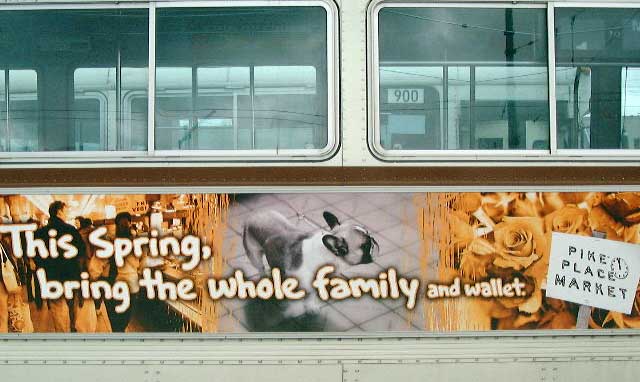 We were eating breakfast at a restaurant last Sunday, when a bus pulled up outside. I looked up and immediately noticed a Frenchie in an ad for Pike Place Market. Hey, wait a minute, that looks like JACK! I all but jumped out of my seat and quickly told Rick, as the bus pulled out. We both sat there with our mouths wide open - not nice when you're eating, I know.
Over the next few days I tried to notice another bus with the ad. I saw one, and was determined to track this down. Finally I went to the Bus Barn and asked to go out into the yard to get a photo of a bus with the ad. They thought that was an amusing diversion and helped me find one. The next day I saw at least 15 of the bus ads in various places in Seattle.
The photo revealed that it was not JACK, but his brother MOOSIE ("Dubya" in earlier web site baby photos / our breeding). We confirmed with Moosie's owners that they had indeed been to the market, and that he has a collar like one in the photo. But they were as surprised as we were when they learned he was cruising around town, larger than life, on the side of King County Metro buses.
Moosie is famous and well-traveled!