Pictures of the Week 2013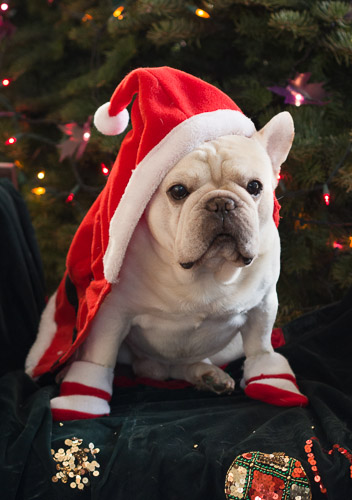 Merry Maxxmas from our boy Maxx, who turns 10 this week,
and from the rest of the Tahoma gang!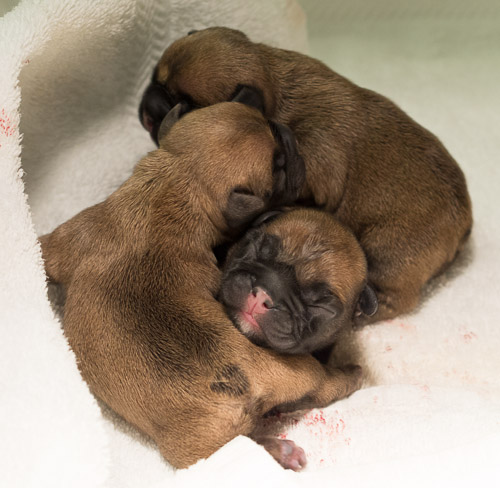 November 9, 2013 - Hannah gave birth to three beautiful puppies.
Go here to see the daily pictures of the puppies as they grow.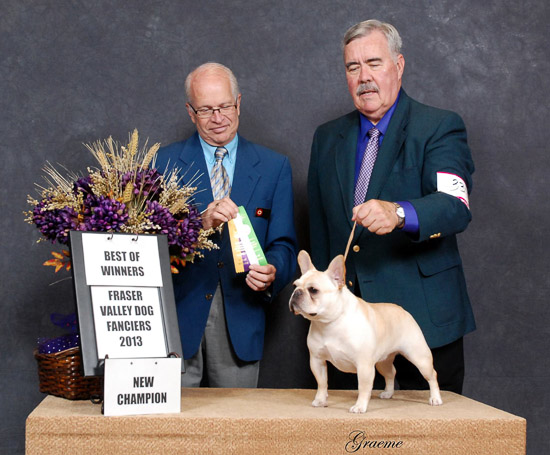 SOLO (Tahoma's Flying Solo) finished her Canadian Championship at the Frazier Valley Shows 2 weeks ago,
and was a move up for Lower Mainland shows, where she was Best of Opposite twice in the 4 days.
She just needs a major to finish in the US.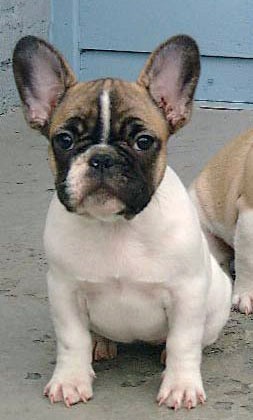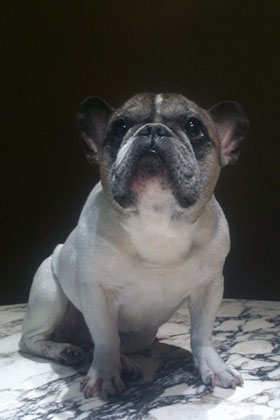 Happy birthday to Lucy, the last of the Woody/Wanda puppies, who turns 13 this week.
Thanks to her owner, Dave, for many long, loving years with this beautiful girl.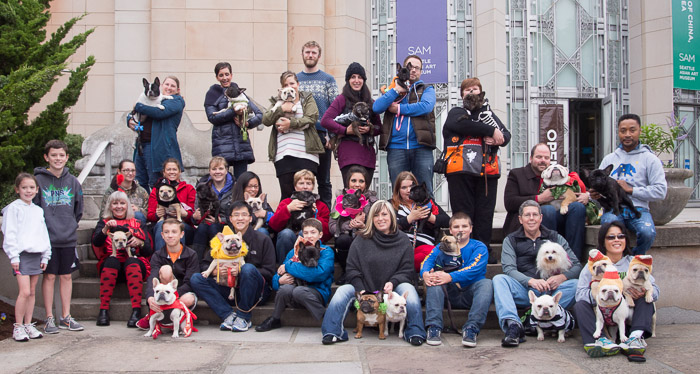 Our annual Frenchie Halloween costume walk at Seattle's Volunteer Park attracted 25 Frenchies and 2 canine friends.
Watch for more photos in the next few days! Click here for more photos from the walk.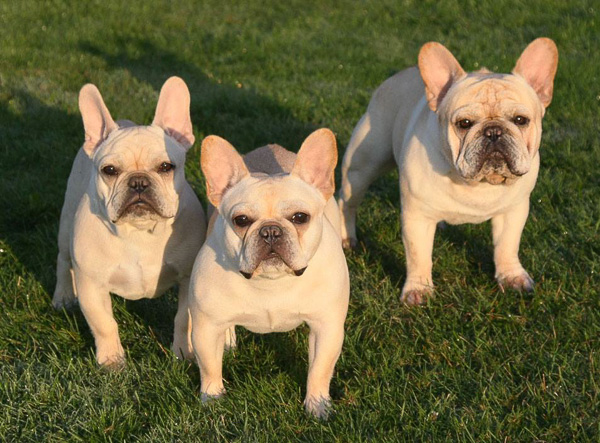 A great weekend for the Tahoma gang in Canada!
Boomer (left), who just turned 6 months old, took a Non-Sporting Group 3 and Best Puppy in Group.
He now has 8 of the 10 points needed for his Canadian Championship.
His half-sister Solo (center) finished her Canadian Championship.
Their half-brother Dexter (right) finished his Canadian Grand Championship!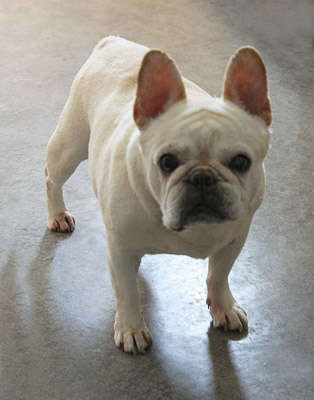 Happy 12th Birthday (Oct 1) to our sweet PHOENIX - great grandmother of DEXTER, SOLO and BOOMER.
She is Am CH/Can CH (BIS PUPPY at 10 months) and our foundation here at Tahoma.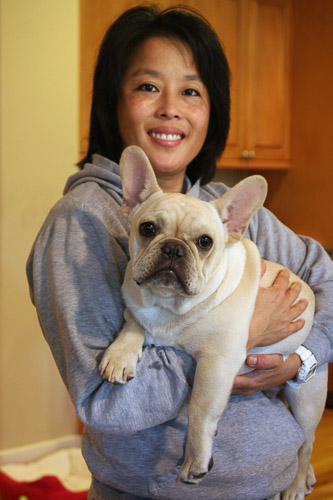 Boomer (Tahoma's Darn the Torpedos) is approaching 6 months old,
and getting ready for his first shows next month.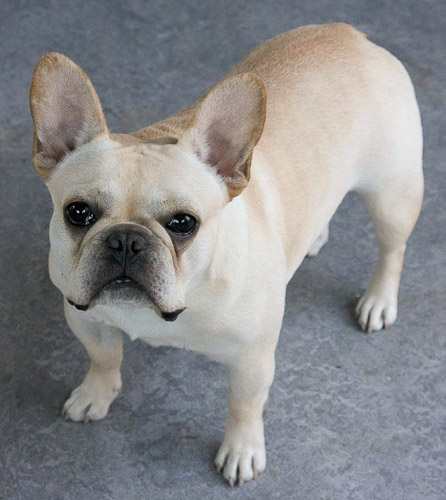 Happy first birthday to our girl Solo.
She's really enjoyed her first months in the show ring.
Currently she has 5 out of 10 points toward her Canadian championship,
and 11 out of 15 for her American championship, including one major.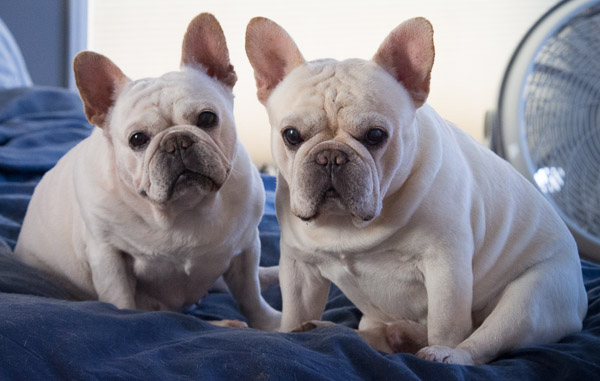 Gertie, age 10-1/2, and Maxx, age 9-1/2.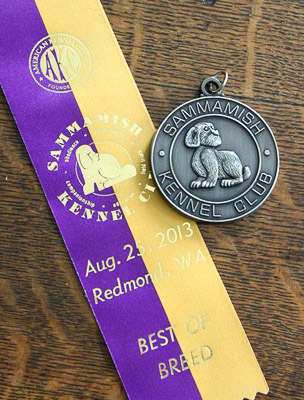 Dexter took Best of Breed at the Sammamish Kennel Club show
this weekend, and received this nice medallion from the club.
Solo took Reserve Winners Bitch.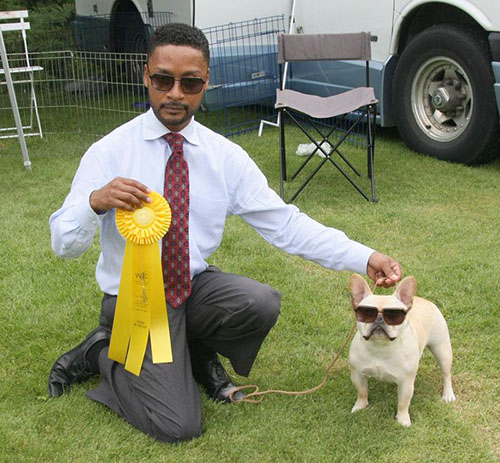 It was a clean sweep for the Tahoma gang at the 4-show weekend in Castlegar, British Columbia.
Solo (above) took Best of Breed and a Non-Sporting Group 3 at one of the shows, as well as a
Best Puppy in Group at another show. She comes home with 5 of the 10 points needed for
her Canadian championship.
Dexter (below) took Best of Breed at the other three shows, plus a Non-Sporting Group 4.
He comes home with 14 of the 20 points required for his Canadian Grand Championship.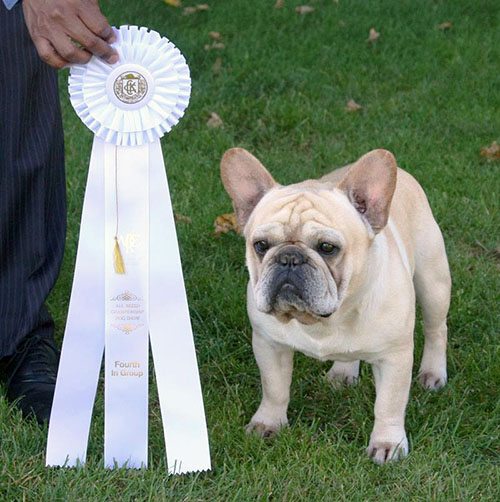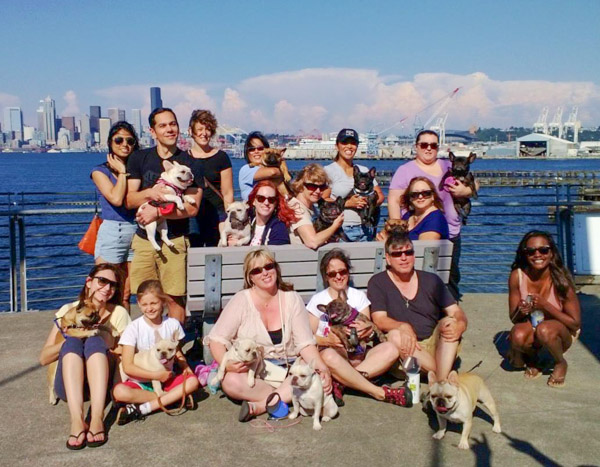 Thirteen Frenchies attended our August French Bulldog Walk on a warm, sunny Sunday.
This month's walk was at Jack Block Park, a hidden gem in West Seattle
with spectacular views of downtown and Elliot Bay.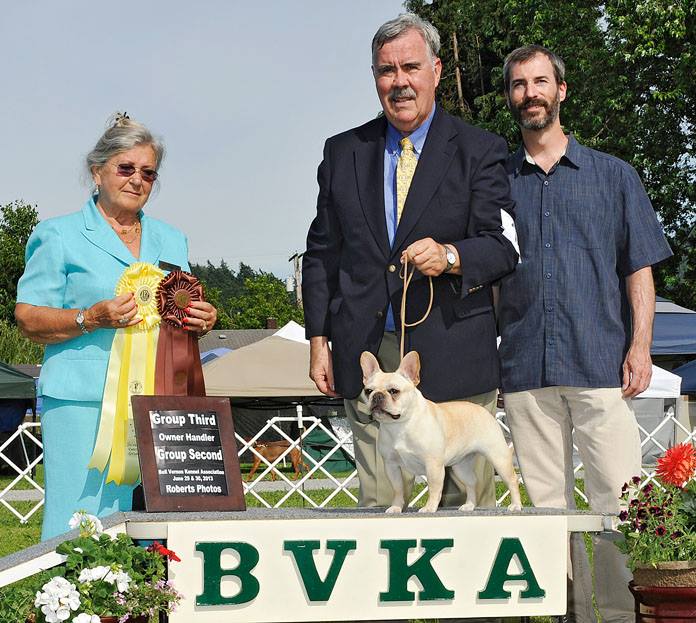 At the Bell Vernon Kennal Association show in Mount Vernon, our 10 month old girl Solo
(Tahoma's Flying Solo) placed 3rd in the Non-Sporting group, and 2nd in the Owner-Handler
Non Sporting Group. She has 11 of the 15 points required for her AKC Championship.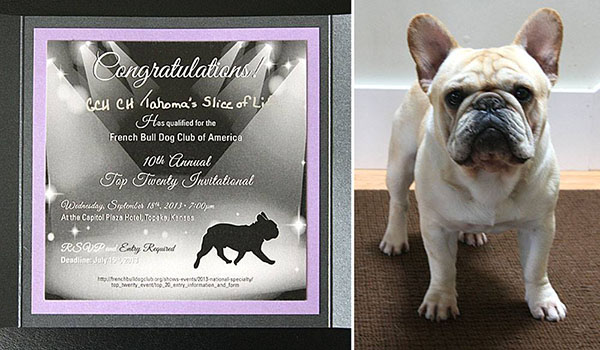 It's a double wonderful day - our Dexter turns 2 years old today, and he has gotten his
official invitation to the Top Twenty Show at Frenchie Nationals in September.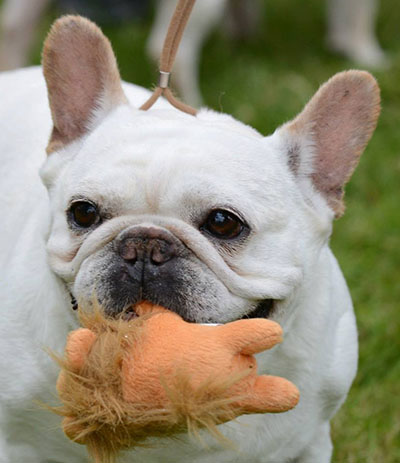 (Photo by Danielle Silverstein)
We are back from the first regional specialty of the Pacific Northwest French Bulldog Club.
Nearly 70 Frenchies were entered. Our boy Dexter made the cuts at one of the specialties.
Our puppy girl Solo won her class of 6 at one of the specialties, and Best of Opposite Sex in the sweepstakes.
Our ten year old Gertie (shown above) was entered in the Veteran class and had a great time.
And we are very pleased that Sarge, the father of our new litter of puppies, took Best in Specialty Show!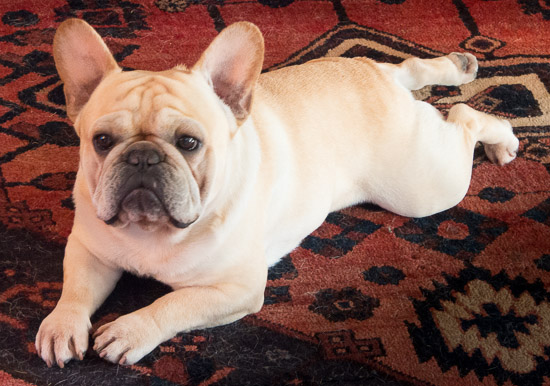 It was a good weekend for Dexter at the shows in Puyallup, Washington, this weekend.
He was Best of Breed both days, out of an entry of 25 Frenchies.
Solo also did nicely, getting Reserve Winners Bitch to a major on Saturday.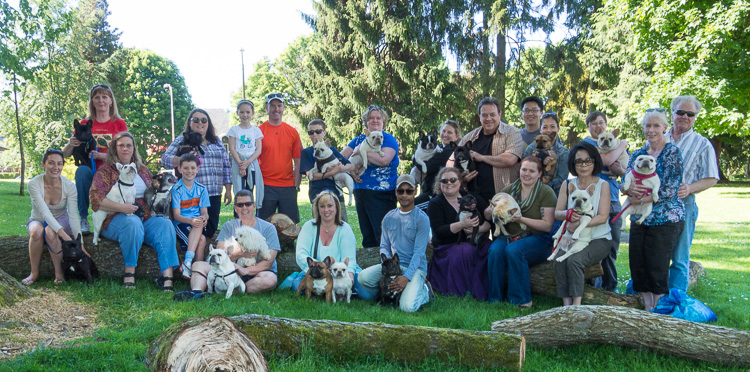 It was a perfect day for our June French Bulldog Walk at Greenlake Park in Seattle.
Twenty Frenchies and a Coton de Tulear hung out in the shade and took a short stroll
along the popular path that encircles the lake.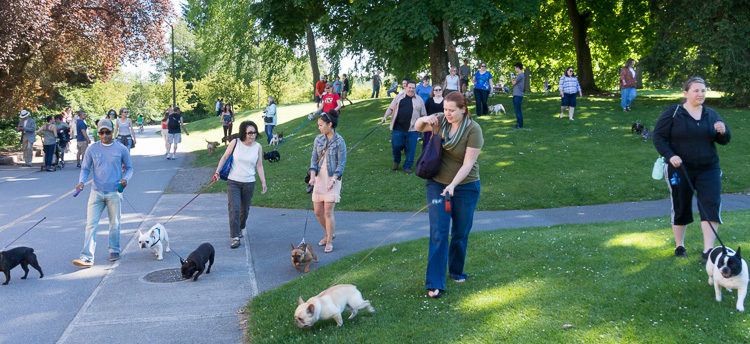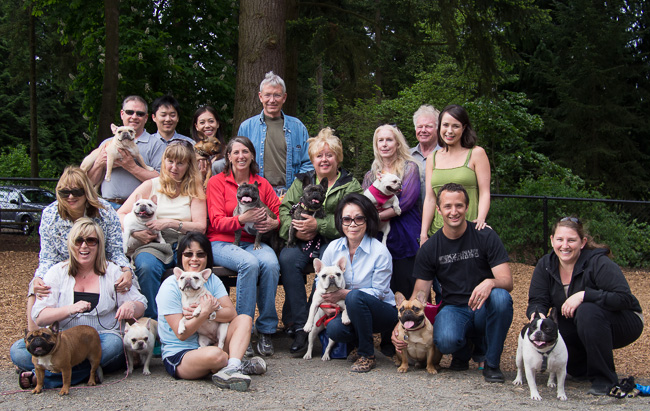 A dozen Frenchies showed up for our May French Bulldog"walk" at the Robinswood Park
off-leash area in Bellevue. I'm sure all theFrenchies slept well that night!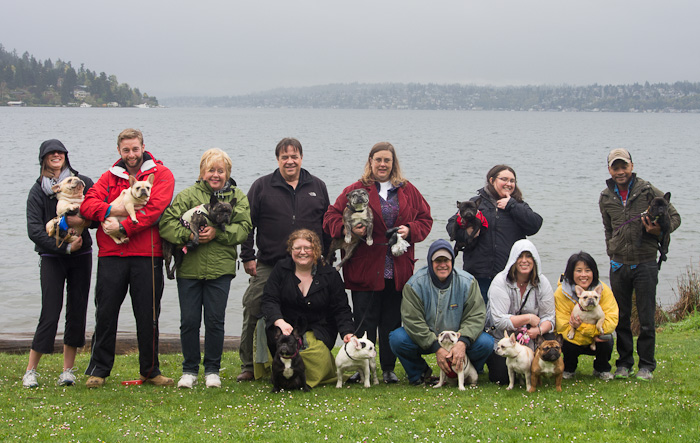 At our first monthly French Bulldog walk of 2013, a dozen Frenchies enjoyed a not-too-rainy stroll in Seward Park,
followed a first brithday party for Sugar and Stella, complete with a bone-shaped doggie birthday cake!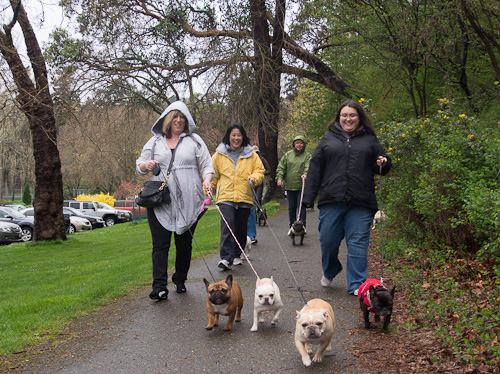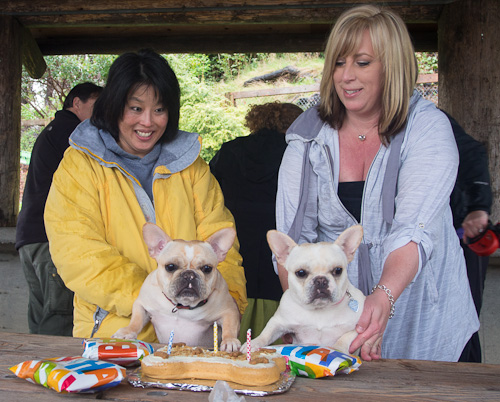 Happy first birthday, Sugar and Stella!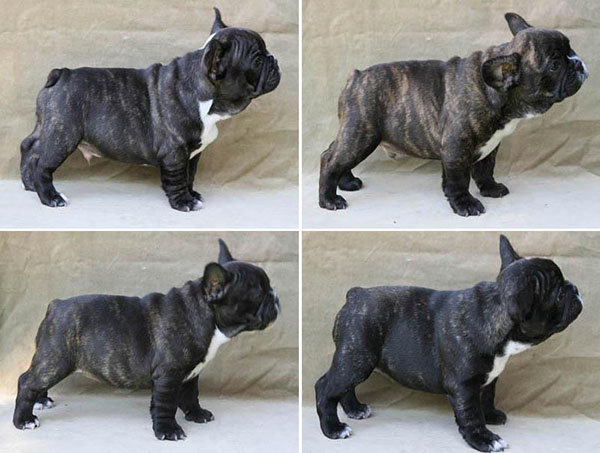 This weekend we revisited a litter of 8-week-old puppies sired by our boy Dexter, and found big, beautiful puppies.
We posed them for their first stacked portraits, and are already seeing their potentials.
Hopefully, there will be some show futures for a few of them.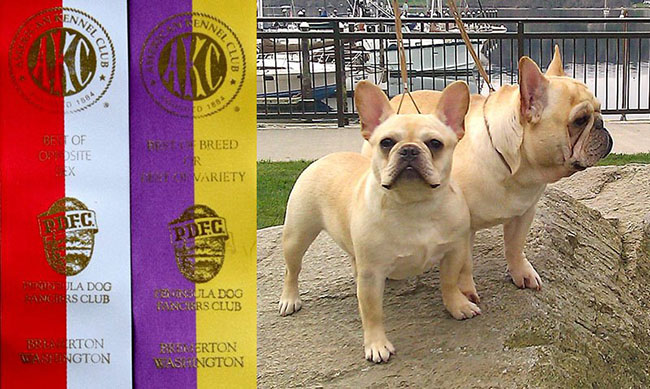 At the Peninsula Dog Fanciers Club shows in Silverdale, WA, this weekend,
Solo won Best of Opposite Sex from the 6-9 puppy class both days, beating a bitch special on Saturday.
Dexter took Best of Breed both days, giving him the last 2 of the 3 majors he needs for his Grand Championship.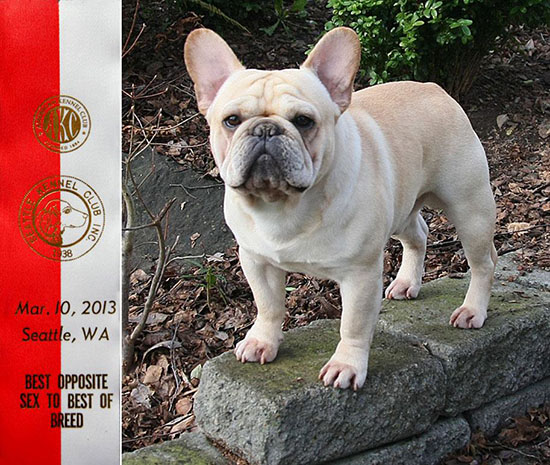 Am/Can CH Tahoma's Slice of Life ("Dexter") was Best of Opposite Sex at the Seattle Kennel Club
show on March 17, earning 4 points toward his AKC Grand Championship title.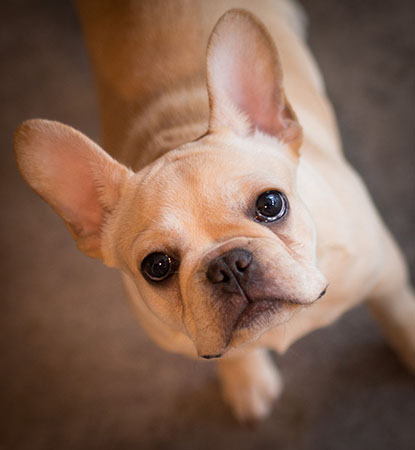 Solo is preparing for her debut at the Seattle Kennel Club shows March 9-10,
just one day after she turns six months old.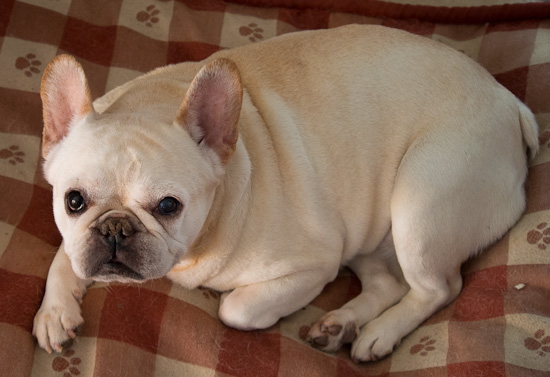 Our oldest girl, Phoenix, may not be able to see or hear as well as she used to,
but she's still happy, healthy, and active at 11+ years old.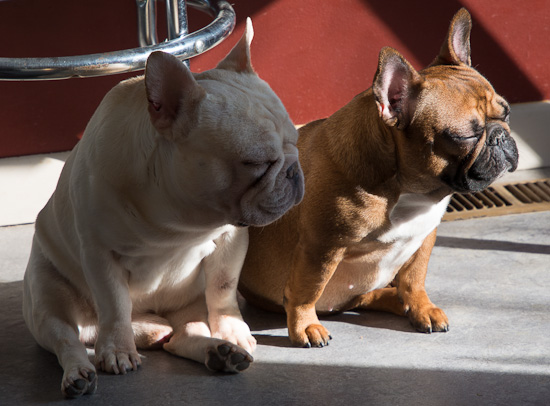 Maxx and Hannah enjoy an all-too-rare sunny day in February.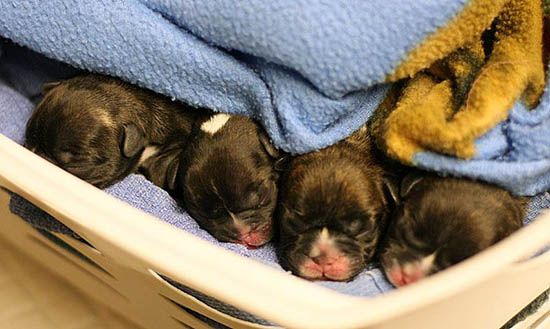 The next generation begins. Our boy Dexter (Am/Can CH Tahoma's Slice of Life) fathered a litter of four puppies, born today.
This makes Lacy a grandmother, her dad Maxx a great grandfather, and his mom Phoenix a great great grandmother!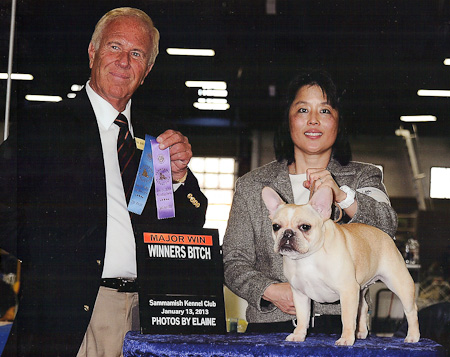 Tahoma's Sugar Rush, nine months old, wins a 3 point major!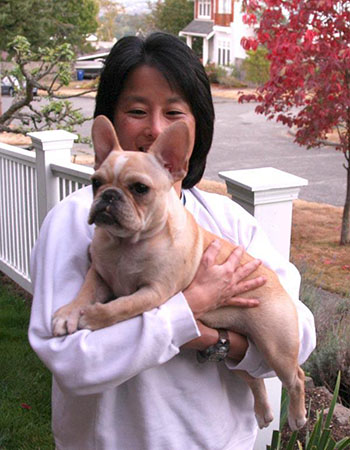 Congratulations to Jodi for her masterful showing of Tahoma's SUGAR Rush
at the Puyallup Dog Fanciers Association show this weekend,
where she took Winner's Bitch for a 3 point major.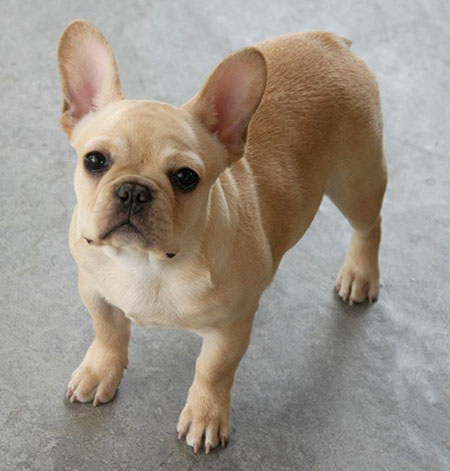 Solo is four months old.