April Frenchie Walk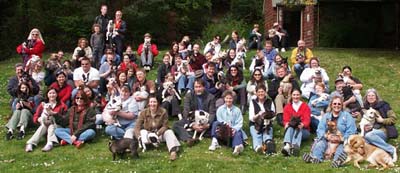 A record 52 dogs showed up at Seward Park for our first Frenchie Walk of the year. As usual, we did a lot more socializing than walking.
We presented a check for $710 to the local breed rescue and rehome group, the result of the jigsaw puzzle fundraiser we did last year. The money will go a long way toward helping future renchie rescues, who often arrive with serious health problems.
We sold out our entire run of 125 puzzles. If you're interested in purchasing more, please contact us. We've had numerous requests and are considering an order of 25 additional puzzles.
Want to join us on future Frenchie walks? Please email us.