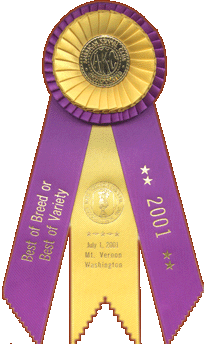 NEWS FLASH!!!
Bell Vernon Kennel Club,
June 30 and July 1, 2001:
On Saturday, Jack won Best of Breed,
beating 6 other Frenchies.
On Sunday, Jack won Best of Breed
again, beating 7 other Frenchies.
He then went on to win
Non-Sporting Group 1
on Sunday!
Not bad for an 8 month old
handled by the owner-breeder!
Thank you, Judges Mildred Bryant
and William Bergum!
scroll down for a photo...