Dale Melsness & Rick Rocheleau -- email: dmelsness@aol.com
FRENCH BULLDOG WALK
Sunday, April 19 at 4:00 pm - Robinswood Park
Join us at the Robinswood Park off-leash area in Bellevue, WA,
on Sunday for our first Frenchie "walk" of the season.
For details, or to get walk announcements by email, please contact us.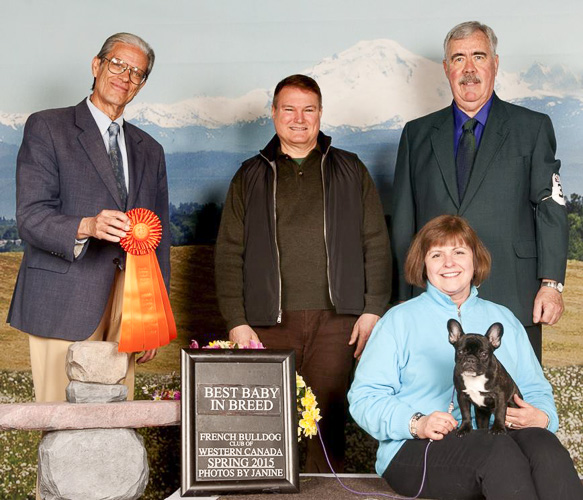 Tahoma's Grand Old Opry (DOLLY) took Best Baby Puppy in Breed at the French Bulldog Club of Western Canada
regional specialty, and she also won Best Baby Puppy in Show at the all-breed show in Chilliwack, BC.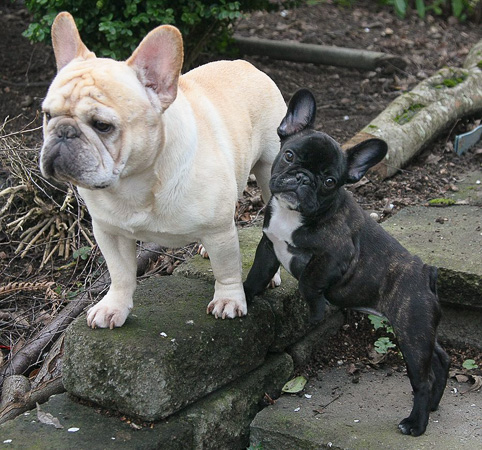 Our bronze grand champion Dexter poses in the garden with his
daughter Dolly. Watch fer her in the show ring this summer!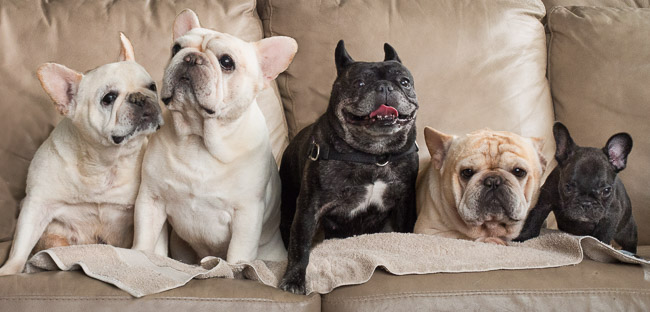 Five generations: Phoenix (13), Maxx (11), Lacy (6), Dexter (3), and Otto (10 weeks)
HANNAH-DEXTER PUPPIES
born November 3, 2014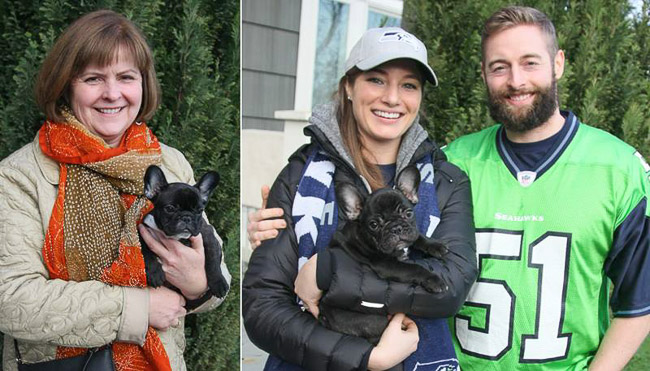 Dolly (left) and Otto (right) went to their new homes today. We will miss them!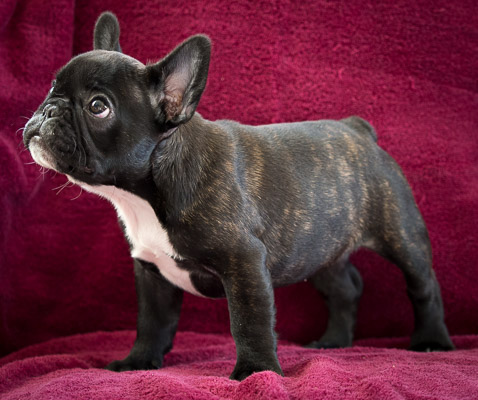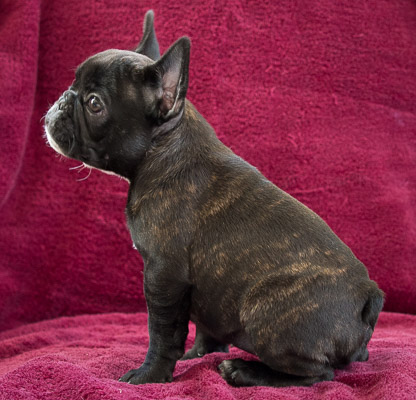 Dolly, 12 weeks old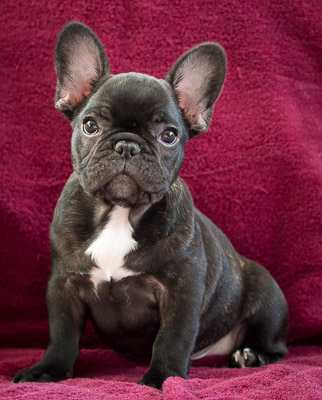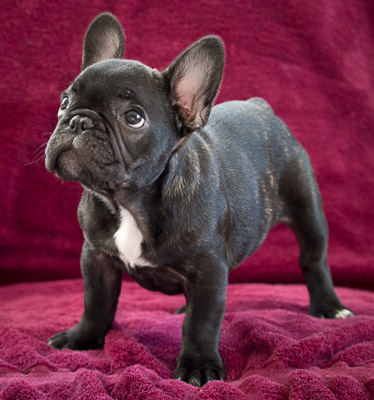 Otto, 12 weeks old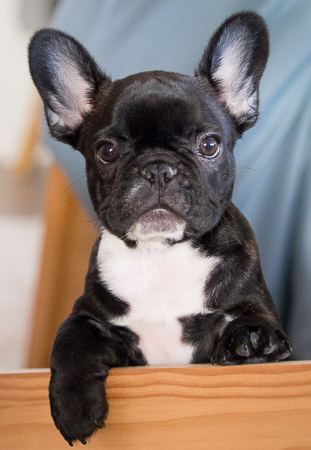 11 weeks old - Dolly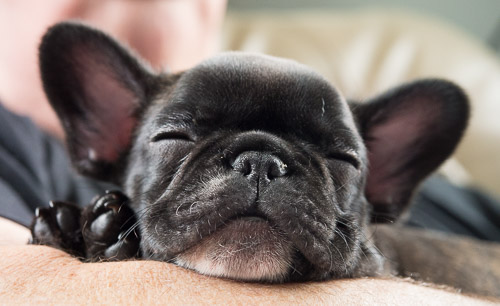 10 weeks old - Dolly, sleeping contentedly in Dale's arms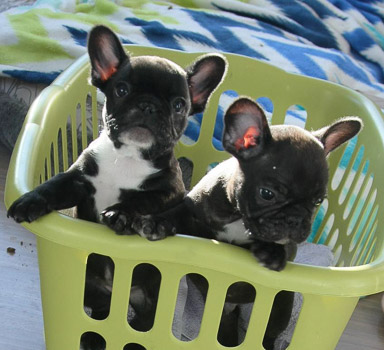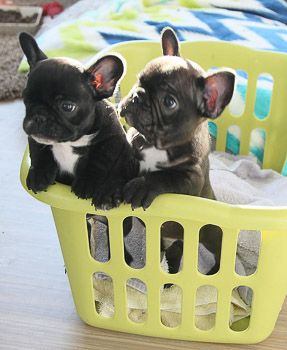 8 weeks old - "Dolly" and "Otto" thought the laundry basket full of dirty towels was a great place to be!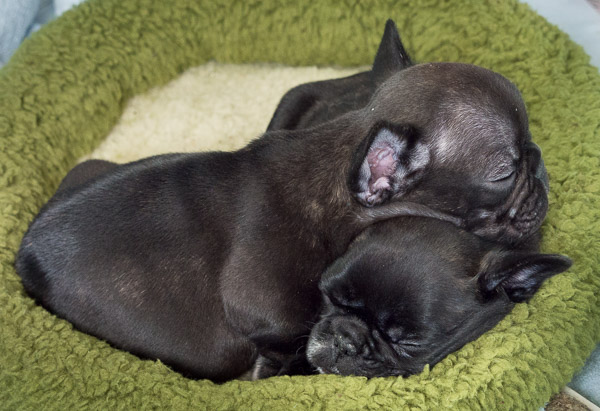 7-1/2 weeks old, Christmas morning - Not a creature was stirri...wha??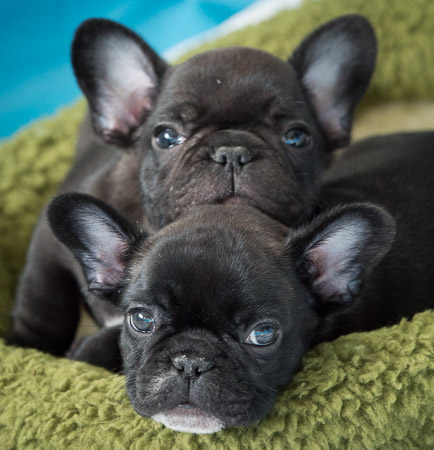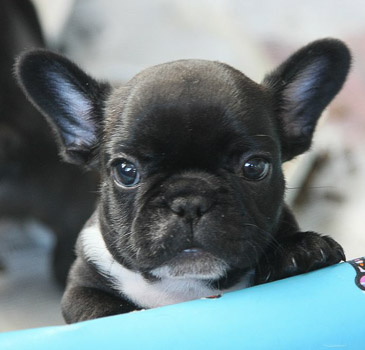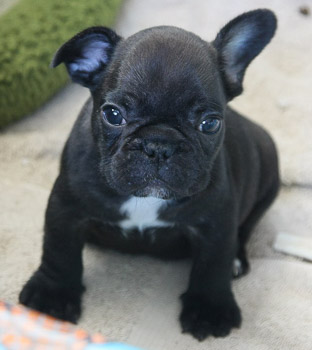 6-1/2 weeks old - Three out of four ears up!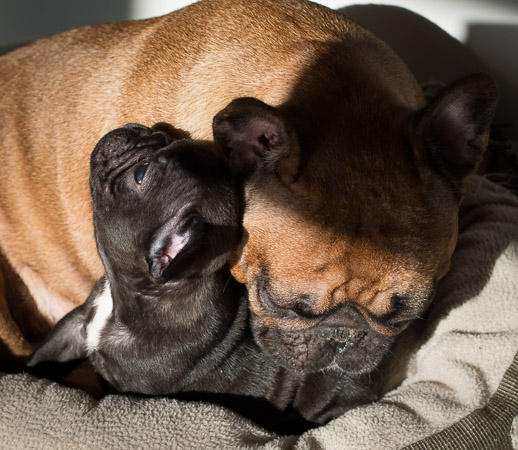 5-1/2 weeks old - Cuddling in a sunbeam with mom.
FOUR WEEKS OLD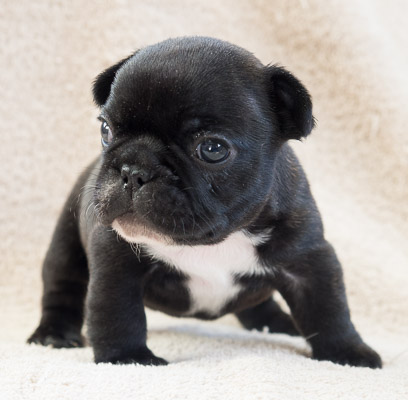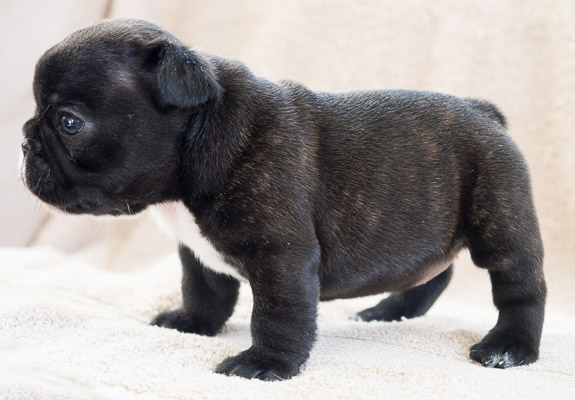 The girl weighs 2 pounds 2 1/4 ounces.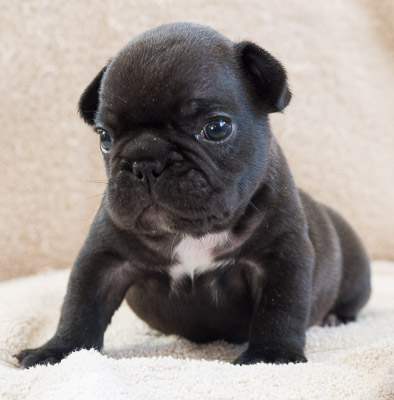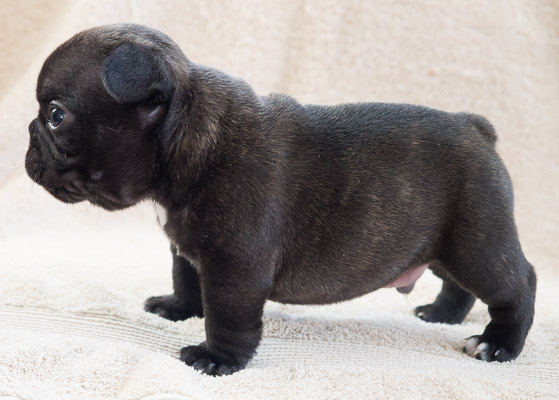 The boy weighs 2 pounds 8 ounces.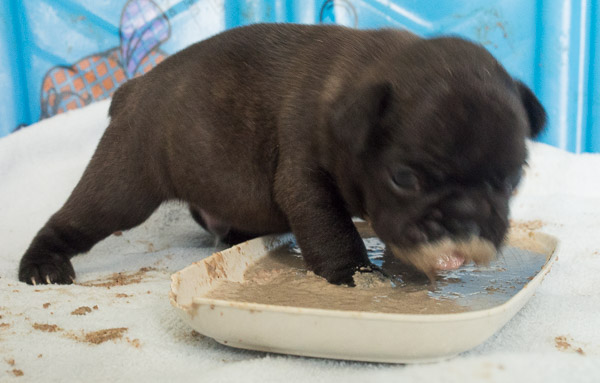 25 days old - The puppies got their first taste of gruel.
The boy dove in enthusiastically. The girl was a little more refined in her approach.
Boy: 2 pounds 1 1/8 ounces
Girl: 1 pound 12 3/8 ounces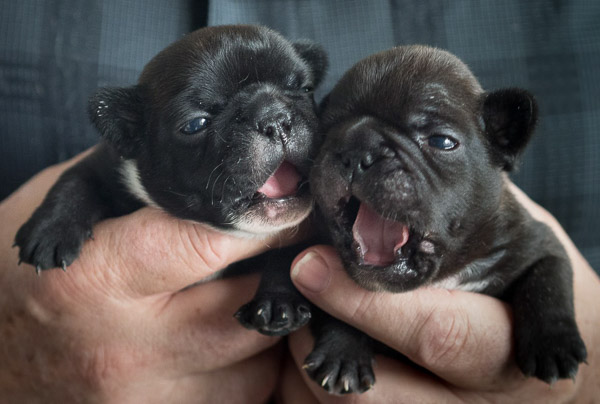 17 days old - Yawn! Yawn! (Are you yawning yet?)
Boy: 1 pound 6 7/8 ounces
Girl: 1 pound 4 1/4 ounces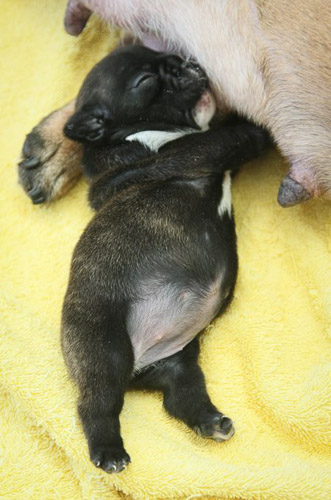 14 days old - Done eating, time to nap.
Boy: 1 pound 2 3/4 ounces
Girl: 1 pound 2 3/8 ounces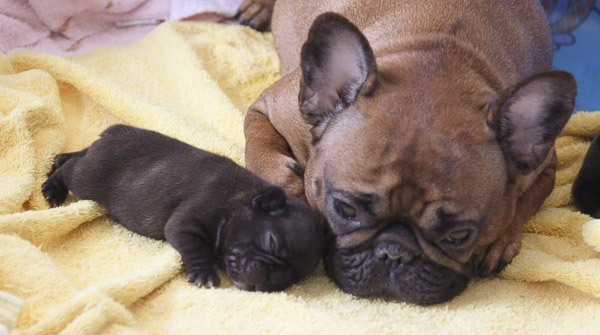 13 days old - Bonding with Mom.
Boy: 1 pound 2 1/4 ounces
Girl: 1 pound 2 1/4 ounces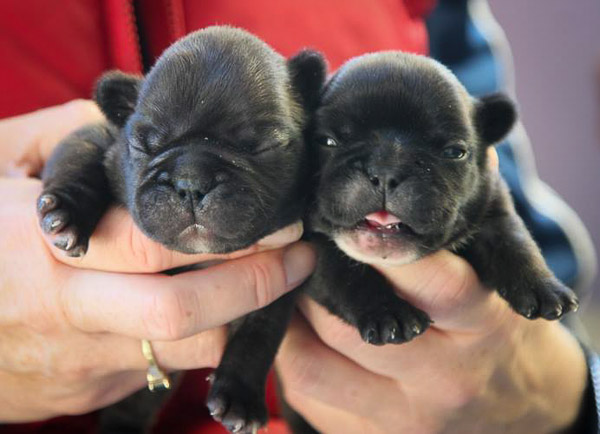 11 days old - Sleepy and Dopey! Both puppies have their eyes open.
(The boy, on the left, is just sleepy.) Both are nursing well on their own.
Boy: 1 pound 1 1/4 ounces
Girl: 15 1/8 ounces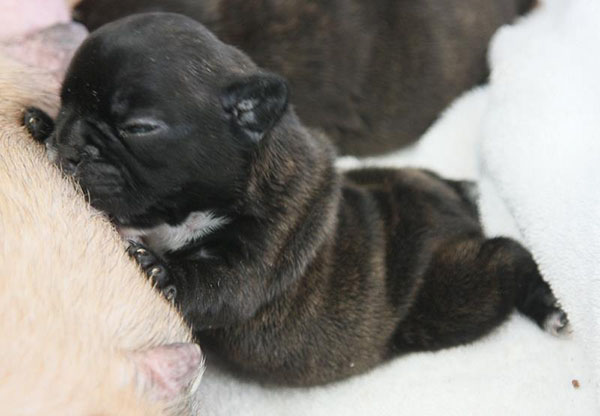 9 days old - The little girl has both her eyes open today.
Boy: 14 1/2 ounces
Girl: 13 3/8 ounces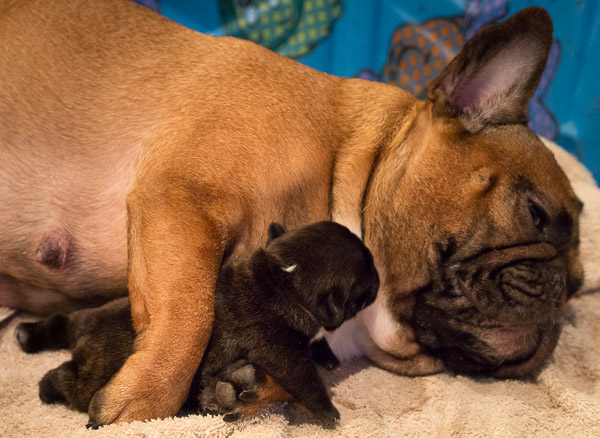 7 days old - Cuddling with Mom after a good meal.
Boy: 11 5/8 ounces
Girl: 12 1/2 ounces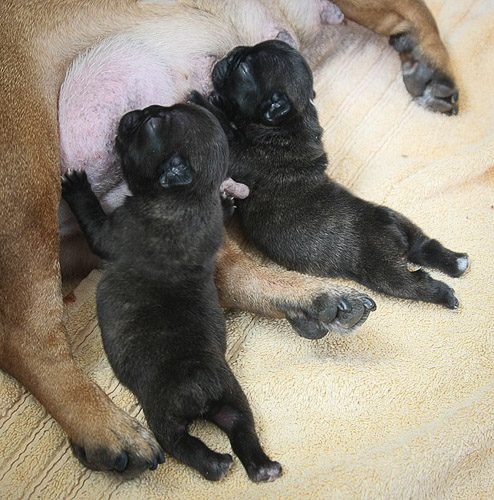 5 days old - The puppies are becoming little eating machines, and gaining weight.
Boy: 10 1/4 ounces
Girl: 10 ounces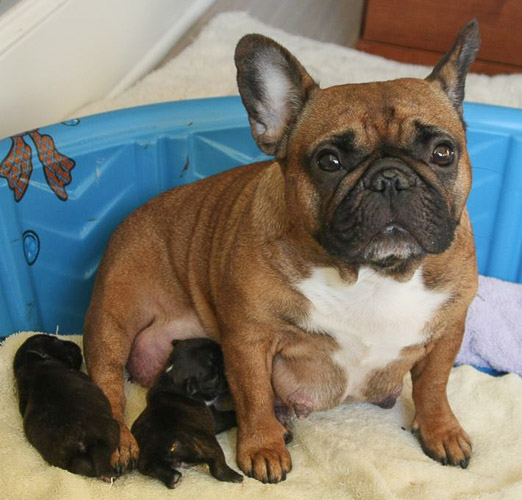 4 days old - Hannah's taking her motherhood respsonsibilities very seriously.
Boy: 9 3/8 ounces
Girl: 9 1/4 ounces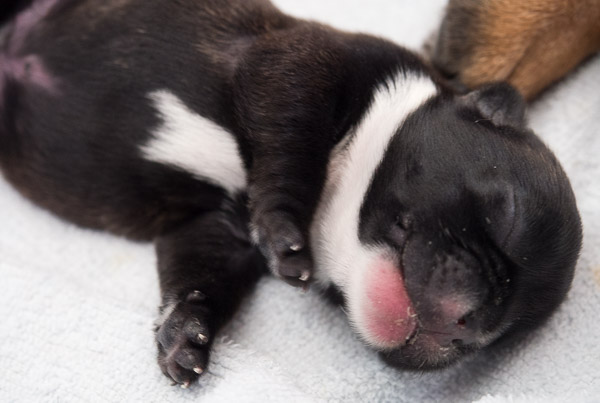 3 days old - We love the girl's pretty markings!
Boy: 9 ounces
Girl: 8 1/4 ounces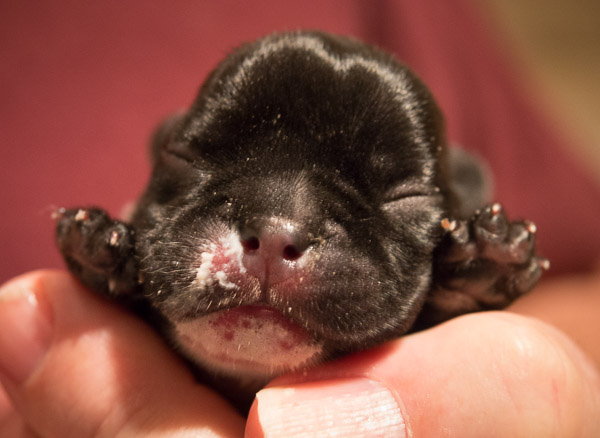 2 days old - Milk moustache!
Girl (above): 8 ounces
Boy (below): 8 3/8 ounces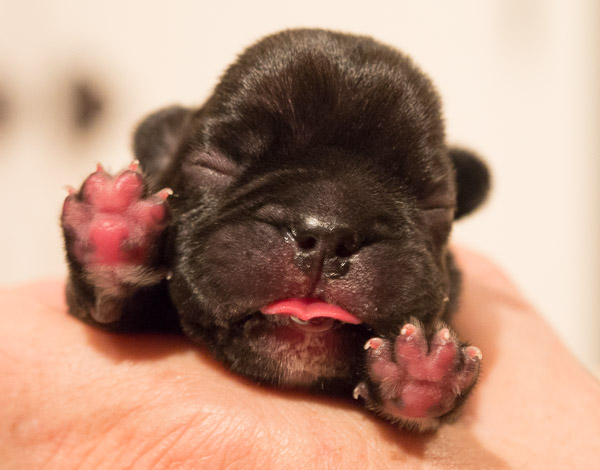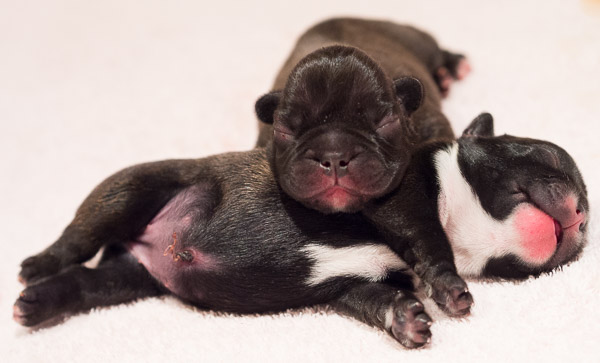 1 day old - The puppies are feeding enthusiastically and sleeping between meals.
That's the girl on the bottom, with the unusual half-collar of white.
Boy: 8 1/8 ounces
Girl: 7 3/4 ounces
(It is quite common for the puppies to lose a little weight the first day.)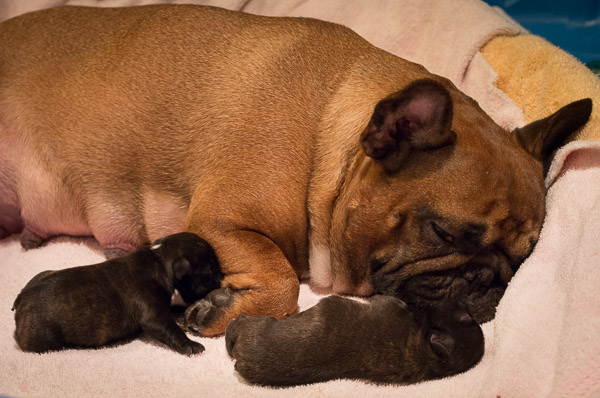 NOVEMBER 3, 2014 - Hannah gave birth to two beautiful brindle pups, sired by our boy Dexter.
Boy: 8 1/4 ounces
Girl: 8 1/8 ounces
Pictures of the week 2014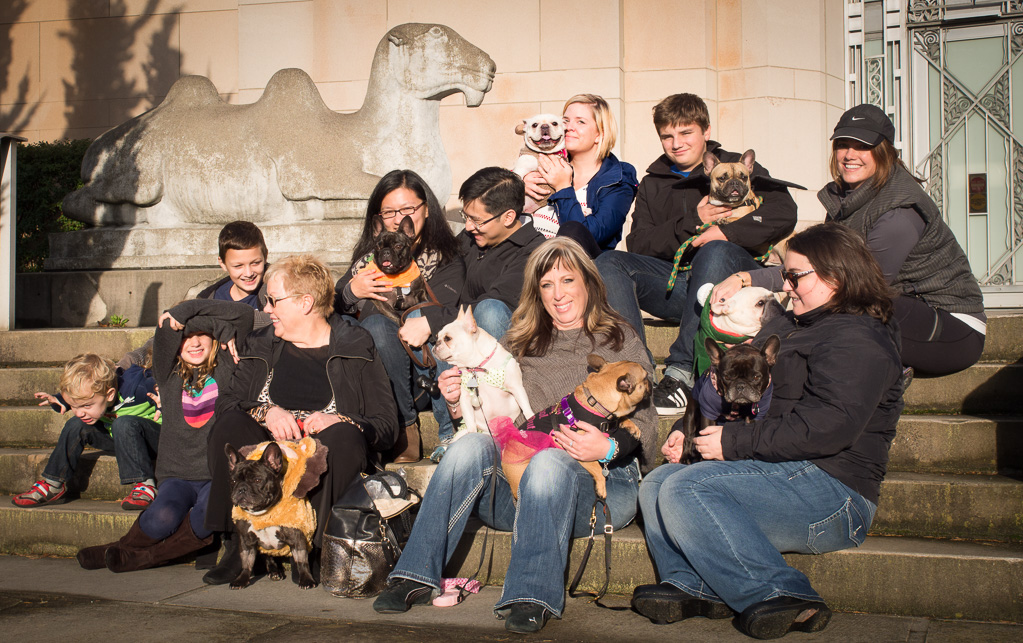 Halloween Frenchie Walk 2014 - Click here to view some photos from
our annual costume walk in Seattle's Volunteer Park.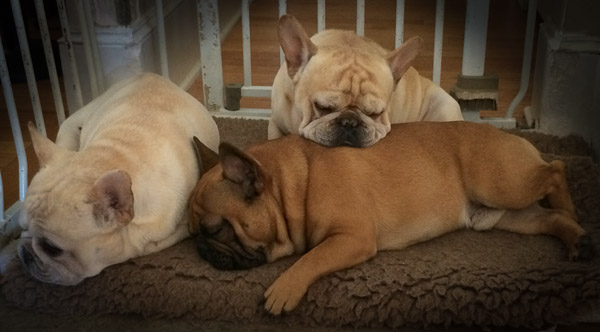 Our boys (Maxx, Yukon, Dexter) relaxing on a warm summer evening.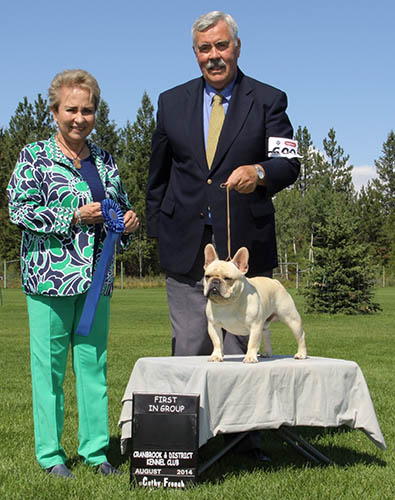 In Cranbrook, BC, BOOMER continued his winning streak by
taking a Non-Sporting Group 3 on Friday and a Group 1 on Sunday!
He now has 19 of the 20 points he needs for his Canadian grand championship,
and is now ranked 7th among French Bulldogs in Canada.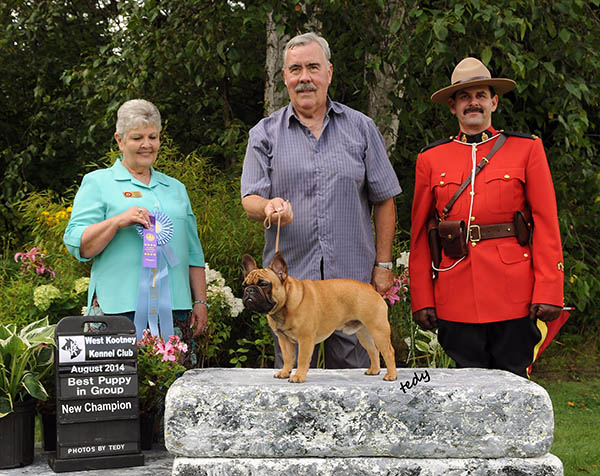 In Castlegar, BC, this weekend, YUKON was a Best in Show Puppy, and Best Puppy in Group all 4 shows,
Winner's Dog/Best of Winner at all 4 shows (for 4 points and his CAN Championship) and
Best of Breed at one show for his 11th point. (10 needed for Can CH).
BOOMER was also showing great, with 3 Best of Breeds, and 6 more Can Grand CH points.
And how often do you get to have an RCMP Mountie in your show picture?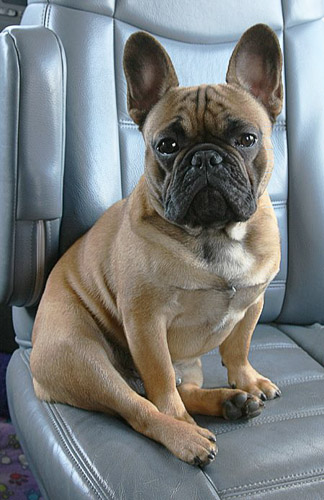 Yukon (Tahoma's Yukon Gold) had some nice wins at the Pacific Kennel Club shows
in British Columbia. He was Winners Dog best of winners one day,
and Best of Opposite Sex over 3 Canadian champions the second day,
earning him 6 of the 10 points needed for his Canadian championship.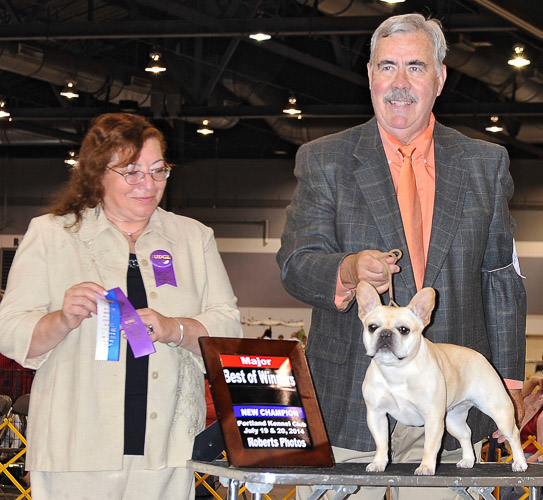 Our girl Solo, also a Lacy puppy from a different ltter,
finished her championship the same weekend as Boomer and
is now Am/Can CH Tahoma's Flying Solo.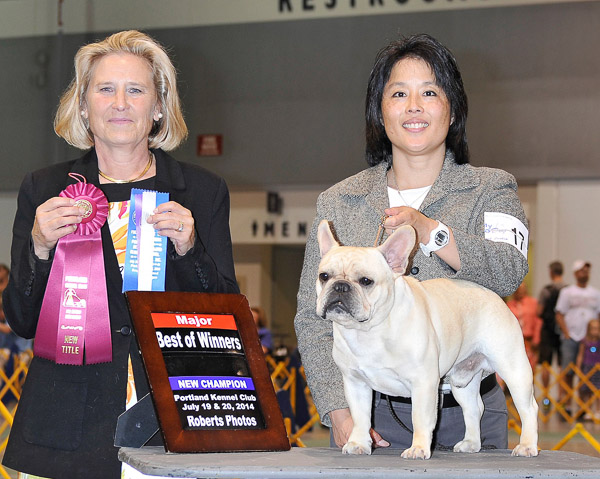 Congratulations to Jodi on her first champion, Tahoma's Darn the Torpedoes.
"Boomer" is one of Lacy's puppies.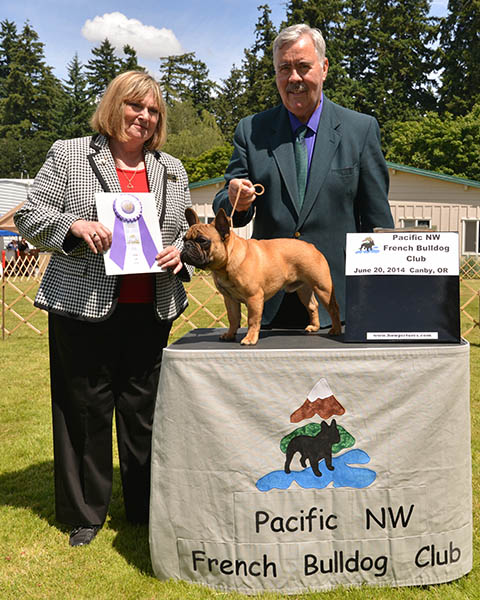 Out of 18 class dogs entered at the Pacific Northwest French Bulldog Club specialty show,
our little 7 month old Yukon (Tahoma's Yukon Gold) won Reserve Winners Dog.
This may be our first time getting a photo of a reserve win, but we were very proud
to have our puppy come so close to picking up a major win at a specialty show!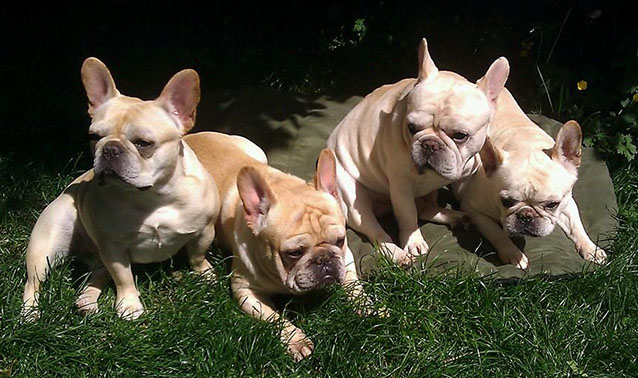 Enjoying a sunny day in the yard - Solo and Dexter,
their grandfather Maxx, and their great grandmother Phoenix.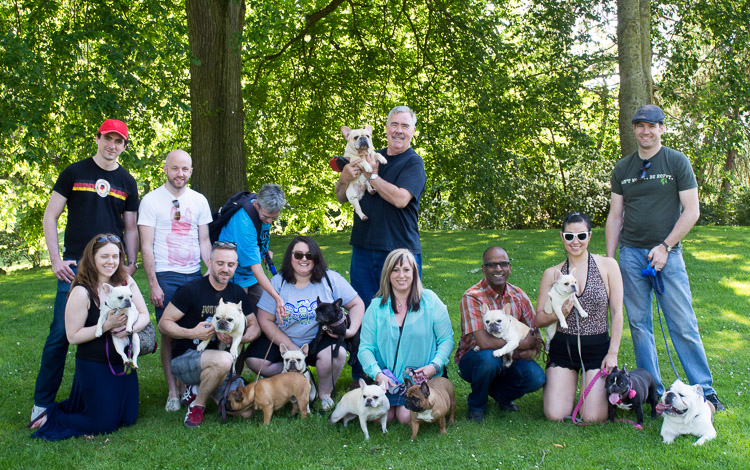 It was a warm and sunny day for our June Frenchie walk at Green Lake.
13 Frenchies and a bulldog enjoyed a brief stroll along the lake, with frequent stops in the shade.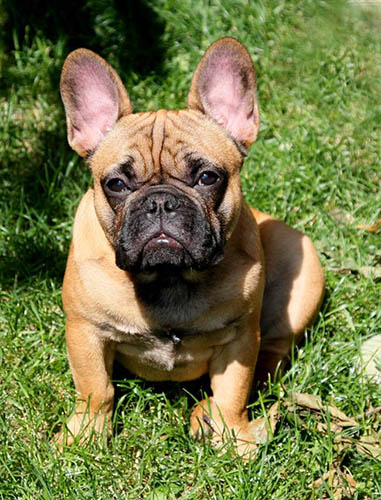 Yukon, 7 months old.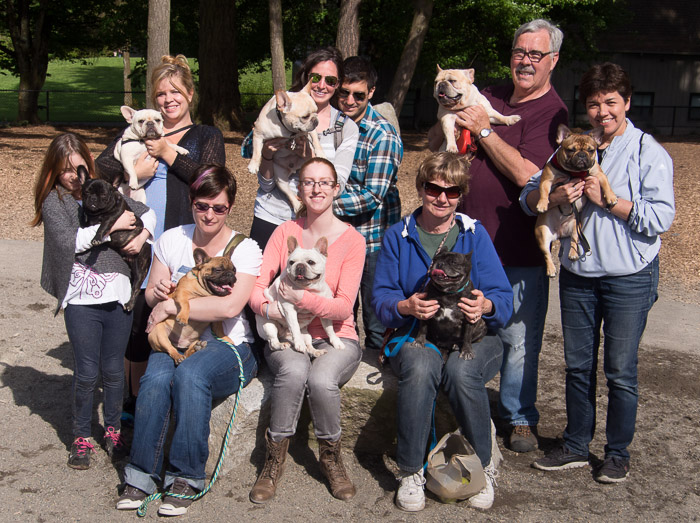 Several folks showed up on a warm, sunny Mother's Day for our May Frenchie Walk
at Robinswood Park off-leash area in Bellevue.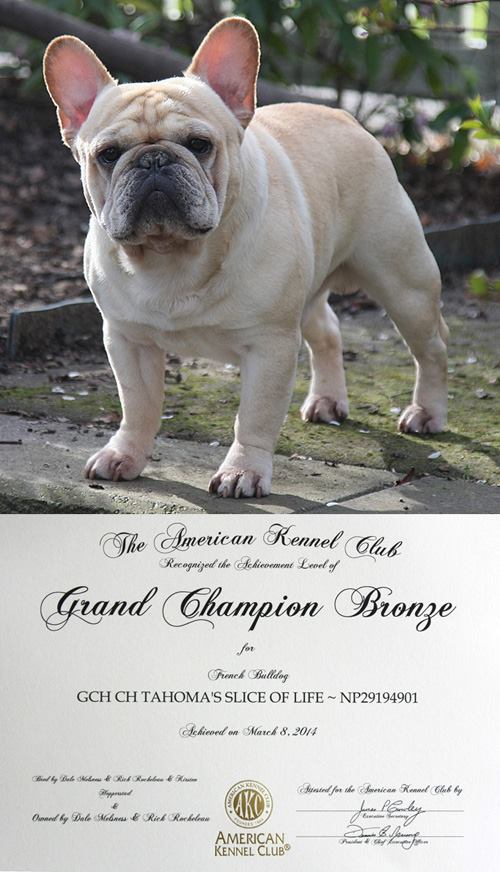 Our boy Dexter has completed his Bronze level of competition, a first for us.
He's now going to take it easy for a while and wants to visit some ladies!

On April 6 we kicked off our eleventh year of monthly French Bulldog walks with a gathering at Seward Park.
There were lots of Frenchies (22) and lots of smiles.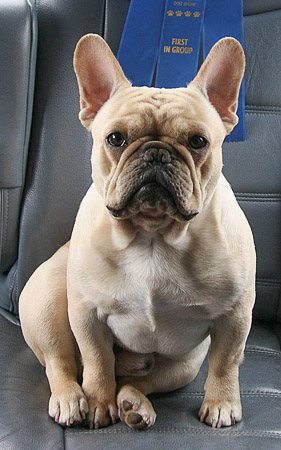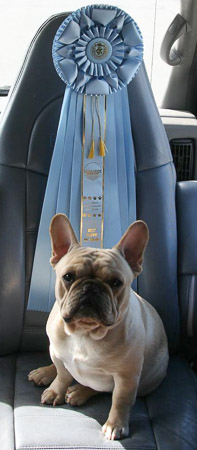 Tahoma's Darn the Torpedoes (Boomer) had a great weekend at shows in Cloverdale, British Columbia.
On Saturday he was Best of Breed from the puppy class, over 4 specials and an entry of 14,
and then went on to win a Non-Sporting Group 4.
On Sunday he was again Best of Breed, and continued on to win a Non-Sporting Group 1
and Best in Show Puppy!


The Tahoma gang is off to a great start at the Peninsula Dog Fanciers Club shows in Silverdale this weekend.
Boomer (left) took reserve Winner's Dog. His litter mate Bismarck (2nd from left) was Winner's Dog.
Their half brother Dexter (2nd from right) was Best Of Breed. Their half sister Solo (right) was Winner's Bitch, Best of Winner's,
and Best Bred by Exhibitor and Best of Opposite Sex, and she went on to win first in the Non Sporting Bred By Exhibitor Group!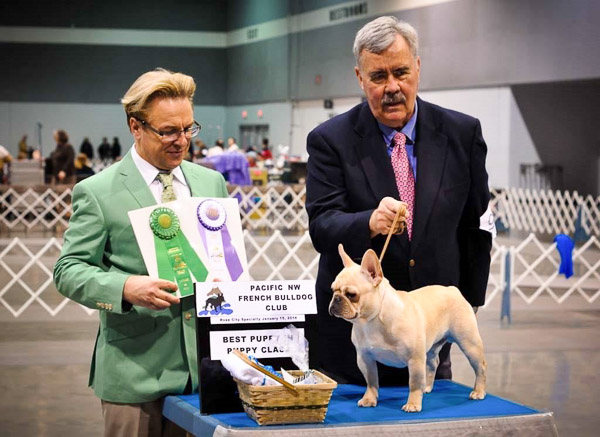 Tahoma's Darn the Torpedos "BOOMER" was Best Puppy in Breed under breeder judge James Dalton
at the recent regional French Bulldog Specialty in Portland.
He also was Winner's Dog for a 4 point major at the Puyallup show the weekend before.
---